TNA General Manager Hulk Hogan has found himself in a tough situation in recent weeks. On one hand his daughter Brooke appears to be doing the dirty with Bully Ray. Brooke wants to assert her independence after years over overprotection from her father, and Bully Ray wants to make the Hulkster pay for not trusting him even before this latest scandal. Because of this the GM is not getting the answers he wants. On the other hand Hulk has a wrestling company to operate and can't taint business due to personal issues. Although the truth is still yet to be determined, one thing's for sure, the twisted and brilliant mind of Austin Aries is getting a kick out of all of it. With Hulk distracted the Aces & Eights continue to reek havoc throughout the Impact Zone. Last week Devon was granted his Television title shot sparing another potential victim of the hammer, but it's a new day and the TNA roster is once again on the look out for a gangland attack. In tonight's main event World title contender Bobby Roode & Bad Influence, take on Jeff Hardy, AJ Styles & James Storm. Will AJ get his head in the game, or is he still the weak link? Bobby Roode & Bad Influence arrogantly address the fans: Former Fortune members Booby Roode, Daniels and Kazarian reunite as their arrogant agendas converge for tonight's main event. There's no question in their minds who the top players in the company are. The self professed "It Factor" guarantees victory at Final Resolution, for no other reason than because his "guarantees become reality". Christopher Daniels also had a guarantee for the Orlando audience. When he beats AJ Styles he'll be forever known as the better man and Styles will be forever known as a "loser". However Daniels doesn't want that to get in the way of their friendship and calls the not so "Phenomenal One" out for a little pal to pal chat. Styles hits the ring looking past Daniels' cocky facade. He may be arrogant but does he really believe he's the better man? AJ suggests he's just jealous of him and has been since day one. Daniels brushes Styles off, reminding him of his unimpressive year, claiming their are no excuses for his losing streak. "It's not because of Daniels & Kaz or global warming or Obamacare, but because he's a loser." Daniels' trash talk soon hits a nerve and AJ can't wait for the main event. A brawl erupts, bringing out Jeff Hardy and James Storm to even the odds. The arrogant trio leave the ring a little less ****-sure than when they entered. Austin Aries' plan backfired: Backstage Austin Aries says his plan to regain the World title backfired because of Bully Ray. He was supposed to win the X-Division belt last week and then use it as a stepping stone to the top, but Bully's interference messed everything up. The master manipulator gave Hulk Hogan a warning. If he doesn't grant him a match with Bully Ray at Final Resolution, he'll continue pressing all the right buttons. Can Hulk Hogan really handle the extra stress after everything he's already got to deal with? Devon def. Samoa Joe for the Television title: The Aces & Eights continue to extort power from Impact Wrestling through the threat of violence. Former TV champion Devon was granted a title match last week in exchange for calling a one week truce, but that week is over and now the outlaw MC not only steal the belt, but have their eyes set on another innocent victim. While Joe out-wrestled Devon, the gang outnumbered Joe. During the match a biker-chick climbed the apron to cause a distraction and out of nowhere Doc clobbered Joe with the hammer unbeknown to the referee. Devon gets the win and rides off in to the night with some gorgeous groupies as his passengers. I guess crime does pay. Brooke finalizes a contract: Backstage Brooke Hogan is on the phone. She talks about finalizing a contract, but whose contract is it? What happened to Al Snow?: Al Snow is back in the Impact Zone after disappearing last week. Apparently he woke-up in the hospital after being beaten up, but was left with no memory of his attackers. There's an old Latin saying Cui bono (who benefits?) If D'Lo didn't replace Snow at last week's Gut Check, would Wes Brisco have been given a contract? Is this all part of some sick plan? Only time will tell. Velvet Sky returns to TNA: Mickie James is in the ring to thank everybody for supporting her return. She says while she was away she made a pact to regain the Knockout's Championship. Tara soon cuts her off and brags about how brilliant her years has been. She won the title, she found her boo Jesse, and nothing is going to take that away from her. Other than perhaps VELVET SKY!!! The pigeons are once again loose in the Impact Zone. Things are heating up in the Knockouts division, and Sky claims 2013 will be her year! I can't help but feel Sky's return could have been more important. Perhaps it should have been held off to the PPV and then hyped on the post-PPV Impact. The scenario could have involved Tara trying to cheat the victory over Mickie James, with Sky returning to even the odds. Also what's up with her using Christian's catchphrase? Robbie E is a moron: In the locker room Robbie E is messing about trying to pay his insurance with his tablet. Big Robbie T has to remind him that it's touch screen. The pair have a tag title match up next. Mysterious promo video: Throughout the night a mysterious promo video played, possibly for a debuting wrestler or possibly hyping the January 13, Genesis PPV. "The road to hell will be paved in blood." Tag Team Champions Chavo Guerrero & Hernandez def. Robbie E & Robbie T: The Champs made quick work of the Z list celebrities tonight. After eating the turnbuckle, Robbie E walked in to a massive shoulder tackle by Hernandez and was out for the 3 after Chavo's Frog Splash. After the bout Joey Ryan walked down the ramp distracting the Hispanic stars with his sleaze. "Size matters with the Big Morgan and the Big Organ." Morgan snuck through the crowd and in to the ring, taking out Guerrero & Hernandez from behind. Aces & Eights accept paid hit: Back in the clubhouse the MC are celebrating Devon's victory. One of the gang walks in with an envelope of money. Not only are they looking to take out another member of the roster, but somebody has paid them to do it! Doc however does not look amused. There already appears to be some kind of tension between Doc and the rest of the club. We first saw glimmers of this when he originally earned his stripes. My guess is he'll be the first one to go solo down the line. The rookies have got Angle's back: In the locker room Kurt Angle, Wes Brisco and Garrett Bischoff are still celebrating the contract win. However Kurt has a dangerous task tonight against Doc. The rookies say they've got Angle's back. Tag Champs accept challenge: Chavo and Hernandez are livid backstage after being attack by Matt Morgan. They accept the challenge at Final Resolution and vow to kick their faces in. Kurt Angle vs Doc ends in a No Contest: Kurt Angle is intense out of the gate, out-wrestling Doc and methodically targeting the big man's knee. It is not enough however, as the biker thug overpowers the Olympian and clotheslines him to the outside. This is the type of environment that Aces & Eights member thrive in. Doc launches Angle in to the steel steps and rolls him back in for the cover. The veteran shows resilience and kicks out. He uses his speed to his advantage a fires back with a dropkick and a series of German Suplexes. Things look to be going Kurt's way, he attempts the Angle Slam, but Doc power's himself free and hit's a Big Boot to switch momentum. It lasts only a few seconds as the scrappy technician locks in the Ankle Lock, but it's too early and Doc again manages to power out. Kurt attempts another round of Germans but the Director of Chaos cheap shots him with a low blow and take him to the mat with a clothesline. Only a 2 count. Back in the driver's seat Doc goes for a Chokeslam, but Kurt spins things back in to the Ankle Lock. Doc continues the momentum and rolls out, setting Angle up for another Chokeslam. This time it connects. 1…2…Not quite! The former World Champ has been through tougher matches in the past and it's going to take more to keep him down. Before Angle can turn things in to a victory the rest of Aces & Eights hit the rung. Before any damage can be done Garrett, Brisco and Samoa Joe even the odds. The war is not over! Kurt Angle challenges 4 club members to a tag match at Final Resolution. Something major has to happen at the PPV to stop this whole Angle from fizzling out. Could it be that Garrett and Brisco are working with the Aces & Eights; they cost Angle the match and then reveal that it was them who took out Al Snow? In Hulk's office: Backstage Hogan is on the phone to Joseph Park. He tells him that if he really wants to learn to wrestle he should go down to OVW and then he'll consider taking another look at him. Bully Ray then barges in and demands the match with Austin Aries at the PPV. Hulk's ego takes over and he rejects Bully, proclaiming that the world does not revolve around him and Aries. Bully has had enough and claims he's going to takeover the show until Hulk makes the right decision. Another goofy inside Jeff Hardy's thoughts segment: In the hallway James Storm tells Jeff Hardy that he has his back. In another ridiculous break in logic we hear inside Jeff Hardy's thoughts. Something about "the creatures". Some concepts are cool, unique and refreshing. This is just dumb. You're either a wrestling promotion trying to simulate a dramatized sport, or you're a fictional television drama. You can't be both. Kenny King def. Zema Ion & Kid Kash to get shot at X Division title: Kenny King gets his big break tonight after defeating the veteran Kid Kash and Zema Ion in a Triple Threat match. In the closing moments Ion knocks Kash off the top rope to the outside. He turns round and walks in to a Springboard Flip Neckbreaker from King, who finishes things off with the Royal Flush. It's nice to see TNA giving younger stars an opportunity, but King needs some mic time and some character development before they can legitimately put him against RVD. So far he's just an Indy worker in some tights. Bully Ray and Austin Aries stage sit down protest: Bully Ray marches out to the ring and says he isn't going anywhere until he gets what he wants. He says he wants to fight Aries, that Aries wants to fight him, and the fans want to see the match. The only roadblock is Hulk Hogan, who is putting personal issues before business. Aries swaggers out and reminds Bully that he dropped him on his "fat head" last time they wrestled. He says Bully doesn't really want to fight him, he's just defending the honor of Brooke Hogan. Bully isn't playing games and challenges Aries to fight right there. Aries continues with the mind games and sits down on his own chair, saying he does what he wants to do, not what Bully Ray or the fans want. If they're going to fight it will be at Final Resolution. The General Manager hits the ramp but is as stubborn as ever. He tells Bully if he doesn't leave the ring he'll be fired. This brings out Brooke. She says maybe Bully is right, and suggest to her father that "maybe you are putting personal issues before business." Not wanting to be proven wrong by his daughter, the Hulkster makes the match. Bully Ray will face Austin Aries at the PPV! This Angle has been executed better than expected, mainly due to superb work of Aries and Bully. If they really wanna heat things up, why not have Brooke join forces with Aries; it was all a plan to screw over Hogan? They can then mock the old goof and rip Ray for actually thinking he had a chance with Brooke. Jeff Hardy, James Storm & AJ Styles def. Bobby Roode & Bad Influence: The arrogant duo take control of the match early on, beating down Hardy and preventing him from making the tag. Roode takes the action to the outside and rams Hardy's back in to the apron. The "It Factor" drags him back in to the ring, but his arrogance gets the better of him as he takes too long to continue the beating. Hardy hits the Twist of Fate out of nowhere, opening a window for the tag to Styles. If there was any concern about AJ's performance it was soon put to bed, as the high flyer connects with a double DDT on Kaz and Roode. Daniels however breaks the moment with a cheap **** from behind. Storm comes in for the save, but Styles is too proud and begins arguing with the Cowboy. Before the descension can cost them the match, Hardy makes the blind tag and hits the Twist of Fate on Kaz for the win. After the match Hardy is left to celebrate by himself, but it's short lived as the Aces & Eights hit the ring for the beatdown. Bobby Roode faces the camera and says "It pays to be Roode". It was Bobby who paid Aces & Eights, and it's Hardy who takes the hit. We know Hardy's TNA contract is up soon and Matt Hardy has suggested they're both headed back to WWE, this may be a sign that Hardy is going to drop the belt to Roode before his deal expires. Conclusion: Two solid feuds going in to the PPV, Roode vs Hardy and Bully vs Aries, but the under card feels a little weak. If the Aces & Eights storyline doesn't move forward at Final Resolution then people are really going to get sick of it.
Original Story:
http://wrestlingtruth.com/news/hulk-f...
MORE FROM YARDBARKER
WWE News

Delivered to your inbox

You'll also receive Yardbarker's daily Top 10, featuring the best sports stories from around the web. Customize your newsletter to get articles on your favorite sports and teams. And the best part? It's free!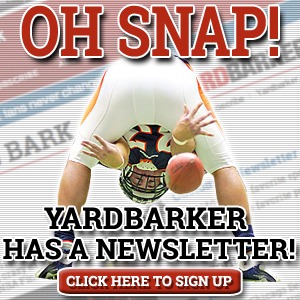 Latest Rumors
Best of Yardbarker

Today's Best Stuff

For Bloggers

Join the Yardbarker Network for more promotion, traffic, and money.

Company Info

Help

What is Yardbarker?

Yardbarker is the largest network of sports blogs and pro athlete blogs on the web. This site is the hub of the Yardbarker Network, where our editors and algorithms curate the best sports content from our network and beyond.