Found November 09, 2012 on Wrestle Scoop:
In an interview with Bloomberg Businessweek, Linda McMahon discussed when she realized that she lost the race. "I was sitting by myself, actually. I had just taken a moment to go upstairs and get my thoughts together on what I was still hoping would be a victory speech. I was just sitting there, going over my speech—clearly you have a concession speech as well, but you're hoping that's not the one you use. I wasn't paying that much attention to the TV. This was about 40 minutes after the polls closed. Then I looked up and saw a check mark next to Chris Murphy's name on ABC. I barely caught it out of the corner of my eye. I just thought, 'Wow.' I was stunned for a moment. I sat there for a few minutes on my own, reflecting on what the race had been. I thought about the thousands of people who not only had touched me but whom I had touched as well. All the notes, 'Thank you for running. Thank you for showing me that it's worth putting everything on the line,' and things like that." Also
Original Story:
http://www.wrestlescoop.com/2012/11/0...
THE BACKYARD
BEST OF MAXIM
RELATED ARTICLES
- Chris Mordetzky, who appeared as Chris Masters for WWE, feels the McMahon family needs to step away from competitive politics after former WWE CEO and President Linda McMahon spent upwards of $100 million on two failed U.S. Senate campaigns.He tweeted Tuesday upon learning of McMahon's loss to Democratic Rep. Chris Murphy for a Senate seat in Connecticut, "100million dollars...
- Former WWE Superstar John Morrison is featured in today's "Superstar Spotlight" on WWE.com. - WWE has posted the latest episode of WWE en Espanol, with Carlos Cabrera and Marcelo Rodríguez. - Chris Mordetzky, who appeared as Chris Masters for WWE, feels the McMahon family needs to step away from competitive politics after former WWE CEO and President Linda McMahon spent...
– The Connecticut Mirror quoted Linda McMahon as saying that she considered a run as Connecticut governor in 2014, but ultimately ruled it out. – CNBC has an article on all the things Linda could have done with the $100 million she spent on her two Senate campaigns; the list includes a Boeing 737-700, a 202 foot yacht, charity and more. You can see it here. – Triple H is scheduled...
Before I begin, I want to congratulate President Obama on his re-election bid. Lets hope the next four years are better than the past four. And one other note, Linda McMahon should give it up and not run for anymore public office positions. I understand she spent nearly 90 million dollars on this latest bid. Wow, talk about a waste of money. Course, if she is done with this ridiculous...
- It should be noted that a lot of the advances for WWE's current UK tour have been the lowest since anyone can remember. The Wrestling Observer reports that there are seven arenas that are considered "sister" arenas booked for this week and not one is sold out. Some are only about half-way sold out. Some tickets prices are being slashed for the rest of the tour. ...
$97 million well spent? Joe, G, JT, and Jorge are joined by Alice and Darren Radley of Radley Wrestling Talk on this week's episode of BWF Radio.  The discussion covers the three main shows of WWE and TNA for the week.  That goes off on a slight tangent as the crew discuss possible ways to put the Attitude back in to WWE, and the ways TNA could possibly compete with the kingpin...
WWE News

Delivered to your inbox

You'll also receive Yardbarker's daily Top 10, featuring the best sports stories from around the web. Customize your newsletter to get articles on your favorite sports and teams. And the best part? It's free!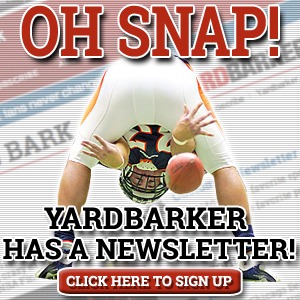 Latest Rumors
Best of Yardbarker

Today's Best Stuff

For Bloggers

Join the Yardbarker Network for more promotion, traffic, and money.

Company Info

Help

What is Yardbarker?

Yardbarker is the largest network of sports blogs and pro athlete blogs on the web. This site is the hub of the Yardbarker Network, where our editors and algorithms curate the best sports content from our network and beyond.