Found July 01, 2013 on Wrestling Truth:
5 Point RAW preview: WWE.com is hyping the following 5 preview points of tonight's RAW… - Could a "Heyman Guys" victory of the Prime Time Players ease tensions? - Is Mark Henry nothing but a liar? - Will Dolph Ziggler bring Del Rio's party to an end? - Will AJ Lee or Kaitlyn strike next? - Is Kane going to be angry at Daniel Bryan's latest interference? Larry "The Axe" discusses Curtis: Larry "The Axe" Hennig discussed his grandson Curtis Axel's recent push in WWE, during an interview with SCTimes.com… "He's no overnight sensation," said Hennig. "He's been working hard the past five years to get where he's at. And he deserves it." "He's representing a billion dollar company. You have to be good or you're going to be gone. They can't afford any misfires there." JR on calling Undertaker vs Mankind: In his latest JRSBARBQ.com blog Jim Ross remembered calling the legendary Hell In A Cell match between the Undertaker and Mankind… "Hard to believe that it was 15 years ago this past week in Pittsburgh that the Undertaker threw Mankind/Mick Foley off the top of the Hell in a Cell at the King of the Ring PPV. My calls from various aspects of that match have been dubbed into some insane, sports video clips over the years and others seem to pop up on a regular basis. I'm not saying that the Taker-Foley match from 1998 was the 'greatest match that I ever broadcast' (I'm never able to answer that one) but it is without a doubt the most memorable match I ever called. One reason for that is because fans simply won't allow that night to be forgotten." JR also looked back at the career of Matt Borne (Doink The Clown)… The passing of Matt Osborne came unusually abruptly to me this past week. I hadn't seen Matt in quite some time and had actually lost touch with him. I knew that he was still working some indy dates and appearing at some autograph shows but our paths had not crossed in years or so it seems. Matt was a truly excellent in ring performer and especially strong with his natural, grappling skills. He learned well in the amateurs in Oregon as the son of legendary pro wrestler Tough Tony Borne. Matt had a good run in the Mid South territory back in the day and was Cowboy Bill Watts kind of guy…legitimately tough and a man whose work was sound and physical. One got what they earned from Matt who was one of the more aggressive talents that passed through the fabled territory back in the day. If someone would have asked me to give them my feedback on an 'evil clown' wrestling character, without seeing it, I would have likely have given that particular persona a thumbs down because of my admitted, old school background. I simply could not fathom anyone pulling off that persona in a way that would allow me to suspend my disbelief and actually invest in the presentation. I was wrong. Matt Osborne aka Matt Bourne did exactly that and he was brilliant in his most famous and well known in ring persona. Doink the Clown's success and notoriety is a testament to Matt's skill and raw talent. Matt made what was presented to him from the creative arm of WWE his own and Matt made it work. Much can be learned by all talents not only of today but of tomorrow as well about that last sentence. Maniac Matt Bourne will always be membered by me as a skilled professional who was old school in so many ways, a fundamentally sound, naturally tough guy who was able to defeat any opponent except the demons that plagued him off and on for many years. RIP Matt Bourne…Maniac Matt…Doink the Clown…Big Josh…Matt Osborne. Van Dam in restaurant during car crash: RVD posted a photo within a restaurant he was at, after a car came crashing through the wall… "Enjoyed the Ocala Comic Con today, then came this restaurant w/my parents and look what just happened 30 feet away!"
Original Story:
http://wrestlingtruth.com/wrestling-n...
THE BACKYARD
BEST OF MAXIM
RELATED ARTICLES
- Briley Pierce, Dolph Ziggler's brother who was released by WWE several weeks ago, took a shot at the current NXT roster on Twitter. A fan commented how impressed they were with him, "you don't normally see ex-NXT guys who can work a crowd." Pierce replied, "Or current..thanks!" - WWE has announced a new three-year TV deal with SkyNet DTG in the country...
- Briley Pierce, Dolph Ziggler's brother who was released by WWE several weeks ago, took a shot at the current NXT roster on Twitter. A fan commented how impressed they were with him, "you don't normally see ex-NXT guys who can work a crowd."Pierce replied, "Or current..thanks!"- WWE has announced a new three-year TV deal with SkyNet DTG in the country of Myanmar. The...
WWE has announced that Ricardo Rodriguez has been suspended for thirty days for his first Wellness Violation. The company wrote Rodriguez out on Smackdown last week by having him go through a table at the hands of Dolph Ziggler, which injured him in the storyline. No word on the cause of the violation. Here is the WWE.com statement: STAMFORD, Conn. – In accordance with its Talent...
The following matches and segments were cut from this week's Raw Hulu Plus episode. * Dolph Ziggler vs. Jinder Mahal/Ziggler fight with 3MB. * Mark Henry retrospective video of his career. * Backstage segment with Paul Heyman, CM Punk and Curtis Axel. * Fandango vs. Sheamus. * Mark Henry promo where he says he deserves to win the WWE Championship. * Cody Rhodes vs. Antonio Cesaro...
- Terry Funk turns 69 years old today while Cody Rhodes turns 28 and Alicia Fox turns 27. - The Blu-ray exclusives for WWE's Money in the Bank anthology will feature "cash-ins" of the MITB briefcases over the year. - Christian and Daniel Bryan teamed up at last night's WWE live event in Fargo. They defeated Seth Rollins and Roman Reigns in what was called the best match of...
- There are rumors on Twitter that some of the WWE NXT developmental Divas are facing sexual harassment from a trainer there. A few weeks ago, former WWE star Trent Baretta was asked if NXT Diva Bayley is similar to him. Baretta responded: "nope. She's way prettier… I don't even get sexually harassed by my strength coach." Last week, recently released star Briley Pierce...
- 6 of the 7 "All Star" Money In The Bank participants confronted each other in the ring, resulting in Kane taking an RKO from Randy Orton, after Daniel Bryan fomented tensions. - The Shield def. Christian & The Usos, after Seth Rollins interfered and allowed Dean Ambrose to get the roll-up on Christian. - Dolph Ziggler def. Jinder Mahal with the Zig-Zag. - Kane def. Randy...
- Former SHIMMER star Rebecca Knox, who recently signed a developmental deal with WWE, noted on Twitter that she's headed from her native Ireland to Florida this week to begin training with WWE.- While Daniel Bryan vs. John Cena for the WWE Title has been discussed for this year's SummerSlam pay-per-view, there have been some pushing for a Triple Threat with Cena defending against...
– As seen Friday night on SmackDown, Kaitlyn appeared dressed up as AJ Lee in response to the Divas Champion's mockery of her on Monday's RAW. She ridiculed her former friend by suggesting that, in addition to the roster of Superstars that the New Jersey native had dated, she also had been romantically affiliated with several of the WWE personnel seated at ringside including...
WWE News

Delivered to your inbox

You'll also receive Yardbarker's daily Top 10, featuring the best sports stories from around the web. Customize your newsletter to get articles on your favorite sports and teams. And the best part? It's free!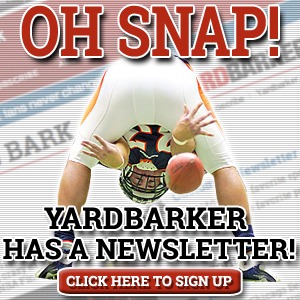 Latest Rumors
Best of Yardbarker

Today's Best Stuff

For Bloggers

Join the Yardbarker Network for more promotion, traffic, and money.

Company Info

Help

What is Yardbarker?

Yardbarker is the largest network of sports blogs and pro athlete blogs on the web. This site is the hub of the Yardbarker Network, where our editors and algorithms curate the best sports content from our network and beyond.