Found February 04, 2013 on Wrestling Truth:
Bruno Sammartino reveals Hall of Fame induction: After years of trying persuade the wrestling legend, Bruno Sammartino has finally accepted WWE's offer to be inducted in to the Hall of Fame. He will be entered this year alongside Mick Foley, Bob Backlund and Trish Stratus. WWE's PG direction and Triple H, who has paid personal visits to Bruno were the main catalysts for him accepting the invitation. Sammartino who will be announced on tonight's Raw, let the news slip to ESPN journalist Jon Robinson. "Being inducted into the Hall of Fame at Madison Square Gardens is the biggest thing in my life," says the longest reigning WWE (then-WWF) champion of all time. "Anytime that people feel that you accomplished enough to enter into a Hall of Fame, of course this is a tremendous, tremendous thrill for me. I had a lot of my success due to appearing at the Garden. I wrestled there over 200 times, it's where I won the title, and it's where I picked up 630-plus pounds of Haystacks Calhoun." "In talking to Paul Levesque, I made it clear, I've had issues with WWE and wrestling in general, because there were other organizations," Sammartino said. "I didn't like the direction they had taken. It was bothersome to me. I'm an old-school guy. I spent 25 years in this business. But after talking to Paul, and him explaining to me the changes they've made in their program, and how they've hired a doctor like Dr. Maroon, who is a world-renowned neurosurgeon, who also operated on me, and now that he has been put in charge of the company's wellness program and their drug testing, that impressed me. I know what kind of a man he is, and he is a giant in that field, so I take my hat off to WWE because they took such huge steps to make things better for the wrestlers themselves and making sure they are healthy to perform. That was very, very important. "But as Paul explained to me, WWE made a lot of other changes. There's no more profanity, there's no vulgarity in the current product, and that stuff had bothered me as well. When Paul first spoke to me and told me all the changes, I started watching it again, and I was very convinced that they are doing amazing things. I see the wrestlers and all the changes they made. There's no profanity, there's no vulgarity, and it's a family-friendly program. That's what it used to be, and that's a huge role in the whole factor." ___________________________________________________________ Mick Foley should never wrestle again: Speaking of Hall of Famers, Mick Foley revealed during a comedy show in Australia today that he should never wrestle again. The Hardcore Legend, known for taking many career shortening bumps, was told by a neurologist that sustaining any more blows to the head could cause serious repercussions. Foley said that this is why his planned feud with Dean Ambrose in 2012 never resulted in a physical altercation and was essentially dropped. Even if Foley did want to wrestle again, in light of this information WWE would probably not let him unless he literally took no bumps like Bret Hart. ___________________________________________________________ Roman Reigns jokes during Super Bowl blackout: Shield member Roman Reigns made a funny Tweet during the Super Bowl blackout… "49ers are losing! Vest on..Cut the lights..Time to Fight!! #49ers Losing=Injustice" Reigns is a known fan of the San Francisco 49ers.
Original Story:
http://wrestlingtruth.com/news/sammar...
THE BACKYARD
BEST OF MAXIM
RELATED ARTICLES
WWE sent out the following press release moments after Bruno Sammartino was revealed for the 2013 Hall of Fame class. STAMFORD, Conn., February 4, 2013 – WWE (NYSE:WWE) announced today that Bruno Sammartino will be inducted into the WWE Hall of Fame at a ceremony on Saturday, April 6, 2013 at Madison Square Garden. Sammartino, nicknamed "The Living Legend," is a two-time WWE...
- The deal to bring Bruno Sammartino into the 2013 WWE Hall of Fame was locked in two weeks ago after Triple H traveled to Bruno's home in Pittsburgh, Pennsylvania. The contract was signed this past Friday, February 1st. There had been talk within WWE that the deal was done but sources close to Bruno wouldn't confirm it because he had not signed yet and they did not feel it was...
- Bruno Sammartino told the CBS News affiliate in Pittsburgh that he is going into the WWE Hall of Fame because of WWE's strict drug testing and other similar changes. Below is video:- Those overseeing last weekend's WWE tryouts in Florida were Gerald Brisco, Jim Ross, Bill DeMott, Joey Mercury, William Regal, Billy Gunn, Norman Smiley, Dusty Rhodes, Steve Keirn and Triple H...
Sammartino explains his HOF acceptance: Wrestling legend Bruno Sammartino further explained his reasons for finally accepting WWE's Hall of Fame offer, after being critical of the company for so many years. He told CBS News that WWE's Wellness Policy is a one of the main factors, as is the switch to PG. Sammartino was one of Vince's main critics during past drug scandals. ...
- Embedded below is the WWE Hall of Fame video package for Bruno Sammartino. - Stephanie McMahon, Kofi Kingston, Layla and Hornswoggle took part in a Be A STAR Rally earlier today at Hope-Hill Elementary School in Atlanta, GA. - You can vote for The Rock's "Got Milk?" Super Bowl commercial at The Wall Street Journal at this link. Time for a tough enough return anyone The post...
Bruno Sammartino is coming home! The Living Legend will finally be returning to the WWE after a 25+ year absence to enter the WWE Hall of Fame on WrestleMania 29 weekend.
- Bruno Sammartino will be going into another Hall of Fame this year – the International Sports Hall of Fame. WWE Superstar Mark Henry was inducted last year. Below is a video of Bruno talking about the induction: - WWE NXT head trainer Bill DeMott says women's trainer Sara Del Rey is doing big things with the WWE developmental Divas. DeMott tweeted on Tuesday: "Really good...
- Mick Foley tweeted the following about Bruno Sammartino's WWE Hall of Fame induction:"I am extremely happy to hear the news about Bruno Sammartino's @WWE HOF induction – and no place is better suited for it than MSG."- Chris Jericho thanked fans on Twitter for voting him into the match with CM Punk on last night's RAW. He tweeted:"THX to all the amazing Jerichoholics...
- Mick Foley tweeted the following about Bruno Sammartino's WWE Hall of Fame induction: "I am extremely happy to hear the news about Bruno Sammartino's @WWE HOF induction - and no place is better suited for it than MSG." - Chris Jericho thanked fans on Twitter for voting him into the match with CM Punk on last night's RAW. He tweeted: "THX to all the...
WWE News

Delivered to your inbox

You'll also receive Yardbarker's daily Top 10, featuring the best sports stories from around the web. Customize your newsletter to get articles on your favorite sports and teams. And the best part? It's free!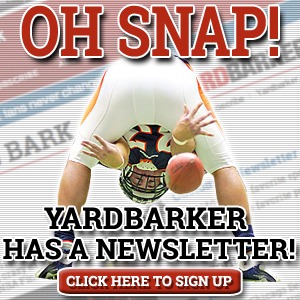 Latest Rumors
Best of Yardbarker

Today's Best Stuff

For Bloggers

Join the Yardbarker Network for more promotion, traffic, and money.

Company Info

Help

What is Yardbarker?

Yardbarker is the largest network of sports blogs and pro athlete blogs on the web. This site is the hub of the Yardbarker Network, where our editors and algorithms curate the best sports content from our network and beyond.