Found February 05, 2013 on Wrestling Truth:
Sammartino explains his HOF acceptance: Wrestling legend Bruno Sammartino further explained his reasons for finally accepting WWE's Hall of Fame offer, after being critical of the company for so many years. He told CBS News that WWE's Wellness Policy is a one of the main factors, as is the switch to PG. Sammartino was one of Vince's main critics during past drug scandals. _____________________________________________________________ Rocky proud son could move beyond race: WWE Hall of Famer Rocky Johnson said he was proud that his son The Rock was able to have a career without any racial problems. He told the TBO.com website: "No one ever talks about the color of Dwayne's skin. That is what makes what I did so important to me. I like to think I proved a wrestler's skin color doesn't matter. I'm glad my son doesn't have to be labeled black or Samoan or mixed. He has instead been labeled as the best." Johnson explained what it was like for Black wrestlers in the South during his day: "By being a stereotype, they thought white fans would cheer for them because they weren't threatening, so they would dance to the ring with a bucket of fried chicken and talking like, 'Yessa.' I wouldn't demean myself. I spoke articulately. I told people I was a great athlete and told all the kids — white and black — that they needed to eat right, study and listen to their parents. I proved that white people would cheer for a black man who was portrayed as their equal. Not only did I get over in the South, but I did so on my terms." _____________________________________________________________ More Raw news and notes: - The voting for last night's Raw Active poll for CM Punk's opponent was at least partly legit. As shown on the broadcast the WWE App crashed midway through, prompting the poll to be moved on to WWE.com, where things are a bit more sketchy. CM Punk commented on Twitter: "Shocked people are tweeting that the voting on the wwe app isn't working correctly. Shocked." According to the Wrestling Observer WWE knew Mysterio would not win and had already planned for his match with Daniel Bryan. They thought either Orton or Jericho could have picked up the vote, so Orton's ten-billionth match with Wade Barrett may have been a last minute decision. - In other Raw news celebrities in attendance from Atlanta included rapper Lil' Scrappy, Chili of R&B group TLC, singer Bobby V, and Armond Smith & Byron Bell of the Carolina Panthers. Bell and Smith were there as guests of Titus O'Neil. - For those that didn't watch the show Jack Swagger's Ankle Lock is now being called the Patriot Act, after the controversial Government legislation. - Chris Jericho Tweeted the following images of his chest following the match with CM Punk: - Seth Rollins responded to John Cena's challenge on Twitter: "Be careful what you wish for Johnny. #believeintheshield #EliminationChamber" It is now confirmed that Cena, Ryback & Sheamus will face The Shield at Elimination Chamber in a 6-man-tag. _____________________________________________________________ Photo of McMahon before hip surgery: The official WWE Twitter account posted a photo of Vince McMahon prior to his hip surgery last Friday. The surgery was legit and was planned weeks before the Brock Lesnar angle. Intiailly the storyline was that he broke his pelvis, but CM Punk worked the real life hip surgery in to his Raw promo last night… "The Chairman, pre-surgery. ("Mr. McMahon, watch out for that bedpan!")"
Original Story:
http://wrestlingtruth.com/news/sammar...
THE BACKYARD
BEST OF MAXIM
RELATED ARTICLES
WWE sent out the following press release moments after Bruno Sammartino was revealed for the 2013 Hall of Fame class. STAMFORD, Conn., February 4, 2013 – WWE (NYSE:WWE) announced today that Bruno Sammartino will be inducted into the WWE Hall of Fame at a ceremony on Saturday, April 6, 2013 at Madison Square Garden. Sammartino, nicknamed "The Living Legend," is a two-time WWE...
According to an exclusive report from ESPN, Bruno Sammartino is expected to finally be inducted into the WWE Hall of Fame on April 6th at Madison Square Garden.  The following are highlights from ESPN's interview which you can see in full HERE: On being inducted at Madison Square Garden: "Being inducted into the Hall of Fame at Madison Square Gardens is the biggest thing in...
- The deal to bring Bruno Sammartino into the 2013 WWE Hall of Fame was locked in two weeks ago after Triple H traveled to Bruno's home in Pittsburgh, Pennsylvania. The contract was signed this past Friday, February 1st. There had been talk within WWE that the deal was done but sources close to Bruno wouldn't confirm it because he had not signed yet and they did not feel it was...
- Bruno Sammartino told the CBS News affiliate in Pittsburgh that he is going into the WWE Hall of Fame because of WWE's strict drug testing and other similar changes. Below is video:- Those overseeing last weekend's WWE tryouts in Florida were Gerald Brisco, Jim Ross, Bill DeMott, Joey Mercury, William Regal, Billy Gunn, Norman Smiley, Dusty Rhodes, Steve Keirn and Triple H...
- Embedded below is the WWE Hall of Fame video package for Bruno Sammartino. - Stephanie McMahon, Kofi Kingston, Layla and Hornswoggle took part in a Be A STAR Rally earlier today at Hope-Hill Elementary School in Atlanta, GA. - You can vote for The Rock's "Got Milk?" Super Bowl commercial at The Wall Street Journal at this link. Time for a tough enough return anyone The post...
Bruno Sammartino is coming home! The Living Legend will finally be returning to the WWE after a 25+ year absence to enter the WWE Hall of Fame on WrestleMania 29 weekend.
- Bruno Sammartino will be going into another Hall of Fame this year – the International Sports Hall of Fame. WWE Superstar Mark Henry was inducted last year. Below is a video of Bruno talking about the induction: - WWE NXT head trainer Bill DeMott says women's trainer Sara Del Rey is doing big things with the WWE developmental Divas. DeMott tweeted on Tuesday: "Really good...
Panthers News

Delivered to your inbox

You'll also receive Yardbarker's daily Top 10, featuring the best sports stories from around the web. Customize your newsletter to get articles on your favorite sports and teams. And the best part? It's free!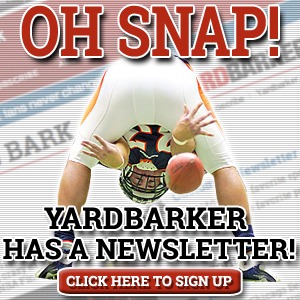 Latest Rumors
Best of Yardbarker

Today's Best Stuff

For Bloggers

Join the Yardbarker Network for more promotion, traffic, and money.

Company Info

Help

What is Yardbarker?

Yardbarker is the largest network of sports blogs and pro athlete blogs on the web. This site is the hub of the Yardbarker Network, where our editors and algorithms curate the best sports content from our network and beyond.