Found November 15, 2012 on Wrestling Truth:
From the Miz's home town Cleveland, Ohio, WWE MAIN EVENT brings you a Tag Team Championship match between Team Rhodes Scholars and Team Hell No. Team Hell No interview: Backstage Josh Mathews asks Kane and Daniel Bryan how they're going to defend their titles tonight, Kane remind Josh that he's the tag team champions. Bryan interrupts and says Kane and Miz only won on Raw because he was out there. The pair comically bicker back and forth. As Kane walks off Cody Rhodes and Damien Sandow attack Bryan. Rhodes front suplexes him on to an equipment box. They hightail it before Kane can return. I'm glad they're giving this some elements, rather than just a straight up match that we know Team Hell No will win. Now there's some doubt. Have they taken my advice and moved the main event to the end of the show? Team Hell No video package: We get a recap of the strange relationship between the two Champions. Team Hell No (c) def. Team Rhodes Scholars: Nope the match will go ahead as scheduled. Although Bryan has been cleared to wrestle he's selling the beat-down. Could Rhodes Scholars steal this one? Before the bell can even ring Team Hell No clear house with "Yes" chanting throughout the arena. Kane and Rhodes start things off. Cody gets the upper-hand with a speedy offense, but Kane's tree trunk body soon takes him down with a shoulder block. Daniel Bryan wants in and Kane obliges. Bryan takes out his revenge with a series of MMA kicks before locking in a submission. He tags back in Kane who levels both him and Rhodes with uppercuts. Rhodes takes advantage and dropkicks Kane to the outside. Sandow then lures Kane in to the ring-post to take control of the match. After the break Rodes Scholars hit a double suplex on Kane and then Cody keeps him down with a moonsault press. It's not enough however, the monster rises from the dead to lock on the one-armed choke. Cody foghts out of it and hits the ropes but is met with a hellacious back-body drop, landing stuff on his shoulder. Rhodes is nearly out on his feet. Bryan gives Rhodes a chance to recover by slowly climbing the top rope and missing the flying headbutt. Cody is still in bad shape and rolls out to await medical assistance. The battle raged on and Rhodes proved his resiliency by staying in the match. Although once he made the tag to his partner and stood on the apron, the former Intercontinental Champion was clearly in agonizing pain. Sandow tried to keep the edge over the WWE Tag Team Champions, but he was no match for the combined efforts of Team Hell No. Rhodes sold the injury, allowing the WWE Tag Team Champions to finish off Sandow with a Chokeslam and a diving headbutt. Team Hell No make amends with The Miz?: Following Team Hell No's successful title defense, Matt Striker asked Bryan if he could bury the hatchet with his Survivor Series teammate, The Miz. A further element to The Miz's planned face turn. After some reluctance, Kane encouraged his tag team partner to settle his differences with The Awesome One with a hug, but Miz wasn't ready for a friendly embrace. For Team Foley's sake, hopefully Bryan can coexist with all of his teammates at Survivor Series. The slow turn continues. Ryback video package: A recap of the Ryback storyline from Hell In A Cell and the upcoming Triple Threat at Survivor Series. Dolph Ziggler interview: Dolph Ziggler is asked what he thought about two members of his Survivor Series team just leaving. Ziggler says his chance of winning are "Awesome". He runs down Team Foley and how most of them don't even like each other. The Miz asks Ziggler "when was the last time you main evented Wrestlemania?" Ziggler mocks Miz for sitting back an enjoying the show instead of training for the PPV. He declares himself Mr. Money In The Bank, but Miz calls him Vickie's little puppet. A match is set, next week The Miz and Dolph Ziggler will wrestle on WWE MAIN EVENT. Once again the Miz showed glimmers of being a babyface. Santino Marella def. David Otunga: Santino Marella wins with the Cobra Strike on David Otunga. The lawyer is still floundering in the lower ranks.
Original Story:
http://wrestlingtruth.com/news/team-h...
THE BACKYARD
BEST OF MAXIM
RELATED ARTICLES
- The next set of WWE NXT tapings from Full Sail University will take place on December 6th. No word yet which top WWE Superstar will be featured. - The Miz accompanied his girlfriend Maryse at the launch event for her House of Maryse jewelry line this week in California. Here is a photo of the two at the event: - There have been several local radio stations in the Indianapolis...
- The Miz wasn't the only one out supporting Maryse at the launch event for her House of Maryse jewelry line in Los Angeles this week. WWE Diva Eve Torres plus former Divas Katrina Waters and The Bella Twins were also there: - WWE NXT Diva Sasha Banks made her TV debut at last night's tapings from Full Sail University, wrestling Paige. The former Mercedes KV tweeted...
- As you could probably tell by WWE TV lately, there has been a lot of internal talk about turning The Miz babyface. The feeling is that he is one of their best talkers and does a great job representing WWE with promotional and charity work. There is also the strong feeling that The Miz has done everything he can do as a heel. They are hoping that putting him in a new WWE Studios...
Source(s): TMZ.com and Pwinsider.com – As noted earlier here on the website, there are several reasons as to why the WWE turned The Miz face. First of all, they felt that while he's a good villain, he's done as much as he can in that role. Since he's so well spoken in appearances and is willing to spend a lot of time promoting the company, it made more sense to make him a...
We are live on tape from Cleveland, Ohio and your announcers are Michael 'Lebron Fan Club President' Cole and The Miz. Miz mentions that he is Cleveland's favorite son. Michael discusses the tag title match tonight and how Miz was involved with the participants in the match because Miz teamed with Kane to face Cody Rhodes and Damien Sandow. Miz talks about how Daniel Bryan...
- Former WWE Diva Beth Phoenix says she's enjoying retirement. She tweeted this evening: "I was a fan on a mission to live my dreams. I did my best, with all my heart. And now I'm enjoying home " - The Miz is sitting courtside for tonight's Indiana Pacers vs. Dallas Mavericks NBA game. He signed autographs for fans before the game. Here's a photo: - Tomorrow's episode...
Tonight WWE will tape this week's Main Event episode from the Quicken Loans Arena in Cleveland, Ohio. Here are the full results. WWE Main Event(Airing Wednesday) * Josh Mathews interviews Kane & Daniel Bryan about their upcoming match. * Kane & Daniel Bryan defeated Damien Sandow and Cody Rhodes. * Matt Striker interviews Kane & Daniel Bryan. Bryan tries to hug The...
WWE News

Delivered to your inbox

You'll also receive Yardbarker's daily Top 10, featuring the best sports stories from around the web. Customize your newsletter to get articles on your favorite sports and teams. And the best part? It's free!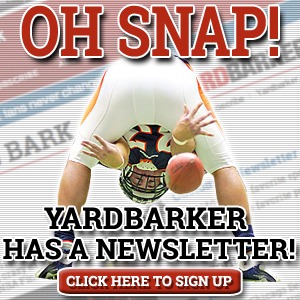 Latest Rumors
Best of Yardbarker

Today's Best Stuff

For Bloggers

Join the Yardbarker Network for more promotion, traffic, and money.

Company Info

Help

What is Yardbarker?

Yardbarker is the largest network of sports blogs and pro athlete blogs on the web. This site is the hub of the Yardbarker Network, where our editors and algorithms curate the best sports content from our network and beyond.