More appearances for The Rock: The Rock has been added to the January 14th, special 20th Anniversary episode of WWE Raw, from Houston, Texas. Rock will also be appearing next week: ___________________________________________________________ JR's year end column: Jim Ross posted his thoughts on 2012 and the year ahead in his latest JRSBARBQ.com blog. I'm optimistic that 2013 will be a banner year for WWE. There are several outstanding young talents training in NXT along with the newer performers, among others, who have just begun their WWE, main roster journey that offer me great hope for the future. There's also several more established names in WWE who have, seemingly, been percolating on the back burner for a good while that have been on a steady, upward climb to main event relevancy throughout most of 2012. I've been impressed with TheShield and how they have been presented by WWE in addition to the effort displayed by each member of the faction. All three men offer something special. None are overtly head and shoulders above the other and each has the opportunity to become special in their own, individual careers. These men are hungry and seem to be willing to outperform many of their peers within the WWE locker room to earn lucrative spots at the top of the card. More established talents who enjoy their own, self created comfort zones would be well served to look over their shoulders. Newcomer Big E Langston has been introduced in a meaningful way by WWE. I have been a supporter of Big E's for quite some time. Having spent a great deal of time in WWE Talent Development and watching 'E' train and getting to know him, he's a bright, athletic young man who will hopefully continue to grind and study his craft. His physical gifts are obvious. With all that said, I am a firm believer that talents largely make their own breaks especially today with no territories with which to pluck established, main eventers. How much one is willing to invest DAILY in one's career is the difference in getting to the Promised Land OR choosing to use their lack of effort and initiative to blame the business, the establishment, creative, etc for one's failure. Some who read this will disagree with my assessment which is fine. Unlike many keyboard warriors on Twitter or those who become tough guys on internet message boards, success, no matter what field it may be, is largely dependent on the person who one sees daily in the mirror. That's simply my opinion. ___________________________________________________________ Michelle McCool discusses working with Vickie Guerrero: As part of her ongoing shoot interview with MichelleMcCool.net the former WWE Diva discussed her relationship with Vickie Guerrero… Eddie & Vickie Guerrero: "Vickie and I have been good friends even before she started playing a role on TV. When she used to come on the show with Eddie, she and I became fast friends. Eddie was always around to help me; in the ring, advice — thankfully he took a liking to me. He was soft-spoken, very humble. You'd never know that the Eddie you saw on TV wasn't the Eddie you saw backstage; quite, humble, so respectful. He was awesome. Just one of the best entertainers — ever!" Heat Magnet: "She's one of the most-hated people on TV, and I think that says so much about her character. She can get more heat than, I'd be willing to say, anybody on TV right now. Male or female. The boos are just that defining. When Layla and I would do promos out in the arena, it was just the most-fun ever! People genuinely hate her. I remember the three of us standing next to each other in the ring and we literally couldn't hear what she was saying because the people were booing her so loudly. I just thought that must be the most-awesome feeling, ever!" Flawless Friends: "I love her dearly. She was one of the people I'd travel with because we both had similar routines. We both liked to get up early, go to the gym, and we liked to be the first people at the arena. We were always, from the day that I was on TV, locker room buddies. We camped out next to each other in the locker room — we'd have our own little corner! It was just nice to have somebody that you can just genuinely talk to. Good, bad, ugly… we've shared a lot of moments together. For that, I'm forever grateful. She's had a few stories that she's scared me for life from that I can't reveal, but she knows exactly what I'm talking about. She thinks it's the funniest thing in the world, but I don't find it that funny at all!" Fighting For Divas: "She's helped me through a lot of things. She was always there for me. Sometimes people get reputations that aren't necessarily true and she's a great ear to listen and she's just a great friend. We were fortunate enough to worth with her some, and for a while there, she worked with LayCool and she was one of the 'Flawless ones' — and she'd be right there with us! First one to march down to Vince's office to knock on his door and pitch ideas. She was an instrumental part; she really wanted to help the Diva's division. Her being involved with some of us really did help the division grow because of her character and how much respect she had from everybody. She helped fight." A Change For WrestleMania: "She always wanted to get involved with the girls. As far as in-ring work goes: she was the first one to want to get out there and learn exactly what to do. She wanted to make it the best possible by staying in character — doing goofy things in the ring, but more importantly, she wanted to take care of the person she was working with. I remember her being extremely nervous to do the Frog-Splash, which Layla and I renamed the Cougar-Splash. Originally, that was going to be Beth Phoenix, but that ended up getting changed for the night of WrestleMania — which really made Vickie nervous. When you start practicing with somebody you just get in a mindset, especially if you're not in the ring that often. So the night of Hall of Fame, we all get called into the back, and we've already had our rehearsal, and they tell us about the change to the finish — she'll be doing it to Kelly. Vickie was worried; about climbing the turnbuckle, hurting somebody, it not being perfect, but she did awesome!" Truly Inspiring: "She looks awesome! The transformation she's had through the years is just inspiring. I can't say enough about her: she's a dear friend that I still talk to all the time. Love her and her girls to death — there's nothing I wouldn't do for her. She's a true friend through thick and thin. We will always be friends. Lots of great times on the road: lots of laughter, lots of tears, and lots of special moments shared together that I will cherish forever. I Love her dearly." To Infinity…: "I think her career will be as long as she wants her career to be. I don't think she's going anywhere. I love when she's in charge on TV because people hate it so much, and I don't think there is anyone better." ___________________________________________________________ Kurt Angle a father again: TNA star Kurt Angle and his actress wife Giovanna Yannotti, welcomed their second child in to the world yesterday. He wrote on Twitter: "18 Hours At the Hospital. Sophia Laine Angle Was Born. 7lbs12oz. 20inches. I'm a Proud Daddy if 4 beautiful Kids. Blessed" TNA President Dixie Carter congratulated the pair in a Tweet: "Congrats to @RealKurtAngle & Giovanna on the birth of their daughter tonight at 9:40et. Welcome beautiful Sofia to the TNA family! So proud!"
Original Story:
http://wrestlingtruth.com/news/the-ro...
MORE FROM YARDBARKER
WWE News

Delivered to your inbox

You'll also receive Yardbarker's daily Top 10, featuring the best sports stories from around the web. Customize your newsletter to get articles on your favorite sports and teams. And the best part? It's free!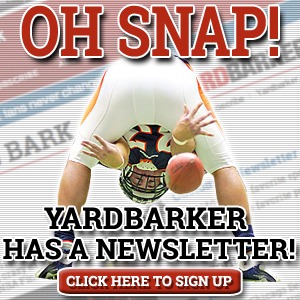 Latest Rumors
Best of Yardbarker

Today's Best Stuff

For Bloggers

Join the Yardbarker Network for more promotion, traffic, and money.

Company Info

Help

What is Yardbarker?

Yardbarker is the largest network of sports blogs and pro athlete blogs on the web. This site is the hub of the Yardbarker Network, where our editors and algorithms curate the best sports content from our network and beyond.