Found February 28, 2012 on The Victory Formation:
PLAYERS:
John Cena
,
Daniel Bryan
,
Bret Hart
,
Lady Gaga
,
Stacy Kiebler
,
George Clooney
,
Santino Marella
,
John Laurinaitis
,
David Otunga
,
The Undertaker
,
Kelly Kelly
,
Trish Stratus
,
Dolph Ziggler
,
Kofi Kingston
,
Flo rida
,
Alicia Fox
,
Jamie Kennedy
,
Rocky Maivia
(null)
Tonight the Rock returns. John Cena is already mad about him leaving when the show is over.
Opening is a nice video of Cena's promo from last week.
We're in Portland, so Daniel Bryan is probably getting buried this evening.
Justin Roberts informs us that a champion vs. champion match is going to open the show. Sigh. This is what I mean about making the champions seem unimportant. They're opening the show because the important stuff (Rock and Cena) is obviously our main event. I will never like this, even as I understand it. On the plus side, another helping of awesome is not something I can complain too much about.
Video recap of the Punk/Bryan match from last week's Tuesday Smackdown Live! which I thought was fairly awesome.
Jericho is here instead of Bryan. This makes me sad.
Jericho has something to say which is a little bit more important than this match. They almost certainly think that is true. He thinks Punk is good, but as good as he is. Jericho hilariously claims that he never had to call himself the best in the world because other people did it for him. This is a heel ladies and gentlemen. Jericho talks about how he came up in a better era than Punk did. This is true. Jericho is accusing Punk of wanting to be like him again. This part I don't understand. Jericho calls Punk "boy." Punk finally cuts him off and makes his rebuttal. He's never plagiarized anything in his life, which is something to take pride in I guess. Punk brings up how neither of them invented calling themselves the best, specifically mentioning Bret Hart and his catchphrase. Punk hilariously points out that Hart was Canadian too and wonders if Jericho "invented Canada." Jericho is tired of Punk not taking things seriously since taking Jericho seriously is quite important. Jericho says lots of words that mean "I'm good at wrestling." This takes awhile. Then it is Punk's turn again. He says a bunch of words that mean Jericho isn't quite so comfortable in his awesomeness. This makes Jericho sad. Punk argues that Jericho was never the man like he is, which is sort of laughable but we'll let it slide. I think Punk quotes Lady Gaga here. Punk thinks Jericho's outside interests make him inferior to Punk. So again we get the message that being successful outside of wrestling makes you an asshole. I can't even imagine how pissed Vince must be at Stacy Kiebler blowing George Clooney. Jericho argues he was being a big star who at the time was still obsessed with Punk ripping him off. This seems unlikely. I'm not sure how they've complicated "two guys want to be the best, fight over a title to prove it" but they are. Jericho came back to beat Punk at Mania, and that was pretty much the whole entire reason. He is downright heated about it. Punk says "that's all ya got ta say," mocks pointing at the sign, and points out that they are good at wrestling so that's all they need to do. Here here.
I just realized Game of Thrones is debuting the same night as Wrestlemania. Chances of Vince getting my money just went down significantly.
Punk got done yelling there, held up the belt, and then the awesome group of AJ, Otunga, Laurinaitis, and Bryan wander out, so apparently we're still getting the match.
World Champion Daniel Bryan vs. WWE Champion CM Punk
We go right to commercial and the Sonic guys are back! This will be the highlight of my evening. Santino and Teddy Long are out there to support their brand, even though each GM is supporting the other guy's wrestler for extra confusion. Bryan uses AJ to save himself from a Punk dive and AJ is looking much better than I usually think AJ looks this evening. This leads to Punk eating some steps and us going right back to commercial after like four minutes of wrestling. **** you Vince. Anyway we get five more good minutes and then all our outside interferers attempt to outside interfere. They then all argue with each other while Bryan tries to make a hasty retreat. Sheamus then runs out just like he did on Smackdown and tosses Bryan back in the ring where he gets hit with the GTS. Laurinaitis won't allow the ref to count the pin and things get even more filled with Sports Entertainment. Sigh.
So the champions just wrestled one another in the opening match, with two commercial breaks, to move forward the Teddy Long and Santino Marella vs. John Laurinaitis and David Otunga feud. Those people are arguing in the ring as we speak, and I can hardly bear to look at it. Punk goes to get his belt and leave because really how embarassing is all of this? He gets jumped from behind by Jericho and his leather pants. Bodyslam on the stage. I'm sure that isn't fun to actually take but it still made me laugh. I mean, it's a bodyslam people. Jericho with the real Lion Tamer becaus Punk is a man. Jericho holds up the belt and mocks Punk. THEY REPLAY THE BODYSLAM! Jericho leaves Punk laying and that is that.
We come back to yet another replay of that devastating bodyslam. Naturally they must assume that everybody called their friends during the commercial, asked if they were watching RAW, and then reported that CM Punk had been bodyslammed. Ratings presumably skyrocketed. They move on to talking about HHH and Taker so Metallica is here again. The Undertaker still has hair in his official serious photo. Video recap of their match last year. The disembodied voice of Jim Ross, always making things that are silly seem important. What a great resource the product doesn't need at all. This video package is great, as they have talking heads putting over both the match and the storyline that Taker was made mortal last year. I miss Edge like I miss Pizzerias, the delightful long lost Keebler product. This sold ppvs.
John Cena is going to wrestle the Miz later. I just came as close as I could to feeling sorry for someone who sleeps with Maryse as I believe that I can.
Kelly Kelly and a Bella are in the ring as we come back. Micheal Cole informs us that Kelly tweeted about Eve today. Thanks Cole.
Kelly Kelly vs. a Bella
In quick succession we learn about the magic of twitter, the possibility we could be live chatting with Trish Stratus online RIGHT NOW!, and Kelly's nomination for some award from Nickoledeon. Sometimes just let Cole talk about the match. Please. (Realizes what match I'd have him be talking about) ****. Kelly seemed to have some issues with her top during this. That's the only important thing I have to report. A woman won and was pleased about it.
Where is Kharma? Could somebody find her?
Big Show and Sheamus vs. Mark Henry and Cody Rhodes later. I don't think the ring can contain that much talent.
Hulk Hogan made his ex-wife some money during the commercials.
I miss he Rock's old pecs.
You should buy his new Blu Ray.
John Cena out at the top of the hour. Portland does not seem to like him. The Pacific Northwest is full of smart people.
Miz gets to talk before he loses. He works too hard to be treated like this. Should have worked harder to catch Truth buddy. They made him fly to Russia once. Yet, despite this he isn't on the card for Wrestlemania yet, and this is unacceptable. Miz has to prove he's Wrestlemania worthy now, is the point, and he's gonna do it by beating Cena. Not sure about your detective work there Lou.
John Cena vs. poor ol' Mike Mizanin
Cena beat Miz with the usual in less than five minutes. I just realized this means (I guess) that Cena ducked out of Daytona. This inexplicably pleases me.
They show the Rock dancing in back, presumably watching the match on a conveniently placed television. He looks at the camera. All righty then.
Triple Threat match for the WWE Tag Titles, the belts so important this match hasn't been promoted all night. The Blacks are going against the Peurto Ricans and the Samoans, I'd presume. Oh, I'm wrong. Apparently this si where they've shuffled Swagger and Ziggler off too. Works for me.
The Whites with a Mexican vs. the Blacks vs. WWE Tag Team Champions The Peurto Ricans
This match proves that no matter what happens Dolph Ziggler and Kofi Kingston are destined to wrestle each other forever and ever. Match had pretty weird rules, as three guys are in the ring at once, one from each team. Pretty good for what it was. Finish was Swagger getting the ankle lock on Epico, but eating a Trouble in Paradise from Kofi. Then Primo ran in, got the Back Stabber on Swagger, and Primo pinned him so the Colons retain. I assume some version of this is happening again at Mania.
…or in a dark match before Mania.
Kane's out. I was just wondering if they were gonna keep him off the air for a while in the hope that we forget that entire storyline. He beats up all six of these useless racial caricatures, proving the best race is Red with white skin.
John Laurinaitis cannot ******* believe that somebody who said one word in a movie won best actor. I'm glad I watched RAW now. Teddy is here to inform us that Johnny won't be running RAW next week. They bicker. Teddy leaves. I like how this is the first time we've ever seen Laurinaitis bent out of shape.
My girlfriend loves that Flo Rida song. She is a despicable person.
Video recap of Eve's inexplicable, illogical heel turn. I have no idea where this can possibly go, but at least we know that the brilliant WWE machine does.
If you call a woman a slut she will attempt to rape you in front of 15,000 people, so at least they got that right.
Eve has new music for no real reason. She thinks being booed is stupid. Crowd chants "hoeski" because wrestling fans. Eve tells men what they want to hear. They would also like to be used by a woman like her. I think much of this could be avoided by having a woman on the writing staff. It's not Eve's fault that men want her sweet, sweet can so much. Don't blame Eve for her strengths, blame men for their weaknesses. That is all.
This is really gonna change how I view her two minute match with Kelly Kelly next week.
Lawler and Cole discuss if they would hit it.
Kelly confront Eve in back and Eve laughs at her in an unconvincing manner. Then she walks away. Alicia Fox walks up and her and Kelly are sad together.
Elsewhere Sheamus and Big Show are happy.
Cole threatens us with a trailer for "Bending the Rules." The WWE lost a bunch of money last quarter almost entirely ebcause of the film division. This one stars Edge and Jamie Kennedy, so I guess that string of failure is about to end abruptly.
Alicia Witt has a small part in this abomination. That is more sad than I have the words to express.
Daniel Bryan finally wrestles Orton this week on Smackdown. Head injuries can't keep that dude down.
With each passing week the Shaq vs. Show dream match seems less and less likely. On the plus side at least he might actually get to beat Cody.
Cody mocks show for losing to Floyd Mayweather, complete with video. That was quite the craptacular feud all right.
Cody Rhodes & Mark Henry vs. Sheamus & Big Show
Show spears Henry and goes after Cody. So Cody leaves. Then Sheamus gets the Brogue Kick on Henry and pins him. This all takes thirty seconds. Mark Henry and Miz should form a support group.
Another Cena video to let us know what Rock is about to respond to.
HBK back next week.
Crowd cannot ******* wait to cheer Rock.
They do so. He does some prolonged basking before getting to our main event promo.
Rock really likes being cheered, pointing out his goosebumps. Boots to Asses chant. Rock admits he isn't here every single week. This doesn't mean he doesn't like it here. This doesn't mean he doesn't appreciate what he's gained from the the WWE. Cena doesn't respect the audiences intelligence but Rock does. Rock likes the WWE so much you guys. This was a good rebuttal to Cena's point.
Now we get to Cena bashing. He might be a phony because of the movie 8 Mile. Rock doesn't want to talk, he wants to hit Cena with chinese food. Cena isn't a phony or a bad guy, but he is a Kung Pao *****. I also have no idea what that means. Cena is gonna hear that chant for a long while I suspect. Now Rock brings up how Cena claimed he's gonna fight for the people in the back who love professional wrestling. When Rock came up in the business he learned the only people fighting for you is you. Austin didn't fight for Rocky Maivia. Rock compares his character at that point to Cena now, which is just mean. Rock fights for the people, is the point of all this. He is gonna defend them against this ***** being shoved down their throat. Cold. The Rock then goes on an extended run of getting the crowd to chant various things for his amusement. Poor John Cena.
Rocky considers this innovation. Meanwhile Cena's only innovation was changing from camo shorts to jean shorts, "which works because we can't find your balls anywhere." Poor John Cena.
Poor John Cena is here. In the ring and everything. He also didn't get the Kung Pao chicken thing. Cena runs Rock down both when he is here and when he is not. "Dwayne Johnson is a self-centered, egotistical, see through son of a *****." Then me makes fun of Rock for having notes for his promo on his wrist. Okay, this is great. Cena says he may not have balls, but he's gonna beat the hell out of him at Wrestlemania. Then he leaves. I'm rooting for Cena now.
Rock says it is just like Cena to come out, run his mouth, and then leave before getting his lips smacked off his face. Dwayne Johnson and the Rock are the same person. Who knew? Cena can call himself tough, but he isn't, so there's that. Rock vows to destroy Cena at Mania. That's our show.
Opening promo was good. Closing promo was great. Vince is probably gonna get my money after all.
Original Story:
http://www.thevictoryformation.com/20...
THE BACKYARD
BEST OF MAXIM
RELATED ARTICLES
- 411Mania's Greg De Marco reports that independent women's wrestler Buggy Nova received another tryout match against AJ Lee at this month's WWE SmackDown tapings in Fresno, California. Earlier this year at the RAW in Anaheim, WWE officials had Nova do promo work and brought her back at the SmackDown tapings the next night, where she completed a physical, did a photo shoot...
- WWE is teasing a major announcement for 10am EST this morning: "WWE's Board of Directors has just informed WWE.com that there will be a change in leadership for next week's Raw SuperShow and SmackDown. The Board's official statement on the futures of SmackDown General Manager Theodore Long (@GMSmackDown) and Interim Raw General Manager John Laurinaitis (@WWERawGM) will...
– John Cena tweeted the following after RAW last night: "Well after bout 40 hours daytona is done. Congrats to the 17. Solid effort by Jr as well. Wish id been there..but had some bidness to handle." – JBL posted the following on Facebook, defending the Rock from backstage critics. I hear the resentment/jealousy of the Rock backstage and I quite frankly don't believe it...
- Due to the President's Day holiday, we're just now getting the breakdown for the February 20th RAW Supershow which featured the fallout from Elimination Chamber. In the segment breakdown, the opener with John Cena and Eve Torres did a 3.58 quarter rating. Sheamus vs. Mark Henry plus a backstage segment with Teddy Long, John Laurinaitis and David Otunga lost 486,000 viewers...
the following list of what was cribbed on Dwayne Johnson's wrist tonight, as pointed out by John Cena: KRS to KPB Innovator – Camo 2 reasons Call out credit: pwi
- Due to the President's Day holiday, we're just now getting the breakdown for the February 20th RAW Supershow which featured the fallout from Elimination Chamber. In the segment breakdown, the opener with John Cena and Eve Torres did a 3.58 quarter rating. Sheamus vs. Mark Henry plus a backstage segment with Teddy Long, John Laurinaitis and David Otunga lost 486,000 viewers...
– Santino Marella, Daniel Bryan and Kelly Kelly react to Raw SuperShow events in the latest episode of Backstage Fallout. – KGW Channel 8 in Portland, Oregon features a story on John Cena meeting Jeremiah Neubaum, a local teenager, at Monday's Raw SuperShow at the Rose Garden. When Jeremiah was a baby, his babysitter shook him. He suffered severe brain damage and his...
- At Tuesday night's WWE SmackDown tapings in Seattle, Teddy Long made Big Show vs. Cody Rhodes with the Intercontinental Title on the line official for WrestleMania 28 on April 1st. Below is the updated confirmed card: John Cena vs. The Rock WWE Title Match Chris Jericho vs. CM Punk World Heavyweight Title Match Sheamus vs. Daniel Bryan Hell in a Cell Triple H vs. The Undertaker...
Due to the President's Day holiday, we're just now getting the breakdown for the February 20th RAW Supershow which featured the fallout from Elimination Chamber. In the segment breakdown, the opener with John Cena and Eve Torres did a 3.58 quarter rating. Sheamus vs. Mark Henry plus a backstage segment with Teddy Long, John Laurinaitis and David Otunga lost 486,000 viewers. Kofi...
The Rock, John Cena, Kelly Kelly, CM Punk, Zack Ryder and WWE have made it to the finals of the 2012 Shorty Awards.   Follow me on Twitter: www.twitter.com/therealjeffpeckDownload my wrestling podcast "The Still Real to Us Show" every Thursday at www.wheelhouseradio.com & www.wrestlechat.net
WWE News

Delivered to your inbox

You'll also receive Yardbarker's daily Top 10, featuring the best sports stories from around the web. Customize your newsletter to get articles on your favorite sports and teams. And the best part? It's free!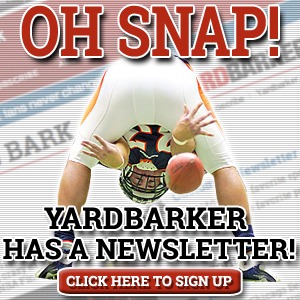 Latest Rumors
The Backyard

Today's Best Stuff

For Bloggers

Join the Yardbarker Network for more promotion, traffic, and money.

Company Info

Help

What is Yardbarker?

Yardbarker is the largest network of sports blogs and pro athlete blogs on the web. This site is the hub of the Yardbarker Network, where our editors and algorithms curate the best sports content from our network and beyond.