Found May 08, 2012 on TWNP-Wrestling News & Information:
During a recent interview with Mister Saint Laurent of MLW.com, the Ultimate Warrior talks about Vince McMahon firing him and British Bulldog back in 1992 during the federal steroid investigation. Vince McMahon claimed that Warrior and Davey Boy Smith were released for failing WWE drug tests, but Warrior says that is a complete lie. "Vince was feeling the heat from the federal investigation in what ultimately became an indictment over the steroid thing," said Warrior. "It's another one of those instances where he did what he had to do to protect his foremost interest, which was himself and his business. He made the claim that me and Davey Boy, Davey Boy got let go at the same time, that we had violated the drug policy at the time, which wasn't true." Warrior added that the doctor in charge of WWE's drug testing policy testified under oath that Warrior was not fired due to failing a drug test: "We deposed Dr. Di Pasquale, who was in charge [of the drug policy]. We went to Canada and deposed him as part of the litigation and he said it wasn't true. He was the guy that had the absolute authority in the program to decide who should be let go or if there was a different way of evaluating something. If they saw something on a wellness program test or something, it was up to him. He said he was totally shocked and surprised when Vince let me go and fired me. He never got a reason."
BREAKING NEWS: Major WWE Superstar **RELEASED** At SmackDown Tapings! (Shocking Story »»)
Original Story:
http://www.twnpnews.com/2012/05/warri...
THE BACKYARD
BEST OF MAXIM
RELATED ARTICLES
- The Ultimate Warrior is back with two new videos on YouTube: - As noted before, Triple H appeared with Criss Angel in Las Vegas over the weekend. Angel announced that Triple H recorded an exclusive interview with him that will air on CrissAngel.com beginning May 19th. Triple H discusses Brock Lesnar and other topics in the interview. Regarding the internet controversy of...
- Former WWE Superstar Snitsky has resurfaced on Twitter at BiggeneWDF. He closed his previous account last summer following a homophobic outburst toward fans of The Miz—which he claimed wasn't him. - Maria Kanellis, Davey Richards, Teddy Hart and Brittney Savage have been announced to appear for Pro Wrestling Syndicate's five year anniversary shows on Friday, June 1 and...
Embedded in the video above is a recent interview with Hulk Hogan in which he talks about the Ultimate Warrior.
The Ultimate Warrior spoke about Vince McMahon firing him and the British Bulldog during the federal steroid investigation in a recenter interview on MLW.com. Warrior claimed they were fired for drug test failures that never actually occurred. "Vince was feeling the heat from the federal investigation in what ultimately became an indictment over the steroid thing," said Warrior...
- The Ultimate Warrior will be appearing at Legends of the Ring in New Jersey, Saturday June 2. - Former WWE Diva Maria Kanellis posted the following update on Twitter, "You haven't seen nothing yet. Still growing, learning, entertaining, and conquering inner demons. It used to be a lonely road but now I have my partner in crime. I used to be afraid to be myself but now I want...
With John Cena turning 35 recently, there is talk that after going with names like Hulk Hogan, Bret Hart, Shawn Michaels, Steve Austin, The Rock, Triple H and now John Cena, the next "top guy" in WWE may be Vince McMahon's last hand-picked face of the company. FOLLOW US on FACEBOOK using key word "WrestleChat" and on TWITTER at Twitter.com/WrestleChatNetAlso, follow...
Source: The Wrestling Observer Newsletter – You can email me (Ryan Clark) at Webmaster@ProWrestlingSCOOPS.com. If you've got a newsbit please pass it along. We'll try to confirm it and then post it here on the website with credit to you. – Vince McMahon has been talking about doing another "Stand Up for WWE" campaign. He's told people that WWE will be getting a lot...
WWE News

Delivered to your inbox

You'll also receive Yardbarker's daily Top 10, featuring the best sports stories from around the web. Customize your newsletter to get articles on your favorite sports and teams. And the best part? It's free!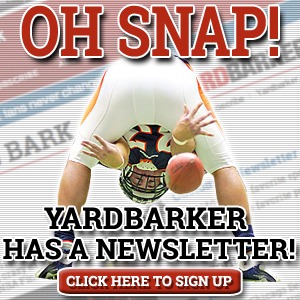 Latest Rumors
Best of Yardbarker

Today's Best Stuff

For Bloggers

Join the Yardbarker Network for more promotion, traffic, and money.

Company Info

Help

What is Yardbarker?

Yardbarker is the largest network of sports blogs and pro athlete blogs on the web. This site is the hub of the Yardbarker Network, where our editors and algorithms curate the best sports content from our network and beyond.