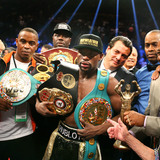 In addition to being the most hyped event in combat sports history, Saturday's boxing fight between Conor McGregor and Floyd Mayweather Jr. is poised to be the most purchased event in pay-per-view history. That's what happens when you have stars in two separate sports — MMA for McGregor, boxing for Mayweather — going head to head. Oh yes, it also helps when the two participants are...
Antonio Margarito's weird eye is about to get hit some more this weekend. There's not much happening beyond that. (photo via) Antonio Margarito vs Ramon Alvarez, Saturday, beIN Sports, Mexico. The health and safety standards for boxing south of the border aren't that hot, so Margarito fights for the second time in his comeback down in his home country of Mexico. Although his mangled...
After a nearly four year absence from the ring, the 'Tijuana Tornado' Antonio Margarito made his return to the ring at the Arena Mexico in Mexico City. Despite a 6th round knockdown, Margarito survived to win by unanimous decision against Jorge Paez Jr. Judges final scores 95-94, 97-93 and 96-93. With no real hand speed and barely enough in the tank to lift him past his journeyman...
No, it's not the Eye of Sauron, it's just Antonio Margarito. Don't worry, though, the eye is TOTALLY HEALTHY according to Mexican doctors, and Margarito has been cleared to fight on Saturday night. That sordid affair won't be the only fight on this week, though. The other names in the headline are in action on HBO and Showtime, and there are a few other lesser bouts too. Luis Ortiz...
Three time welterweight champion and now boxing promoter Antonio Margarito presents his second fight card of his career this Friday night at the legendary Municipal Auditorium of his hometown of Tijuana, Baja California, Mexico. Margarito first captured the WBO welterweight title in 2002 by stopping Antonio Diaz in ten. He went on to defend that title seven times. He then captured...
Antonio Margarito's Retirement & Reflecting on his Status Antonio Margarito retired this week and it seemed like the general tone of the public was "good riddance." It's difficult to remember a more reputation-damaging event than when Antonio Margarito got busted loading wraps for his fight with Shane Mosley. Ironically, Mosley retired the same week that Margarito hung 'em...
Former welterweight champ Antonio Margarito officially ended his 18-year professional career Thursday. The fighter known as "The Tijuana Tornado" was a multi-time welterweight titlist, but saw his last days in the sport marked with controversy and suspicion, stemming from the well-documented "Plaster Gate" scandal involving his attempt to wear illegally doctored knuckle pads prior...
*TORNADO WARNING- MARGARITO RETURNS MAY 26!* Former three-time Welterweight World champion Antonio ''Tijuana Tornado'' Margarito will once again take to the ring, as it has been announced this his next fight will be held on May 26th, and will be televised by TV Azteca. Margarito will be taking on Abel Perry at the Casino Del Sol Resort AVA Amphitheater in Tucson, Arizona on Saturday...
The WBA super light middleweight title is on the line Saturday night when Miguel Cotto takes on Antonio Margarito in New York City, but that belt almost seems like an afterthought compared to the tension between the two men and the controversy leading up to the fight. Three years ago, they met, with Cotto controlling the early rounds, but ultimately succumbing to Margarito's pressure...
We have a few more videos from HBO Boxing to help get you pumped up for Miguel Cotto vs. Antonio Margarito II this weekend. The first is HBO Boxing Cotto-Margarito Under the Lights, and the second is the Fight Speak video with Antonio Margarito. The Under the Lights video segment series is some of the best stuff that HBO Boxing puts out, so you don't want to miss it. Cotto-Margarito...
MORE STORIES >>
Boxing News

Delivered to your inbox

You'll also receive Yardbarker's daily Top 10, featuring the best sports stories from around the web. Customize your newsletter to get articles on your favorite sports and teams. And the best part? It's free!