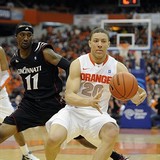 Former star point guard Brandon Triche talks about the time he played for Syracuse University and how much it meant to him since he is from Syracuse, New York. Q: What was your feeling the moment that you realized that Syracuse University's Basketball Program was interested in you? The day you signed your letter of intent and when it was official that you would be suiting up for...
WIBX 950 Just before the Big East tourney, The Fizz penned a piece encouraging Orange Nation to ignore the critics. There were a few reasons to believe in Syracuse despite the uninspiring finish to the regular season. One of those was the prospect of getting the mojo back at Madison Square Garden. Brandon Triche and co. found a new life in NYC, and have carried that into the NCAA...
nj.com Syracuse just continues to win. Every game has seemingly had some rough patches, but the Orange always seems get it done. However, there are certainly some concerns despite the 28-1 record. SU has struggled to put teams away, and seems to ease off the gas when it grabs a lead. Dion Waiters has been hot and cold, James Southerland can't hit a shot, and the half court offense...
Brandon Triche could be a huge swing vote in Syracuse landing Dajuan Coleman, but it sounds like the Orange guard will not use his influence. News has been popping on Coleman as he makes his way through the summer AAU circuit, and Jamesville-Dewitt coach Bob McKenny delivered some good news to Orange Nation. He told The Fizz Syracuse was part of Coleman's top three along with Kentucky...
It's impossible to overstate the importance of Syracuse-product Dajuan Coleman coming to the Hill in 2012, and his coach tells The Fizz three schools stand out above the rest for him: SU, Kentucky and Ohio State. And good news for the Orange, Brandon Triche could end up being the swing vote. The slimmed down big man is currently embarking on a summer long AAU tour across America...
MORE STORIES >>
College Basketball News

Delivered to your inbox

You'll also receive Yardbarker's daily Top 10, featuring the best sports stories from around the web. Customize your newsletter to get articles on your favorite sports and teams. And the best part? It's free!
THE COLLEGE BASKETBALL HOT 10