LEXINGTON, Ky. — On Shawn Perry's 30th birthday last year, he found out his wife was having a little girl. A lifelong Kentucky basketball fan, picking a name for his daughter was the easy part: Cali Perry, naturally. "My wife's name is Cari, which is just one letter off, and she loves [the TV show] Grey's Anatomy, which has a character named Callie, so she was on board right away...
Kentucky was suppose to be in one of the tougher brackets in the NCAA Tournament. Teams such as No. 1 seed Virginia and No. 4 seed Arizona were popular picks to make a run to the Final Four. It hasn't exactly worked out that way. RELATED: 2018 NCAA Tournmant: Kentucky to face Kansas State in Sweet 16 In fact, the Wildcats, who are a No. 5 seed, are now the top seed left in the South...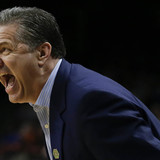 The South Region in the 2018 men's NCAA Tournament has been loaded with upsets, but Kentucky coach John Calipari isn't about to give his competition any bulletin-board material.Although the Wildcats are the No. 5 team in the region, they're the highest remaining seed because of four major upsets. Still, Calipari wants to ensure nobody thinks that means UK has an easy path to the...
You come at the king, you best not miss. Nate Oats and Buffalo learned the hard way not to poke the bear. Ahead of the Bulls' Round of 32 clash with the Kentucky Wildcats, Oats had an interesting choice of words for John Calipari. "Calipari's been whining about no experience — young, young, young," Oats said. "Well, we don't have that problem. We got some veteran guys." To be...
John Calipari and Kentucky beat Buffalo 95-75 on Saturday afternoon, ending the Bulls' run at a Cinderella Sweet 16 appearance. But coach Nate Oats was classy in defeat. Leading up to the game, there was a little bit of drama between Oats and UK coach John Calipari. Oats accused Calipari of whining about Kentucky's lack of experience this season. "Calipari's been whining about no...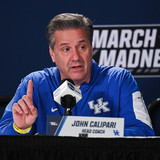 The coaches in Saturday's Buffalo-Kentucky second round game have sparked a bit of a miniature rivalry.Kentucky coach John Calipari did not take kindly to Buffalo coach Nate Oats's accusation that he was "whining" about his team's relative lack of experience, saying he was just being honest about his freshman-heavy team."I don't know if it's whining or I'm telling the truth," Calipari...
A little verbal jabbing before Saturday's Kentucky vs Buffalo clash. John Calipari loves to voice his thoughts, even if it ruffles some feathers here and there. Well, Buffalo coach Nate Oats let his feathers get ruffled by Calipari's insistence that he has the youngest team in college basketball (a factual claim). "Calipari's been whining about no experience — young, young, young...
BOISE, Idaho — Wait, did we just have beef in Boise? Buffalo coach Nate Oats, who was a high school coach five years ago, has quickly become one of the most engaging personalities at the NCAA Tournament — and suddenly has the largest megaphone of his life after the 13th-seeded Bulls upset Arizona in the first round Thursday. But did he really go in on Hall of Fame Kentucky coach...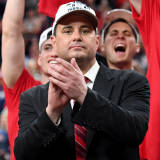 Let's be honest: You probably don't need more reasons to watch the NCAA Tournament. If you're like most of the rest of the country, you're going to watch whether you're at work or home, and you're going to hide your behavior from your boss — unless you're your own boss, in which case, lucky you!In any event, let's take a look at a few good reasons to partake in the Madness.Duke will...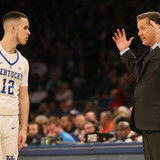 Fans in attendance for Kentucky's 88-66 win over Missouri on Saturday night erupted after seeing John Calipari's son score his first points of the season.Calipari's son, Brad, is a sophomore guard for the Wildcats. He saw (brief) action in 15 games last season, scoring eight points on two 3-pointers and two free throws. He hadn't scored yet this season despite appearing in eight...
MORE STORIES >>
College Basketball News

Delivered to your inbox

You'll also receive Yardbarker's daily Top 10, featuring the best sports stories from around the web. Customize your newsletter to get articles on your favorite sports and teams. And the best part? It's free!
THE COLLEGE BASKETBALL HOT 10