We've updated our Privacy Policy.
By continuing to use this site, you are agreeing to the new Privacy Policy.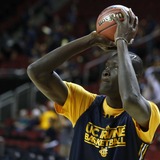 Mamadou Ndiaye, a 7-foot-6 junior at UC Irvine, has officially decided to forgo his final season of college eligibility and enter the NBA Draft. Ndiaye, who is one of only two 7-foot-6 college players in the country, declared for the draft last month but has not hired an agent. He told ESPN's Jeff Goodman he will not return to UC Irvine next year. Goodman previously reported that...
LOGAN, Utah (AP) Mamadou Ndiaye, who finished with 17 points and 14 rebounds, slammed home two dunks and added a free throw in the closing minutes to help UC Irvine beat Utah State 73-63 on Saturday night. Alex Young, who had 20 points, and Luke Nelson, who chipped in 15, made free throws down the stretch to seal the win. Young made 8 of 13 field goal attempts and had four assists...
ORLANDO, Fla. — Perhaps the most amusing part of Wednesday night's quirky matchup between basketball's two tallest players was the fact that even with 15 feet of centers on the floor for the opening tip, no one could get so much as a finger on the ball.Both UCF freshman Tacko Fall and UC-Irvine junior Mamadou Ndiaye, each 7-foot-6, whiffed on what should have been the easiest play...
LIKE WHAT YOU SEE?
GET THE DAILY NEWSLETTER:
ORLANDO, Fla. (AP) -- Tacko Fall had never played against anybody as tall as himself before. "Now I can see how people feel when they play against me," the University of Central Florida 7-foot-6 center said after playing against 7-6 Mamadou Ndiaye of UC Irvine Wednesday night. The game, which was billed as the tallest matchup in college basketball history, went to Ndiaye and the...
Via Associated Press
The UC-Irvine Anteaters played the UCF Knights in Orlando Wednesday night, but the really big news was that it was the first time two 7'6" players ever appeared on a basketball court at the same time. UC-Irvine has Mamadou N'diaye, a junior from Dakar, Senegal and UCF has Tacko Fall, a freshman who comes from the same home city — both seven-and-a-half footers.  ...
The UCF Knights and UC-Irvine Anteaters are playing each other tonight and the tip-off was nothing short of hysterical. That's because the team's two centers, UCF's Tacko Fall and UCI's Mamadou Ndiaye, are both 7-foot-6 and don't exactly have the smoothest hands. Check out their classic tip-off below! Stay tuned to Campus Sports for more updates on this classic matchup of tall centers...
Mamadou Ndiaye, our time together this March was too short. UC Irvine and its 7-foot-6 sophomore stud very nearly pulled off an upset of No. 4 seed Louisville on Friday in the NCAA tournament's round of 64. If they had, we would get at least another game of Mamadou Ndiaye. Sadly, they came up short, and we must bid farewell to the Anteaters' star. If you're not familiar with Ndiaye...
YouTube UC Irvine 7-foot-6 center Mamadou Ndiaye threw out the ceremonial first pitch Tuesday night prior to the Cal State Northridge UC Irvine baseball game. Disappointingly, he didn't throw from the mound where he would have stood eight feet tall. Instead, he chose to throw it from about 45 feet where he practically handed it to the catcher. [CBT] The freshman scored 8.0 points...
@oregonMBB UC Irvine's Mamadou Ndiaye (7' 6") battles Oregon's Johnathan Loyd (5' 8") in the paint. #GoDucks pic.twitter.com/ZTgBNvo0YP — Brian Davies (@daviesphoto) December 18, 2013 During Tuesday night's showdown between the Oregon Ducks and UC Irvine Anteaters, Ducks diminutive point guard Johnathan Loyd posted up Anteater Mamadou Ndiaye in a hilarious example of ridiculous size...
Mismatch! Mismatch! During Oregon's 91-63 win over UC Irvine on Tuesday night, Ducks point guard Johnthan Loyd somehow got matched up with Mamadou Ndiaye for a brief moment. Why is this noteworthy? Well, have a look at this photo and you'll get the point: You must see this photo by @daviesphoto. 7-foot-6 Mamadou Ndiaye vs. […]
MORE STORIES >>
College Basketball News

Delivered to your inbox

You'll also receive Yardbarker's daily Top 10, featuring the best sports stories from around the web. Customize your newsletter to get articles on your favorite sports and teams. And the best part? It's free!
THE COLLEGE BASKETBALL HOT 10