Scott Frost has been running the option offense at practice to help his UCF Knights prepare for their game on Saturday against Navy. Frost famously played quarterback for Nebraska in college and successfully ran the option offense. Navy runs the triple-option to near perfection, so who better than Frost to run it and help his defense prepare? Dwayne Stanford, a former Oregon WR ...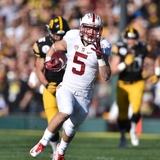 EUGENE, Ore. (AP) Christian McCaffrey ran for 135 yards and two touchdowns and Stanford defeated the defenseless Oregon Ducks 52-27 on Saturday. Junior quarterback Keller Chryst made his third consecutive start for the Cardinal, throwing for 258 yards and three scores. Stanford (7-3, 5-3 Pac-12) has won three straight. The loss means that Oregon (3-7, 1-6) will finish with a...
STANFORD, Calif. (AP) For decades, when it came to rivalries at Stanford there was nothing that could match the intensity of the annual season-ending game against California. While the Big Game still is tops in terms of history with memories of The Play and battles for the prized Axe, when it comes to importance the Cardinal's annual game against Oregon now takes top billing....
Following the win by Stanford, Oregon football entered Saturday night needing a victory to keep Pac-12 North title dreams alive. That dream jumped off to a rough start as the Ducks went three and out on the first possession which was followed up with a blocked punt.   Jared Goff and the California offense took advantage of the prime position from the blocked punk and took the ball...
Vernon Adams Jr. nearly single handedly kept Oregon's ship from sinking in Tempe last Thursday against Arizona State. His last-second, game-tying touchdown to Dwayne Stanford helped the Ducks force overtime.For his incredible efforts, Adams was named the Pac-12's offensive player of the week.On the night, Adams was 23-of-40 for 315 yards and 4 touchdowns in Oregon's 61-55 triple...
Oregon needed a miracle late in the fourth quarter against Arizona State in Tempe on Thursday night. Vernon Adams and Dwayne Stanford teamed up for one of the most improbable touchdowns you'll ever see. Down 41-34, the Ducks faced a fourth-and-goal situation. Adams took the snap, scrambled around, tossed up a prayer and somehow found Stanford in the back of the endzone for a touchdown...
Wide receiver Dwayne Stanford, Oregon's tallest playmaker, didn't catch a single pass against Michigan State. Offensive coordinator Scott Frost explains why:"They play press on the outside. It's quarters coverage, but they press and lock their corners on the outside. We made some plays on it, it just didn't happen to be Dwayne," Frost said. "We don't look to get the ball to any one...
Despite the fact that Vernon Adams will not join the Oregon Ducks until June 14, he is already fitting in well with his new teammates. Adams, who committed to Oregon early this year, will transfer in from Eastern Washington where he was one of the best players at the FCS level. In fact, Adams twice led his Eastern Washington teams into battle against Pac-12 opponents and succeeded...
MORE STORIES >>
College Football News

Delivered to your inbox

You'll also receive Yardbarker's daily Top 10, featuring the best sports stories from around the web. Customize your newsletter to get articles on your favorite sports and teams. And the best part? It's free!
THE COLLEGE FOOTBALL HOT 10