On Thursday Josh Doctson might find out if his ailing wrist is healthy enough for him to play in the Alamo Bowl against Oregon on Jan. 2.If he can't play, it will be about the only thing this season he didn't accomplish. TCU's 6-foot-3 star wide receiver is expected to have the cast removed from his left wrist and after an exam by a specialist, Doctson will know if he has one last...
A dozen days ago, the TCU Horned Frogs were unbeaten, ranked eighth in the College Football Playoff rankings and trying to make a case for why they belong in the coveted final four.Now, they're just trying to keep the season from completely unravelling -- and now they'll have to do it without one of their best players.Receiver Josh Doctson, one of the top wideouts in the nation with...
It has been difficult to follow the status of TCU Horned Frogs wide receiver Josh Doctson, but it would appear as though we finally have an answer. On Wednesday night, it was reported that the senior pass catcher has been ruled out for the remainder of the season by head coach Gary Patterson, who had previously denied the receiver was out for the year. There is a chance, however...
Last week against Oklahoma City the TCU Horned Frogs were thrown for a loop when wide receiver Josh Doctson had to leave the game with a wrist injury. Losing his best weapon made life a little harder for Trevone Boykin, and the TCU offense was clearly not the same without him. So the big question going forward was whether he was out for good, just a week, or if he'd be out at all...
TCU fans can likely say goodbye to their team's Big 12 title hopes as Horned Frogs coach Gary Patterson announced today on Sirius XM show Full Ride that star wide receiver Josh Doctson would miss the rest of the season with a wrist injury. Chris Childers, host of Full Ride, posted the unfortunate news on Twitter. Gary Patterson just said star WR Josh Doctson is out for rest of season...
The TCU Horned Frogs got a pretty big scare in last week's 49-29 loss to Oklahoma State. In the second quarter, leading wide receiver Josh Doctson went down with an apparent arm injury. He did not return to the game after he was initially diagnosed with a sprained wrist. According to College Football Talk, head coach Gary Patterson confirmed that Doctson will be seeing a specialist...
FORT WORTH, Texas -- TCU star receiver Josh Doctson was scheduled to see a specialist after rolling over on his left wrist in the 13th-ranked Horned Frogs' first loss of the season.Coach Gary Patterson said Tuesday that Doctson was feeling better and was set to see a specialist Tuesday night.When talking about Doctson's availability for Saturday's home game against winless Kansas...
TCU wide receiver Josh Doctson was injured during Saturday's TCU vs. Oklahoma State Big 12 showdown. He had to leave the game after suffering a wrist/arm injury. Josh Doctson forced out with wrist/arm injury https://t.co/DUb4tYbqgF — Rotoworld NFL Draft (@Rotoworld_Draft) November 7, 2015 His return to the game was listed as "doubtful" and based on what we saw, it didn't look...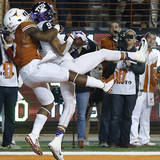 TCU wide receiver Josh Doctson is quickly becoming a household name in his senior season. The NFL prototype, at 6-foot-3 and 195 pounds, made everyone stand up and say "Whoa!!!" on Saturday morning as the No. 3-ranked Horned Frogs hosted the Texas Longhorns. Early in the first quarter, already up 8-0, quarterback Trevone Boykin had his offense in the red zone for another scoring...
The college football awards from Week 4 of the season have been handed out, with TCU Horned Frogs wide receiver Josh Doctson earning Walter Camp National Player of the Week honors. During TCU's big win over the Texas Tech Red Raiders, Doctson hauled in a school-record 267 yards on 18 receptions. The senior pass catcher also tallied three touchdowns. Along with the school record for...
MORE STORIES >>
College Football News

Delivered to your inbox

You'll also receive Yardbarker's daily Top 10, featuring the best sports stories from around the web. Customize your newsletter to get articles on your favorite sports and teams. And the best part? It's free!
THE COLLEGE FOOTBALL HOT 10