Pop quiz: Can you name the shining moment for Lorenzo Carter at UGA? There are a lot of contenders, just from the 2017 season alone. Was it The Rose Bowl? That blocked kick? Nah. What about that payback victory in the SEC title game against Auburn? Strike two.  Carter's answer reflects more of a team win than a night when his individual totals jumped off the stat sheet. But he did...
Davin Bellamy had to wait his time at Georgia. The same goes for Lorenzo Carter. "We had two guys in front of us when we came in that were NFL-ready," Bellamy said last week. "They kind of taught us a lot. The guys behind us last year came into that same kind of situation." Those two had to wait behind Leonard Floyd and Jordan Jenkins before their first big doses of heavy playing...
Add Lorenzo Carter to the list of former Bulldogs stars who will be a part of a night to remember. The defensive standout will join former UGA teammates Nick Chubb, Sony Michel, Roquan Smith and Davin Bellamy at DawgNation Appreciation 2018 on Thursday, March 15. Want to be a part of the celebration? There's still time to get in on it, but you won't want to wait much longer because...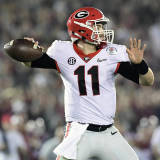 The college football bowl season finished on a high note.On New Year's Day, we saw an all-time classic in Georgia's Rose Bowl victory over Oklahoma, a clinical Alabama victory over Clemson in the Sugar Bowl, and a memorable Central Florida win over Auburn in the Peach Bowl. Though the National Championship Game still remains, the college football season's symbolic end was as perfect...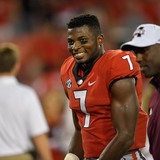 Georgia's Lorenzo Carter sported an awesome set of shoulder pads after Georgia defeated Oklahoma in the Rose Bowl.During the second overtime period of an epic college football playoff game, Carter blocked a 27-yard field goal attempt by Austin Seiber to keep the score deadlocked 48-48. Two plays later, Bulldogs running back Sony Michel scored a touchdown to send Georgia to this year...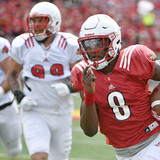 College football Week 1 is here, folks. The action is kicking into high gear, and there are so many big-time angles to look at as the season gets underway.Where do we start?Last year's Heisman Trophy winner is looking to become the first repeat winner since Archie Griffin back in 1974-75. Nobody else has done it, so history is certainly against the Louisville quarterback. There are...
In a freshman season where he amassed 41 tackles, 7 tackles for loss, 4.5 sacks, and 11 QB Hurries, Lorenzo Carter feeling "very comfortable" is definitely a reason for opposing offenses to be very afraid. I don't have to opine… Read more → The post Georgia Football: Lorenzo Carter Feels "Very Comfortable" Heading Into Year Two appeared first on The Lady Sportswriter.
Lorenzo Carter is a straight up monster. Now that I have stated the absolute obvious, here's a short clip for you to watch; in it Carter touches on the strides A.J. Turman has made, the surprising play of transfer Jake… Read more → The post Georgia Football: Lorenzo Carter is Having Fun and It's Wonderful to See appeared first on The Lady Sportswriter.
Tennessee was aiming to prove to the world that they are no longer a doormat for the rest of the SEC with a good showing against the Georgia Bulldogs. For the most part they succeeded in doing that, but not on this play when freshman linebacker Lorenzo Carter planted Tennessee back-up quarterback Nathan Peterman in to the turf.Yeah--that's going to leave a mark.@SBNationGIF/TwitterRead more »
When asked what the biggest adjustment has been for him thus far, true freshman Lorenzo Carter said, "Going hard every play. There's no chance to slack off—they record everything you do—the eye in the sky don't lie and you gotta… Read more → The post Georgia Bulldogs: Lorenzo Carter, "There's no chance to slack off…" appeared first on The Lady Sportswriter.
MORE STORIES >>
College Football News

Delivered to your inbox

You'll also receive Yardbarker's daily Top 10, featuring the best sports stories from around the web. Customize your newsletter to get articles on your favorite sports and teams. And the best part? It's free!
THE COLLEGE FOOTBALL HOT 10