Subscribe to Arizona Athletics: http://bit.ly/BearDownWildcats
We looked back at the regular season to find some classic Sean Miller moments to share with Arizona Basketball fans. In no specific order, let's review four of our favorite moments from Arizona Basketball Coach Sean Miller this past...
Subscribe to Arizona Athletics: http://bit.ly/BearDownWildcats
Subscribe to Arizona Athletics: http://bit.ly/BearDownWildcats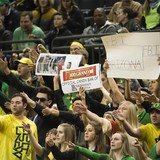 You knew as soon as the report leaked about Arizona coach Sean Miller being caught on wiretap discussing a $100,000 payment to secure recruit Deandre Ayton, fans would be all over the Wildcats. And that was the case on Saturday night in Eugene.Oregon Ducks fans came well prepared to taunt Ayton. Some fans were even shown on TV by ESPN holding up a sign resembling a check. The check...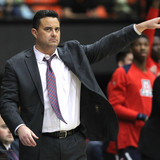 Sean Miller is one of the coaches who could be facing trouble with the NCAA due to evidence uncovered by the FBI in their corruption case.According to ESPN's Mark Schlabach, the FBI caught Miller on wiretap discussing a payment with Christian Dawkins for recruit DeAndre Ayton. Miller was discussing paying $100,000 to ensure Ayton would end up playing for his Arizona Wildcats.Ayton...
Subscribe to Arizona Athletics: http://bit.ly/BearDownWildcats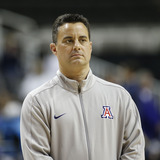 Sean Miller is recognized as one of the top coaches in college basketball, though he does have one glaring hole in his resume: no Final Four appearances.And just when you thought he was going to turn around that trend this season, his Arizona Wildcats blew a 69-61 lead with under four minutes left and lost 73-71 to Xavier in the Sweet 16.That led to this extremely harsh edit to his...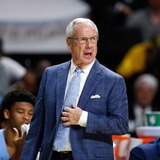 There are a lot of factors to look at when filling out your bracket once March Madness rolls around. Who's coming in on a hot streak? Who has the sort of player that can take over and win a game on their own? How many experienced upperclassmen does each team have to turn to when the pressure is on?Due to the very nature of college basketball, roster turnover is high, and it's hard...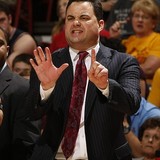 Arizona Wildcats coach Sean Miller could be in line to succeed Jamie Dixon at Pitt if a report from Rich Walsh of CBS Pittsburgh is true. Per Walsh's report, Miller is in Pittsburgh hammering out final details of the contract that Pitt has offered him. The turnaround for a new hire has been fairly quick, as Dixon accepted the same job at his alma mater Texas Christian yesterday after...
MORE STORIES >>
College Football News

Delivered to your inbox

You'll also receive Yardbarker's daily Top 10, featuring the best sports stories from around the web. Customize your newsletter to get articles on your favorite sports and teams. And the best part? It's free!
THE COLLEGE FOOTBALL HOT 10