We've updated our Privacy Policy.
By continuing to use this site, you are agreeing to the new Privacy Policy.
Welcome, Mark! Here's your first priorities UB has hired Mark Alnutt away from Memphis to succeed Allen Greene as Athletic Director. We will have a bio up here shortly, but here's Alnutt's to-do list as we see it. Felisha Legette-Jack Contract Quite literally, your first act is a sendoff for our Women's Basketball team as they head to the Sweet Sixteen in Albany. Our coach has...
With all the excitement of new Basketball milestones being set the hunt for UB's next Director of Athletics has fallen somewhat off of our radar. Kathy Twist has done an excellent job taking care of business while the powers that be went to work looking for Allen Greene's replacement. She got Nate Oats under a new contract and managed the logistics of a department as it sent two...
UB Athletics" data-has-syndication-rights="1" data-focal-region="x1:658,y1:158,x2:956,y2:456" src="https://cdn.vox-cdn.com/thumbor/WLT8wZA4Js31-4Rp1tXXB-4p8hw=/0x0:1805x1203/1310x873/cdn.vox-cdn.com/uploads/chorus_image/image/59088855/Capture.0.png" /> Just days after winning their first-ever NCAA Tournament game, the Bulls pull off another upset UB Women's Basketball...
LIKE WHAT YOU SEE?
GET THE DAILY NEWSLETTER: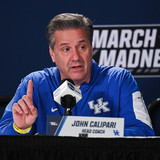 The coaches in Saturday's Buffalo-Kentucky second round game have sparked a bit of a miniature rivalry.Kentucky coach John Calipari did not take kindly to Buffalo coach Nate Oats's accusation that he was "whining" about his team's relative lack of experience, saying he was just being honest about his freshman-heavy team."I don't know if it's whining or I'm telling the truth," Calipari...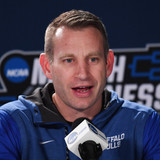 Buffalo Bulls coach Nate Oats clearly thinks his team has a good shot at pulling another upset in the NCAA Tournament.Even though the Bulls are underdogs against the talented and athletic Kentucky Wildcats, Oats thinks the Bulls have one major advantage — upperclassman experience. Neither team is particularly rich in NCAA Tournament experience, but Oats is clearly trying to put something...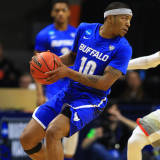 Buffalo guard Wes Clark had a little extra spring in his step following Thursday's shocking upset victory over Arizona.After Clark and the No. 13-seeded Bulls stunned the Wildcats by the final of 89-68 in the first round of the NCAA Tournament, the senior called out both Kentucky (who is now set to play Buffalo in the Round of 32) and ESPN."I have a lot of history with those Kentucky...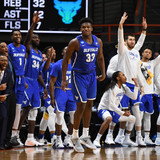 Most of the talk around the NCAA Tournament Thursday night surrounded the Arizona Wildcats and their upset loss to Buffalo in the second round of the tourney. After all, it could have been the death knell for Sean Miller's tenure as the Wildcats' head coach.Though, Buffalo's win shouldn't be taken lightly. The 13th-seed Bulls defeated Arizona by 21 points. It represented the program...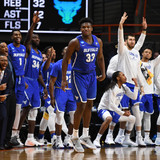 Something got into the Buffalo Bulls at halftime last night. But because of that, No. 4 seed Arizona is no more. Moreover, the Pac-12 is no more. And as it turns out, that's historic. It's been a tumultuous season on and off the court for head coach Sean Miller, but now it's all about off the court. Meanwhile, this is Buffalo's first NCAA Tournament win. And they didn't take down...
The No. 13-seed Buffalo Bulls didn't just upset the the No. 4-seed Arizona Wildcats during first round action of the NCAA Tournament on Thursday night in Boise. Buffalo *destroyed* Arizona, 89-68. Arizona was a trendy Final Four pick, with dummies like yours truly and Skip Bayless even picking the Wildcats to win the whole damn thing. And the idea didn't seem as crazy as it obviously...
NCAA Tournament scouting report: Buffalo
The news that we as a Buffalo Bulls community have been waiting for, Nate Oats has been signed to a new long term deal, following the Bulls huge win against CMU. While we do not know the specifics of the contract yet, we do know that is for five years according to Josh Reed. Oats has been a huge factor to the Bulls success, and locking him up to a long term deal has been on the...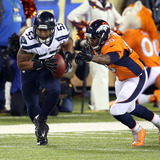 Everyone hopes that the Super Bowl, with so many eyes glued to televisions, will deliver a compelling contest. Recently, it has done so more often than not, with wild comebacks, big plays, and huge upsets thrilling viewers around the world. That said, there have been plenty of stinkers mixed in throughout the years, with the only entertainment being the commercials and the halftime...
MORE STORIES >>
Buffalo News

Delivered to your inbox

You'll also receive Yardbarker's daily Top 10, featuring the best sports stories from around the web. Customize your newsletter to get articles on your favorite sports and teams. And the best part? It's free!
THE HOT 10: Who's Trending