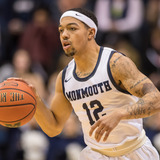 To say 11-year-old Erica Schaeffer is doing her part to raise the profile of Monmouth point guard Justin Robinson among NBA teams would be a drastic understatement.Schaeffer, of New Jersey, became a huge fan of Robinson's play and fan-friendly demeanor while attending Monmouth games over the past year. And she wanted to make sure NBA teams were aware of many qualities possessed by...
During the 2015-16 college basketball season, the Monmouth Hawks took the country by storm thanks to their great play on the court, but more importantly their amazing bench. The guys riding the pine decided to make the most of their time off the court by coming up with some hilarious celebrations, earning them the nickname "Bench Mob." After the Hawks went 28-8, won the MAAC regular...
The Monmouth Hawks and their infamous bench mob may not have made the NCAA Tournament this year and suffered an early exit in the NIT, but that hasn't stopped them from celebrating today's very special day. What? You didn't know? Why, it's National Puppy Day. Of course, Monmouth chose to celebrate by playing some basketball with a group of canine friends and in a video posted to...
There is no questioning that the Monmouth Hawks have had one of the biggest trends of the college basketball season with their hilarious bench celebrations. Friday night, the team won a huge game over Rider to help their case for an At-large bid in the NCAA Tournament. They used a 17-2 run against their MAAC opponent to pull off the big win. The run was capped off by a three-point...
The Monmouth Hawks and Iona Gaels had a great game that came down to the wire with the former coming out on top 110-102. The two teams got chippy towards the end of the game and it culminated in an all-out brawl that saw the two teams forcibly pulled apart. During the fight, Iona's Jordan Washington smacked Monmouth's Chris Brady across the fight in what is obviously going to see...
The Monmouth Hawks have been tearing up social media with their hilarious sideline celebrations all season long but, on Friday, those slapstick antics sparked a confrontation complete with a real slap. The Hawks defeated the Iona Gaels 110-102, but it was what happened after the game that became the big story. Here are some clips of the incident, starting with one that shows center...
Jordan Washington will likely be facing discipline from the MAAC for slapping Chris Brady during a fight between Iona and Monmouth players after their game on Friday night. Monmouth knocked off Iona 110-102, and things got heated following the contest. Players from both sides mixed it up, with Washington taking it to a new level by slapping Brady. This video shows Washington's slap...
While the Monmouth Hawks men's basketball team (7-3, 3rd in MAAC) is a force to be reckoned with this season, the squad's bench mob has already established itself as the NCAA's preeminent bench celebration unit.They've celebrated with jousting, bench presses and recently a depiction of a Sistine chapel painting. The Hawks bench mob can do it all.Now they want to share the knowledge...
WASHINGTON — Je'lon Hornbeak scored 18 points, going 15 of 16 from the line, and Monmouth upset Georgetown 83-68 on Tuesday for the program's first win over a Big East opponent.Monmouth (7-3) got contributions all over the floor — Micah Seaborne, Deon Jones and Collin Stewart all scored 13 points and Justin Robinson added 12 points. The Hawks shot 50 percent (10 of 20) beyond the...
There aren't many college basketball teams that are having more fun than the Monmouth Hawks so far this season — and are they showing it. The unheralded New Jersey college basketball squad's antics on the bench started when they topped No. 17 Notre Dame on Thanksgiving. And after a loss to Dayton they ramped up the hilarious celebrations during a win over USC on Sunday. It...
Many of you have probably never heard of Monmouth University. It is a small school in West Long Branch, New Jersey, with an enrollment of 6,570, and it also happens to be the home of the Division I Monmouth Hawks, who play in the MAAC along with schools like Fairfield, Marist, Iona and others. It just so happens that the team has gotten off to a 4-2 start this season and had an amazing...
No team in sports can be having more fun than the Monmouth Hawks men's basketball squad.Special thanks to the "bench mob." For proof, check the video above and enjoy the "Edward Scissor Legs."Monmouth, based out of West Long Beach, NJ, has to have the most fun bench in the country. The Metro Atlantic Athletic school recently played in several national televised games the past few...
Andrew Nicholas scored 15 points and Monmouth (N.J.) used a late-game surge to overtake Sacred Heart 63-56 Thursday night. A 3-pointer by Jesse Steele started a 13-0 run for the Hawks (7-17, 5-6 Northeast Conference), just 4 seconds after the Pioneers (10-14, 4-7) had taken a 54-46 lead with 2:31 remaining. Two consecutive Monmouth turnovers led to layups by Dion Nesmith and Nicholas...
MORE STORIES >>
Monmouth News

Delivered to your inbox

You'll also receive Yardbarker's daily Top 10, featuring the best sports stories from around the web. Customize your newsletter to get articles on your favorite sports and teams. And the best part? It's free!
THE HOT 10: Who's Trending