We've updated our Privacy Policy.
By continuing to use this site, you are agreeing to the new Privacy Policy.
Highlights and interviews with Coach Katz, Jordan Tolbert, and seniors Justin Strings and James Herrick from Sacramento State's 88-77 win over Northern Colorado on Senior Night.
LIKE WHAT YOU SEE?
GET THE DAILY NEWSLETTER:
Highlights and interviews with head coach Bunky Harkleroad as well as sophomore Hannah Friend and junior Raegen Rohn from Sacramento State's 79-64 win over Idaho on Jan. 4, 2017.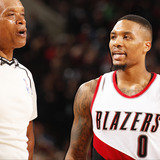 The NBA has created a hotline where players can call to complain about NBA referees. They can complain about calls, get clarification on rules, and share their Dick Bavetta fan fiction. It's like the Thanksgiving Butterball hotline. Each week, we'll present a look at the hotline's responses, which are about as genuine as John Wall's friendship with Bradley Beal. We know when that...
SACRAMENTO, Calif. -- Marcus Graves had 10 points and five assists and Sacramento State beat Northern Arizona 64-51 on Saturday night. The Hornets (13-16, 6-12) are the No. 10 seed and face seventh-seeded Montana State, and Northern Arizona (5-24, 3-15) is the 11th seed and plays No. 6 seed Eastern Washington on Tuesday in the Big Sky Conference Tournament. Justin Strings had 13...
GRAND FORKS, N.D. (AP) Quinton Hooker sank a career-high five 3-pointers and scored 34 points to lead North Dakota past Sacramento State for a 97-71 win Saturday. Hooker finished 11 of 12 from the field and went 7 for 8 from the line to record his second game in a row with more than 30 points. Drick Bernstine added 12 points for North Dakota (15-12, 9-6 Big Sky) and Dustin Hobaugh...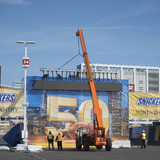 Every year since Super Bowl XL, I have used this blog for my "Stops To Super Bowl" list.  Every year, I create a list of smart, dumb, inane and chat worthy items for you to use in any banter leading up to and during the Super Bowl.This year, it is 50 Stops to Super Bowl 50 and I'm back with some more (and some of the same) little items for you about the upcoming big game.#50-NO ROMAN...
SACRAMENTO, Calif. (AP) Eric Stuteville had 16 points, 12 rebounds and five blocked shots to lead Sacramento State to a 78-49 win over NAIA's Pacific Union Monday night. Stuteville made 6 of 9 field goals. Dreon Barlett hit 3 of 6 from long range for 13 points and Justin Strings added 12 points and seven rebounds. Sacramento State (7-4) jumped out to an early lead and never trailed...
FLAGSTAFF, Ariz. -- Case Cookus threw for 407 yards and six touchdowns and ran for a score as Northern Arizona defeated Sacramento State 49-35 on Saturday.Cookus has now thrown for 2,761 yards and 36 touchdowns in 10 games. Cookus' six TDs is one shy of the school record he tied earlier this year.Northern Arizona (7-3, 5-2 Big Sky Conference) and Sacramento State (2-8, 1-6) traded...
SACRAMENTO, Calif. (AP) Daniel Kniffin threw for 282 yards and two touchdowns to lead Sacramento State to a 41-20 victory over NAIA's Eastern Oregon on Saturday night in the season opener for both teams. Kniffin threw touchdown passes to Jordan Robinson and Isiah Hennie in the first quarter to open the scoring and the Hornets went on to lead 31-0 at the break. Kniffin plunged in...
MORE STORIES >>
Sacramento State News

Delivered to your inbox

You'll also receive Yardbarker's daily Top 10, featuring the best sports stories from around the web. Customize your newsletter to get articles on your favorite sports and teams. And the best part? It's free!
THE HOT 10: Who's Trending