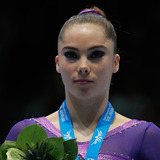 A lawyer for McKayla Maroney said Wednesday that USA Gymnastics paid the former gymnast to remain silent about allegations of abuse by former team doctor Larry Nassar.As part of a lawsuit filed on Maroney's behalf against USA Gymnastics, John Manly, Maroney's attorney, stated that USA Gymnastics paid Maroney to sign a confidentiality agreement in late 2016, as allegations against...
Your browser does not support iframes. McKayla Maroney was in Chicago on Friday and threw out the first pitch prior to the White Sox-Twins game, and she put a gymnastics twist on it. The 18-year-old Olympic gold medalist busted out what looked like a cartwheel and front handspring to bring her about 20 feet away […]
One would think that having premium seats on the glass for Wednesday's New York Rangers-Pittsburgh Penguins tilt at Madison Square Garden would inspire even the most underwhelmed and difficult-to-impress attendee to at least, you know, turn and face the action occurring directly in front of them. But not this young Rangers "fan." Look at how […]The post Not impressed: Kid at New...
McKayla Maroney and Aly Raisman were both hurt during the second night of the Kellogg's Tour of Gymnastics Champions. The gold medal winners were performing along with the rest of the "Fierce Five" in Ontario, Ca., when they hurt themselves on the uneven bars Sunday night. At around the 1:25 mark in the video above, you can see Maroney hurt herself on her dismount from the uneven...
McKayla Maroney's parents are so worried about the safety of their daughter in light of her recent fame they've hired bodyguards to look after her. The 16-year-old gymnast from Long Beach, Calif., won gold in the team competition at the London Olympics, and she also took silver in the vault — a disappointing finish that led to an Internet meme that went viral. Maroney's success...
MORE STORIES >>
Gymnastics News

Delivered to your inbox

You'll also receive Yardbarker's daily Top 10, featuring the best sports stories from around the web. Customize your newsletter to get articles on your favorite sports and teams. And the best part? It's free!