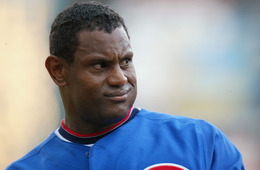 Sammy Sosa wants YOU to enjoy his Pinterest page. Former slugger Sammy Sosa didn't garner enough votes this year for induction into Baseball's Hall of Fame, but that doesn't mean the former Cub/White Sox/Orioles/Rangers superstar hasn't been keeping his name in the spotlight.  Recently it was discovered that Sosa has his own Pinterest page, and it is nothing short of remarkable. The entire page consists of pictures of Sosa in various poses—lounging and pointing, standing and smiling, leaning whimsically on a desk, getting cozy with his computer's monitor—and in each shot he's either wearing a very fashionable business suit, or a very Perry Como-ish sweater and slacks.  Each and every picture has the caption "Sammy Sosa. Yes, I'm the real Sammy Sosa, and this is my Pinterest" which makes Sosa's page all the more fascinating. Nice to see that Sammy has gone back to a more normal skin tone for these glamor shots, and to anybody who says that Sosa hasn't mastered the fine art of social media, I say you're dead wrong.  A Pinterest page featuring a bunch of boring pictures of Sammy Sosa with the same caption for each shot has captured the fascination of the Internet in a span of a few days.  Let's see a Pinterest page of various pasta dishes do that.   The post And just like that Sammy Sosa has become the undisputed king of Pinterest appeared first on Last Angry Fan.

Read the rest of this story...
MORE FROM YARDBARKER
White Sox News

Delivered to your inbox

You'll also receive Yardbarker's daily Top 10, featuring the best sports stories from around the web. Customize your newsletter to get articles on your favorite sports and teams. And the best part? It's free!