Originally posted on
Fangraphs
| Last updated 3/6/15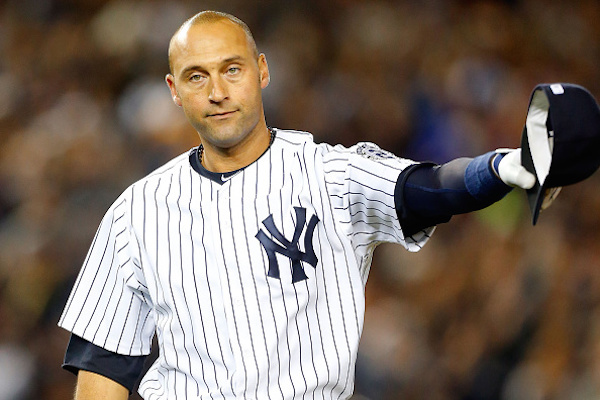 Yankees general manager Brian Cashman earlier this week floated the idea that Derek Jeter should be the final captain in team history.
Jim McIsaac/Getty Images
By Sean Dolinar
This week, Brian Cashman commented that he doesn't foresee any Yankee being named captain to replace Derek Jeter. After Jeter and Paul Konkero retired at the end of 2014, there is currently just one captain in Major League Baseball: David Wright of the New York Mets. The idea of having a captain in baseball has become antiquated. There never was a strong tradition for this practice like there is in hockey, and players are now so transient that teams are more likely tying their own hands with future transactions by naming a captain than they are creating good will with the player and fans.
I wanted to get a better idea of what the Yankees captaincy looked like over the years, so I created the following timeline to visualize the leadership position.
After researching this topic, I came across many different accounts of exactly how many Yankees captains there are. Even the Yankees have apparently misunderstood their own history announcing that Jeter was the 11th captain when he assumed the role in 2003. I have displayed 15 players from Wikipedia's entry. I found three other data sets (Howard W. Rosenberg, Baseball-Reference, and Baseball Almanac), and all four conflicted with each other. Wikipedia had the most players; I erred on the side of inclusion.
Cashman's comments aren't the first time the Yankees have stated they feel like the captaincy should be retired. After Lou Gehrig died in 1941, there was no Yankees captain for over 30 years until after George Steinbrenner bought the team.
Looking at the rest of the graphic, little information is known from the early history of the Yankees, hence all the confusion about the number of captains. Given his stature in Yankees lore, a causal fan might think that Babe Ruth would have been the Yankee's captain for more than five games, but he got into a fight with a fan in the stands and lost his title. For three seasons, Willie Randolph and Ron Guidry were the only co-captains for the Yankees. Derek Jeter stands out as the longest tenured captain – 14 years.
Considering the gaps in the timeline of Yankees captains and the current culture in baseball, it could be a long time until there is another captain if there is another one at all.
MORE FROM YARDBARKER
Yankees News

Delivered to your inbox

You'll also receive Yardbarker's daily Top 10, featuring the best sports stories from around the web. Customize your newsletter to get articles on your favorite sports and teams. And the best part? It's free!