Whatever this story says, good or bad, Adam Wainwright won't read it. The 36-year-old righty elevated a desire to avoid "distractions" to the top of his lengthy priority list this spring, in which he's hoping to prove that he's poised to bounce back from a career-worst season.
Let's burn down the Carlos Martinez inconsistency narrative and then salt the earth where it once stood. This week, Jose de Jesus Ortiz became the latest to take shots at the best pitcher on the St. Louis Cardinals for somehow not being consistent enough at his bestness. As Ortiz put it: He can and should be better, though. Martinez shouldn't settle for being good enough to match...
In the final year of his contract, will Adam Wainwright bounce back and be a key part of the rotation? Adam Wainwright is arguably the best non-Bob Gibson pitcher in St. Louis Cardinals history. Although he will probably fall a bit short of being enshrined in Cooperstown, he is a shoo-in for induction into the Cardinals Hall of Fame. He has been a World Series-winning closer, a four...
Adam Wainwright is 36 years old, and is under contract with the St. Louis Cardinals through 2018. He's spent his entire 12-year MLB career with them since being traded by the Atlanta Braves in 2003. But as spring training approaches, Wainwright has just one message for the media. If you're going to talk retirement, do so now."If you have a question about whether I'm retiring after...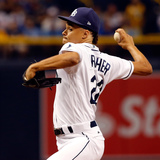 After missing out on the playoffs by just a few games last season, the St. Louis Cardinals seem to be eyeing a piece that could put them over the top in 2018.According to a report by Derrick Goold of the St. Louis Post-Dispatch on Sunday, the Cardinals are showing interest in right-hander Chris Archer, having had recent trade talks centered on him with his Tampa Bay Rays.The two...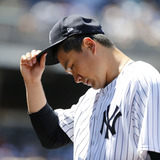 One of the many things non-fans find to complain about the MLB season is its length. For them, 162 games followed by the postseason is too much to follow. That makes sense. If you don't like the game, that is a whole lot of baseball. But if you do, it is not hard to see at least one significant benefit to such a long season.Football teams can struggle for half the season and be written...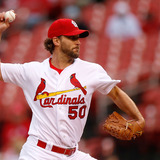 After a slow start the St. Louis Cardinals have been able to start winning ballgames more often. Players such as Mike Leake and Jedd Gyorko have had red hot starts to their seasons, but there are some players who have struggled. Long time Cardinals ace Adam Wainwright is unfortunately one of those players.Last season Waino struggled after coming back from a torn Achilles he suffered...
Ever since 2006, St. Louis Cardinals fans have held Adam Wainwright in the most positive of lights. Whether it is him closing out the 2006 World Series, or leading the NL in wins in 2009 or 2013, he has been near and dear to the Cardinals hearts. No one has ever dared try to criticize Adam Wainwright. However, today is the day. It is time Cardinals organization. Wainwright must go...
St. Louis Cardinals pitcher Adam Wainwright is a three-time All Star, two time Gold Glove winner and a Cy Young contender. The 35-year-old has his mistakes and one of them happened against the Cubs. Wainwright was attempting to throw a pitch but it did not come close to home plate which is why this pitch is the leading contender for "Worst Pitch of 2017." #SCNotTop10 pic.twitter...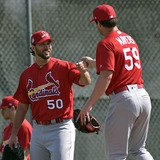 Ryan Sherriff is a 26-year-old lefty in St. Louis Cardinals camp. He's not only a longshot to make the Cardinals, but is a longshot to ever pitch in the majors. Still, Sherriff and Adam Wainwright combined for what will be one of Spring Training's nicest stories.Wainwright had spotted Sherriff walking 10-15 minutes to the team's facility to his condo. He'd also seen Sherriff walking...
MORE STORIES >>
Cardinals News

Delivered to your inbox

You'll also receive Yardbarker's daily Top 10, featuring the best sports stories from around the web. Customize your newsletter to get articles on your favorite sports and teams. And the best part? It's free!