Brandon Crawford bobbled the first ground ball hit to him Monday, Joey Gallo's first-inning smash that found the Giants shortstop playing a few paces to the right-field side of second base in an overshifted alignment. The mild misplay shouldn't have been surprising, since Crawford was appearing in his first Cactus League game on defense.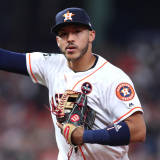 Never in the history of the game has there been such a uniquely skilled set of athletes at the shortstop position. A lot of that can be attributed to the likes of Alex Rodriguez, Derek Jeter, Nomar Garciaparra and Edgar Renteria, all players who redefined the position, but not even those players could have predicted what the modern-day shortstop has matured into.Nowadays, the premier...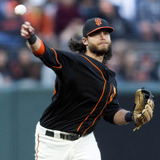 Brandon Crawford made a pretty unique gesture before Thursday's game against the Phillies began.Crawford apparently drilled CSN's Jim Salisbury in the groin with an errant throw during warmups, so he made things right by presenting the sportswriter with a gift that was appropriate for the situation.And by that, we mean Crawford gave Salisbury an autographed athletic cup, with a personalized...
Brandon Crawford's big power breakout has been a big part of the Giants' good work so far this season despite an iffy rotation. Jeff Sullivan did a great job pointing out the changes he saw in Crawford's swing, and the player agreed with most of his analysis. But Sullivan also pointed out that pitchers were in the middle of adjusting to the player, and it's been Crawford's adjustment...
It was a glorious day for baseball at AT&T Park on Thursday as the San Francisco Giants hosted the Arizona Diamondbacks on a beautiful and sunny afternoon. Among the fans soaking up the rays and enjoying some baseball were a trio of lovely young ladies seated behind home plate. There already-wonderful day at the ballpark […] The post Trio of lovely ladies wildly celebrate after...
Today's double-header against the Chicago Cubs will be a key point in determining if the San Francisco Giants still have hopes of a division title in 2014 but could the Wild Card be the best thing thing for the Giants to compete for going forward? If the Giants fail to beat the Cubs in today's suspended make-up game, they will fall four games back of Los Angeles, with just over a...
Third base umpire Gary Cederstrom tried so hard to make the correct call that even an attempt to do a split could not help him regain balance when he took a spill in Friday night's Giants-Royals game.After Giants SS Brandon Crawford swung and missed at an offspeed pitch in the second inning with runners on the corners, 3B Joaquin Arias was caught off the bag at third base. Royals...
San Francisco Giants shortstop Brandon Crawford sprained his middle and index fingers on his right hand after jamming them into the bag while sliding into second base during a steal attempt on Tuesday. And while Crawford exited that game, he did serve as a pinch runner in the Giants' 4-2 win over the San Diego [...]The post Brandon Crawford's baby daughter sitting in his locker is...
ONE SIZE FITS ALL
Very few of us have seen a championship ring in person. We hear how the championship rings that professional athletes receive cost thousands of dollars, but it's hard to truly understand how massive they are. San Francisco Giants shortstop Brandon Crawford posted a photo on Twitter Sunday night that should help put it into perspective. As you can see, Crawford put his Giants World...
MORE STORIES >>
Giants News

Delivered to your inbox

You'll also receive Yardbarker's daily Top 10, featuring the best sports stories from around the web. Customize your newsletter to get articles on your favorite sports and teams. And the best part? It's free!