Or, how do you think the Giants' first baseman will do in 2018? Henry Schulman wrote about the Belt Wars on Wednesday. It's 2018, seven years after Brandon Belt debuted, and people are still complaining about him. There are still arguments about this, which seems impossibly silly. Just check out Schulman's Twitter mentions, and you'll find people still so very mad that the Giants...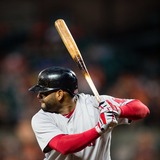 Pablo Sandoval made his return to the Giants lineup and was greeted warmly when introduced at AT&T Park in San Francisco.Sandoval signed a minor league deal with the Giants after being released by the Red Sox last month. After playing 12 games in the minors, Sandoval was added to San Francisco's 25-man roster on Saturday to replace Brandon Belt, who was placed on the seven-day...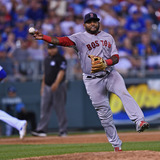 Less than three weeks after signing him to a minor league contract, the last-place San Francisco Giants have promoted three-time World Series champion Pablo Sandoval from Triple-A Sacramento. He will take the place of an injured Brandon Belt on the team's 25-man roster. Signed back in July after being released by the Boston Red Sox, Sandoval will make his first appearance in a Giants...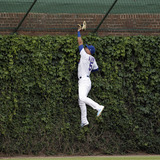 The 2016 NLDS rematch between the San Francisco Giants and Chicago Cubs is off to a tremendous start. Joe Panik got the party started with a home run before the Chicago defense took over with a couple of tremendous plays in a row.Addison Russell assisted on the the first out of the inning after completely robbing Christian Arroyo of a hit. But center fielder Albert Almora Jr. was...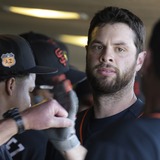 Social media has its frustrating moments. But on occasion, it can come through and help produce a nice story. San Francisco Giants first baseman Brandon Belt produced one of those moments on Wednesday.It started with Darren Brazil, brother of Brodie Brazil, an on-air personality for NBC Sports Bay Area, the station that covers the Giants. Alexis Pence, wife of Giants outfielder Hunter...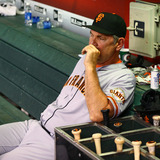 Entering the All-Star break, the San Francisco Giants had the best record in baseball at 57-33. Since the All-Star break, they rest comfortably in the Major League Baseball cellar with a record of 12-25. Despite Matt Moore's near no-hitter in a 4-0 victory over the Los Angeles Dodgers on Thursday night, the Giants' current slump has them inching towards an all-time record. And not...
The Pittsburgh Pirates found themselves on the receiving end of a savage blowout, losing to the San Francisco Giants by a score of 15-4. But the savagery that occurred afterward in the social media musings of Giants first baseman Brandon Belt at his own expense may have been much more severe. The Pirates were left throwing out backup catcher Erik Katz to pitch the ninth inning...
We're here every year, it feels like. May rolls around, we notice that Brandon Belt has been doing new things in the early part of the season, and then we forget about it until the next season rolls around when we start all over again. Maybe it's because he's been the victim of a few impact injuries that have caused him to miss time in the second half of the past two seasons. Maybe...
Contract extensions during arbitration seasons aren't terribly common, especially when a player is just two seasons from free agency. Since Elvis Andrus signed his eight year, $120 million extension in 2013, there have been just three contract extensions handed to players who've recorded similar service time. One winter ago, Giancarlo Stanton signed his 13 year, $325 million deal...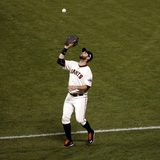 Looking over his shoulder, how apt. With the clock ticking until the MLB trade deadline, the San Francisco Giants should be willing to give up only one major piece of the team, and that's Brandon Belt. I am one of many who have pulled for the Baby Giraffe since day one. I felt he was shoddily treated his early years in the big leagues, getting shuttled from the big club to...
MORE STORIES >>
Giants News

Delivered to your inbox

You'll also receive Yardbarker's daily Top 10, featuring the best sports stories from around the web. Customize your newsletter to get articles on your favorite sports and teams. And the best part? It's free!