The Rangers have designated catcher Brett Nicholas for assignment to make room for pitcher Tim Lincecum on the 40-man roster.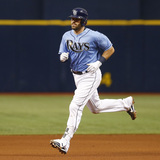 The Rangers have announced the signing of catcher Curt Casali to a minors deal with an invitation to participate in MLB Spring Training. He had recently been released by the Angels after previously signing with that organization earlier in the winter.Texas also announced that it will bring back outfielder Jose Cardona and righty Tayler Scott. Both also have minors deals with spring...
Rangers catcher Brett Nicholas is scheduled to undergo surgery on Friday to repair the medial meniscus in his left knee. He is expected to be out until sometime in April.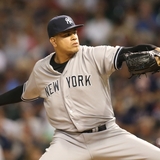 People often posit that baseball or unpredictable, or, less eloquently perhaps, that you "can't predict ball." At face value this statement is unequivocally true. You cannot predict baseball. Despite the advanced projection systems and good, old-fashioned intuition, we still find accurately forecasting baseball troublesome at best. However, the sport itself is not the problem. Human...
SEATTLE (AP) It took an inning for Colby Lewis and rookie catcher Brett Nicholas to get in sync, but after that it was a successful night for both of them and the Texas Rangers. Lewis allowed one run on four hits over six innings against Seattle's struggling offense and Nicholas had two hits and threw out a runner at second in his major league debut to lead the Rangers to a 7-3...
Rangers catcher Brett Nicholas didn't have the eye-catching Major League debut Monday that Nomar Mazara had on Sunday. After all, he had just one double and a single compared to Mazara's two singles and home run.
Rangers catcher Brett Nicholas achieved two dreams in one on Monday night at Safeco Field.
Not every player that ascends to the Major Leagues is considered a "top prospect" or a "can't miss" player, every year there are players that crack a big league squad that have fans rushing to the internet or their media guides wondering "who the heck is that?" Although the Texas Rangers and their fans have been spoiled the last few years as they have watched top prospects progress...
MORE STORIES >>
MLB News

Delivered to your inbox

You'll also receive Yardbarker's daily Top 10, featuring the best sports stories from around the web. Customize your newsletter to get articles on your favorite sports and teams. And the best part? It's free!