With Red Sox Spring Training underway, Mike Petraglia, Nick Quaglia, and Alex Barth take a look at which players need a strong showing to make the opening day roster. Will veterans like Brock Holt and Deven Marrero lose out to some of the organization's top prospects? And which arms will Alex Cora keep in the bullpen? You can listen to the full roundtable here: http://bit.ly/2F5axX8...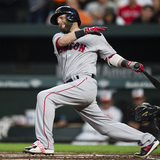 Dustin Pedroia left Monday's Boston Red Sox-Baltimore Orioles game after taking a foul ball off the face.Pedroia was leading off the top of the fourth at Camden Yards and poked at a 1-1 pitch. The ball hit off his bat, bounced, and hopped up into his face: Pedroia was bleeding some after being hit by the ball. Brock Holt replaced him during the at-bat and actually doubled.Pedroia...
MORE STORIES >>
Red Sox News

Delivered to your inbox

You'll also receive Yardbarker's daily Top 10, featuring the best sports stories from around the web. Customize your newsletter to get articles on your favorite sports and teams. And the best part? It's free!