We've updated our Privacy Policy.
By continuing to use this site, you are agreeing to the new Privacy Policy.
The Yankees will deploy Gleyber Torres in roughly a "50-50" split between second base and shortstop at Triple-A this season, manager Aaron Boone told MLB.com's Bryan Hoch and other reporters.  Torres has spent the vast majority of his four pro seasons as a shortstop but received some time at second base over the last two seasons and third base in 2017.  One of the game's top prospects...
Caleb Joseph drove in two of the Orioles' four runs in Sunday's spring training shutout of the Phillies.
Orioles bench coach John Russell joined the broadcast during Sunday's spring training game against the Red Sox.
LIKE WHAT YOU SEE?
GET THE DAILY NEWSLETTER:
Caleb Joseph describes what it's like to catch a knuckleball and how catchers help pitchers in bullpen sessions using strings.
Orioles catcher Caleb Joseph meets with the media at FanFest and talks about preparing for spring training.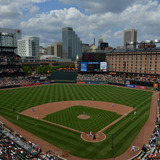 Luke Terry, a 14-year-old catcher who had his right arm amputated as a baby, caught the ceremonial first pitch before Wednesday's Baltimore Orioles-Cleveland Indians tilt from Hall of Famer and Orioles icon Jim Palmer. Terry, who had his right arm amputated at 19 months old due to an e. Coli bacterial infection, demonstrated remarkable dexterity by catching the ball, flipping it...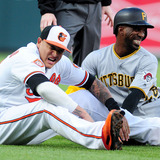 Manny Machado was forced to leave Wednesday's game against the Pirates after being the recipient of a hard slide from Andrew McCutchen.During the second inning, McCutchen stole third base as part of a double-steal by Pittsburgh. When Machado received the throw from catcher Caleb Joseph and attempted to apply the tag, McCutchen's spikes caught Machado on the left wrist. Here's video...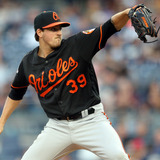 The Baltimore Orioles were upset with the way things were handled during Wednesday night's game against the Boston Red Sox after starting pitcher Kevin Gausman was ejected in the bottom of the second inning for hitting Xander Bogaerts with a pitch.Gausman hit Bogaerts around the hip with the first pitch of the inning and was immediately ejected by home plate umpire Sam Holbrook.The...
Caleb Joseph is a classic example of a catcher whose value extends well beyond his raw stats. The 30-year-old Baltimore Orioles backstop isn't much of a hitter, and while his defensive numbers are good — he's an above-average pitch-framer and has a solid success rate throwing out runners — they're by no means elite. More than anything, Joseph is a game-manager and a psychologist...
Baltimore Orioles catcher Caleb Joseph was placed on the 15-day disabled list Tuesday after undergoing a surgical procedure related to suffering a "testicular injury" in Monday's 7-2 loss to the Boston Red Sox. The cringe-worthy injury occurred during the eighth inning when a check swing by Travis Shaw drastically altered the trajectory of an Ashur Tolliver pitch straight into...
MORE STORIES >>
Orioles News

Delivered to your inbox

You'll also receive Yardbarker's daily Top 10, featuring the best sports stories from around the web. Customize your newsletter to get articles on your favorite sports and teams. And the best part? It's free!