We've updated our Privacy Policy.
By continuing to use this site, you are agreeing to the new Privacy Policy.
The Indians will make their decision on the makeup of the Opening Day bullpen by this weekend. That was the message that manager Terry Francona delivered to veterans Matt Belisle and Carlos Torres on Thursday morning.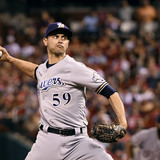 The Indians have agreed to a minors deal with righty Carlos Torres, according to SB Nation's Chris Cotillo (via Twitter). He'll receive an invitation to MLB camp.Torres, 35, will face a difficult task of cracking a Cleveland bullpen that has quite a few pieces in place and numerous competitors for whatever openings remain. Whatever starters miss on a rotation spot — Danny Salazar...
Build a better mousetrap and the world will beat a path to your door. This time honored saying, paraphrasing a quote from Emerson, speaks to the power of innovation. Be new, different and better and the world will love you. As Mets fans, we would be thrilled if the team achieved even two of those three things. Meatloaf and all, you know. Unfortunately, we have to settle for one...
LIKE WHAT YOU SEE?
GET THE DAILY NEWSLETTER:
As our own 72Metsfan recapped earlier today, the frustration of an underwhelming season was readily apparent Thursday evening during the Mets 13 inning loss to the Milwaukee Brewers. One of the players who lost his cool was Carlos Torres, who after a valiant extra-inning effort was simply out of gas by the thirteenth and the Brew-Crew took full advantage. Thanks to the limited commercial...
New York Mets reliever Carlos Torres had an appearance to be forgotten on Thursday night. Actually, it was the kind of outing that likely left Torres wishing for a frontal lobotomy, anything to help him forget how he gave up four runs on seven hits and a walk to the Milwaukee Brewers during an inning […] The post Mets reliever Carlos Torres punches himself in head after blowing game...
"I'm a steady rollin' man. I roll both night and day. I'm a steady rollin' man. I roll both night and day." —Robert Johnson So far, so good. At least as far as Carlos Torres goes this year. He has maintained a very effective approach to hitters throughout all his appearances out the New York Mets' bullpen. He's...
There have been some solid long relievers in the history of the New York Mets: Don Cardwell, Ray Sadecki, and Terry Leach all come to mind. A good performance by a team's primary long reliever is a mixed blessing. A significant contribution by a long reliever (just like a team's primary pinch-hitter) can be beneficial to a team's winning percentage but could be the result of...
When we signed journey-man Carlos Torres to a deal in the off-season, I was somewhere between disappointment and apathy, honestly. I thought that he would serve no purpose on this team and that he was wasting space in a Triple-A rotation. I made comments akin to, "This is exactly the reason no other Triple-A affiliate wants to take the field for the Mets." And yes, as he struggled...
That which we call a rose By any other name would smell as sweet And that's how Shakespeare ties into Carlos Torres. It's time to take a look at Torres and his nasty off-speed pitch, which seems to me to be a slider. But if you go to his FanGraphs page, it shows him throwing four pitches – fastball, cutter, curve and change. Not a slider in sight, or so it would seem. Their...
Last Night's Quick Scores Las Vegas shut down Fresno, 8-0. Binghamton had the day off. St. Lucie dropped to Lakeland, 2-1.  Savannah had the day off. Prospect Pipeline Travis d'Arnaud was seen yesterday at the Hospital for Special Surgery in New York for follow up on his fractured toe. Travis was cleared to begin weight bearing rehabilitation, but will remain in a boot for the...
MORE STORIES >>
Indians News

Delivered to your inbox

You'll also receive Yardbarker's daily Top 10, featuring the best sports stories from around the web. Customize your newsletter to get articles on your favorite sports and teams. And the best part? It's free!