We've updated our Privacy Policy.
By continuing to use this site, you are agreeing to the new Privacy Policy.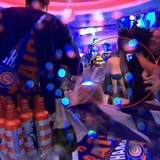 Chicago Cubs bullpen catcher Chad Noble made his mark on the MLB postseason with a celebration to remember. After the Cubs clinched their first berth into the World Series since 1945, Noble was seen celebrating around the clubhouse in a Speedo. Things are getting weird in the Cubs clubhouse pic.twitter.com/tJ9N8DcJkJ — Big League Stew (@bigleaguestew) October 23, 2016 #Cubs...
The Chicago Cubs bullpen has an interesting way of staying involved in the games these days. They play a strange, and seemingly risky, game called foul-ball chicken. According to the Chicago Tribune, the mastermind behind this brilliance is bullpen catcher Chad Noble. Here's how the Tribune's Mark Gonzalez explains how the game is played: During the game, as the pitchers are sitting...
MORE STORIES >>
Cubs News

Delivered to your inbox

You'll also receive Yardbarker's daily Top 10, featuring the best sports stories from around the web. Customize your newsletter to get articles on your favorite sports and teams. And the best part? It's free!