On this episode of the BSN Rockies Podcast, special guest Manny Randhawa of MLB.com suggests the Colorado Rockies could win 95 games in 2018. We look at the Jose Altuve extension and whether or not that tells us anything about Charlie Blackmon's future, and get into just how stupidly good the Rockies pitching staff and […]
There are some players that are obvious locks on the Rockies. Nolan Arenado, Charlie Blackmon, DJ LeMahieu, Carlos Gonzalez, Trevor Story, and Jon Gray are some of the many that are locks. However, there are some players, like Antonio...
SCOTTSDALE, Ariz. — Charlie Blackmon has a particularly keen interest in what the metrics of baseball and advanced statistics say about him as a defender. The Rockies' center fielder is persistently seeking ways to improve himself as a player, both physically and in the numbers. But he is distrustful of some numbers and how they are adjusted between ballparks. Blackmon's relationship...
"I'm going to double-down. I'm going to let it ride." Rockies center fielder Charlie Blackmon had a superlative 2017 season, winning the National League batting title with a gaudy .331 mark. Blackmon also led the Senior Circuit in hits (213), runs (137), triples (14) and total bases (387). The man they call "Chuck Nazty" wasn't referring to any of those things… he was talking about...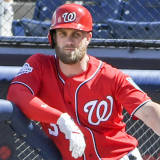 While shortstop currently houses the most impressive collection of talent in Major League Baseball, the outfield position is powerfully impressive in its own right.From the precocious power of Aaron Judge to the MVP trio of Mike Trout, Bryce Harper and Giancarlo Stanton, to the all-around brilliance of Charlie Blackmon, George Springer, Mookie Betts and many more, the outfield is...
For those who spent much of last season clamoring for the Colorado Rockies to move Charlie Blackmon out of the leadoff spot and into the heart of the order to get the most out of his power, Monday was a glorious day. In the first inning of a 5-4 loss to the Chicago Cubs, Ian […]
SCOTTSDALE — In an exclusive chat with me on Monday morning at the Colorado Rockies spring training facility, All-Star Charlie Blackmon admitted that he does have a nightmare when it comes to baseball. No, it probably is not one you...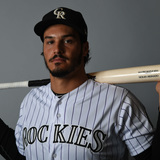 The prospect of an extension between the Rockies and star third baseman Nolan Arenado doesn't seem likely in the near future, as Arenado tells MLB.com's Thomas Harding (Twitter links).  "I don't think anything is going to happen until after the season. We have a good team and our focus is on winning — as it should be," Arenado said. He also added "and that's what everyone wants...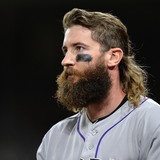 The Rockies have avoided arbitration with outfielder Charlie Blackmon by agreeing to a one-year deal worth $14MM, according to Jon Heyman of FanRag Sports (Twitter link). The ACES client had a projected arbitration salary of $13.4MM, per MLBTR contributor Matt Swartz. Matt also took a more in-depth look at Blackmon's case and some of the intricacies surrounding his projection as...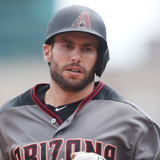 When Bryce Harper fell on the rain-soaked bases of Nationals Park late in a game against the San Francisco Giants, it did more than just put a streak of collective terror through the nation's capital. It instantly changed the entire National League MVP picture.While Harper has been out of action for nearly a month, his mark on the NL season is still tough to miss. In addition to...
MORE STORIES >>
Rockies News

Delivered to your inbox

You'll also receive Yardbarker's daily Top 10, featuring the best sports stories from around the web. Customize your newsletter to get articles on your favorite sports and teams. And the best part? It's free!