Kris Bryant returned home to Las Vegas on Saturday for the Cubs' weekend split-squad games, and a chance to play in front of family.
Kris Bryant is a fictional creation who seems to have sprung forth from a weird science experiment conducted by a couple of kids wearing jocks on their heads and messing around with a boatload of advanced tech. He's just too good to be true: Doesn't drink, doesn't cuss, model good looks, married to his high … The post Bryant Aiming for Greatness, Could Actually Walk More Than He...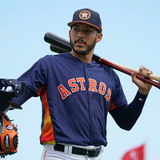 The Astros have renewed the contract of star shortstop Carlos Correa at $1M, reports FanRag's Jon Heyman (Twitter link). That comes in just shy of the record for a pre-arbitration player, set by Kris Bryant last offseason when the Cubs agreed to a $1.05M salary. Correa's $1M mark ties the previous record holder, Mike Trout, who earned $1M in 2014 as a pre-arb player before agreeing...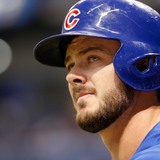 This particular MLB offseason has been a tough one for many free agents. But Chicago Cubs star Kris Bryant wants players to step up. That includes himself."This offseason is one that really opened my eyes (to the importance of labor). But now it is. I need to study up, have my voice heard, continue to learn, because this is going to affect us for years to come. And I'd be foolish...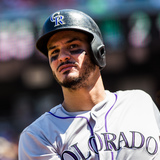 The state of affairs at the hot corner headed into 2018 is a star-studded one. It is a collective of talents that features a pair of MVP winners over the past handful of years, a newly crowned postseason hero and the newest member of the 3,000 hit club.As if that was not enough seasoning, there is also the presence of an all-time franchise great moving into a new scene, an All-Star...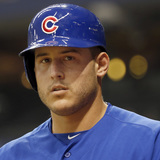 One day after the tragic school shooting at Parkland's Florida's Marjory Stoneman Douglas High School, Anthony Rizzo was in his hometown at a vigil for the victims.The Chicago Cubs first baseman — a Stoneman Douglas graduate — got understandably emotional during his speech. Rizzo also let his former school that it was not alone in the grieving process. In the immediate aftermath...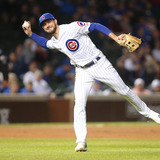 The Cubs have reached a record-setting deal with star third baseman Kris Bryant, according to Gordon Wittenmyer of the Chicago Sun-Times (via Twitter). He will earn $10.85 million, setting a new high-water mark for first-time arb-eligible players.Previously, Ryan Howard held the record for the biggest arbitration payout to a player entering the process for the first time. His $10...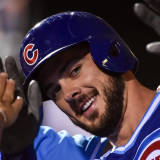 Kris Bryant already has a National League MVP in his trophy case, and now he might be able to add a Social Media MVP to it as well.The Chicago Cubs third baseman recently took to Instagram to post a picture of himself hitting the golf course with professional golfer Scott Piercy. Well, a user named "bighig44" took it upon himself to hop into the comments section of Bryant's post...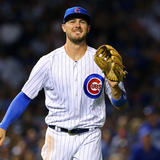 Kris Bryant and wife Jess were wed in January, and it appears the newlyweds are doing everything possible to make sure fans who were kind enough to send them wedding gifts receive the traditional note of gratitude.DNAInfo Chicago reporter Kelly Bauer tweeted out an image of a thank-you note from the Bryants sent to one lucky fan. Kelly Langan was among the many Cubs fans who pored...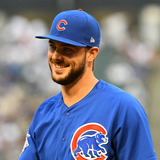 Kris Bryant and wife Jessica paid a visit this week to the Adult Down Syndrome Center at Advocate Hospital in Park Ridge, Ill., where they surprised a group of patients. Perhaps the best — and most adorable — part of the visit is when a young woman named Julie made a marriage proposal to the Chicago Cubs superstar, his wife's presence be darned. Both Bryant and his wife played off...
MORE STORIES >>
Cubs News

Delivered to your inbox

You'll also receive Yardbarker's daily Top 10, featuring the best sports stories from around the web. Customize your newsletter to get articles on your favorite sports and teams. And the best part? It's free!