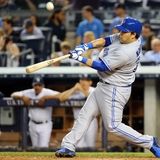 Around the baseball world, it seems like a foregone conclusion that Dioner Navarro will be traded by the Toronto Blue Jays, perhaps before Spring Training even concludes. That doesn't mean if you're a Jays fan you should hope that it happens. Earlier this week, Toronto learned just how quickly your optimism can be dampened by injury after Marcus Stroman went down with a torn ACL...
Your browser does not support iframes. Catchers, by nature, typically are not the fleetest of foot, which is probably why they should never attempt something on the basepaths that relies on speed. Such was the case on Thursday, when Toronto Blue Jays catcher Dioner Navarro attempted to leg out an inside-the-park home run after a […] The post Dioner Navarro tries to turn double into...
Dioner Navarro doesn't steal bases often, so when he does, it's something to celebrate. Navarro pulled off the rare theft Wednesday night against the Astros and — considering it was the catcher's first steal since '09 and only his 13th in 11 Major League seasons —  Blue Jays players and fans rewarded the effort with a wild round of applause and a standing ovation:Believe it or not...
Each day until free agency begins, we at Phillies Nation will take a look at a player who will become a free agent five days from the conclusion of the World Series. We will explore potential performance, fit, cost, and feasibility. We continue today with switch-hitting catcher Dioner Navarro. And a reminder: you can check out all the "Pass or Play" posts by clicking on the category...
Chicago Cubs catcher Dioner Navarro figured out an easy way to make a delivery through the post office at Wrigley Field on Friday afternoon. In the bottom of the seventh inning against the Atlanta Braves, Navarro hit a Luis Avilan pitch over the left-field bleachers and onto Waveland Ave. for a game-tying homer. Now we don't know where the home run landed, but Twitter posts show...
MORE STORIES >>
Cubs News

Delivered to your inbox

You'll also receive Yardbarker's daily Top 10, featuring the best sports stories from around the web. Customize your newsletter to get articles on your favorite sports and teams. And the best part? It's free!