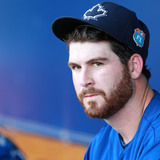 The Phillies announced this morning that they've signed right-hander Drew Hutchison to a minor league contract with an invitation to Major League Spring Training.Hutchison, 27, once looked like a potential long-term rotation cog for the Blue Jays. After missing the entire 2013 season due to Tommy John surgery, Hutchison returned in 2014 to make 32 starts in Toronto, pitching to a...
Jon Paul Morosi tells Dean Blundell & Co. that he thinks pitcher for pitcher, Drew Hutchison is the better guy right now, saying Liriano's control issues are a big concern.
Drew Hutchison will bounce back in 2016 Drew Hutchison came into 2015 after a 2014 campaign where he demonstrated quite a bit of promise in his first full season after Tommy John surgery. Hutchison  received much publicity on his second half of 2014 given the adjustments he made to make his slider a very effective pitch. He also has very good command with his fastball which is one...
If you look at the movement charts on Drew Hutchison's slider, it seems obvious: the Blue Jays' righty starter had more drop late last year, when he was going well. This year, the pitch is harder and firmer, and he's not going well. So he's missing that slider he had, right? Well, maybe not. We […]
TORONTO, CANADA – JUNE 8: Drew Hutchison #36 of the Toronto Blue Jays makes his way from the bullpen to the dugout before the start of MLB game action against the St. Louis Cardinals on June 8, 2014 at Rogers Centre in Toronto, Ontario, Canada. (Photo by Tom Szczerbowski/Getty Images) So far in 2015, it's been well documented the road struggles of Toronto Blue Jays' starter, Drew...
On Monday, Toronto Blue Jays' pitcher, Drew Hutchison, led the team to victory with a complete game shutout. He only allowed four hits and struck out eight as the Blue Jays defeated the Chicago White Sox 6-0. Moreover, all four of the hits allowed were singles. This was without a doubt Hutchison's best start of the year, and perhaps, it was also the birth of a new star in Toronto...
Breakout candidates are often identified on the pitching side either on the strength of peripheral stats which portend improvement over more conventional numbers, a strong second half, or some demonstrative change in a pitch. Sometimes, the candidates fulfill expectations and make those who stumped for them look like geniuses. Most of the time, however, the […]
Have I mentioned lately how helpful the chats can be when it comes to finding things to write about? You guys don't know how valuable you are. Dozens upon dozens of questions, if not hundreds upon hundreds, and out of those questions, longer posts can occasionally germinate. This is one of them! Because I've noticed […]
Drew Hutchison has received the call to The Show. Taken in the 15th round of the 2009 draft, Hutchison wasn't even on the radar of a lot of teams prior to the draft. Toronto scouts, though, saw something special and convinced the organization that he was worth a $400,000 gamble. The 2009 draft was a circus for the Blue Jays organization. It signed its first overall pick, college...
MORE STORIES >>
Phillies News

Delivered to your inbox

You'll also receive Yardbarker's daily Top 10, featuring the best sports stories from around the web. Customize your newsletter to get articles on your favorite sports and teams. And the best part? It's free!