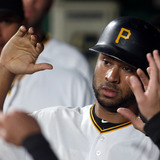 Major League Baseball has been hit with some serious news on Thursday. News broke that the mother of Pittsburgh Pirates catcher Elias Diaz was kidnapped in Venezuela.Citing Venezuelan website Meridiano, Elizabeth Bloom of the Pittsburgh Post-Gazette reported that "Diaz's mother was kidnapped in San Francisco, in the state of Zulia, on Thursday afternoon."Pirates president Frank Coonelly...
The Pittsburgh Pirates are getting a lot of attention after unveiling the throwback jerseys they will wear in the 2016 season. With spring training getting started this month and pitchers and catchers reporting, the Pirates decided to show off some new threads they'll be debuting. The uniforms feature yellow tops and pillbox hats like the ones the team wore in 1979 when they won...
Follow me on Twitter @jim_krug Some visual aides to help fans of the Pittsburgh Pirates come to terms with an utterly disheartening offseason… You might not know Pirates' Inside Sales Representative Kyle G., but I do.  I know Kyle well.  Ever since I bought two Wild Card game tickets in October, Kyle has been e-mailing me once or twice a month to tell me about all of the GREAT season...
Read Part 1 of the series right here. Last time, we examined the good and bad of Pittsburgh Pirates' owner Bob Nutting, President Frank Coonelly, and General Manager Neal Huntington.  Here, we'll take a look at the positives and negatives of some of the Pirates' other decision makers. Clint Hurdle, Manager Hurdle; Image credit carpetbaggery The Good:  Hurdle was a well-respected...
Follow me on Twitter @jim_krug       (Opening image credit usatoday) The website was up and gone so quickly that if you weren't talking Pirates' baseball today, you probably missed it.  Luckily, at first gazing upon the sheer idiocy of the concept myself, I immediately preserved a screen shot, like an astronomer wtinessing the sudden, unexpected beauty of a collapsing star.  BEHOLD...
Follow me on Twitter @jim_krug      (opening image credit, Baltimore Sun) A quick, numbered rundown of the opening day of MLB's June Amateur Draft… 1.  The Pittsburgh Pirates had to be absolutely elated when the projected #1 overall pick on most draft boards- Stanford RHP Mark Appel- dropped the whole way to the Bucco's spot at #8, a fall potentially rooted in Major League Baseball...
MORE STORIES >>
Pirates News

Delivered to your inbox

You'll also receive Yardbarker's daily Top 10, featuring the best sports stories from around the web. Customize your newsletter to get articles on your favorite sports and teams. And the best part? It's free!