We've updated our Privacy Policy.
By continuing to use this site, you are agreeing to the new Privacy Policy.
On Sunday morning Los Angeles Dodgers manager Dave Roberts surmised Clayton Kershaw was "exactly where" he...
Freddy Galvis had heard the name "Jose Pirela" several times before they first met at a big league tryout outside Valencia, Venezuela. They were 16 at the time and lining up for a 60-yard dash when Galvis heard his own name announced along with Pirela's. He rolled his eyes.
In a 9-1 loss to the D-Backs last night, San Diego Padres' shortstop Freddy Galvis had another nice game to go along with the fantastic spring he's had so far. This is just the beginning, folks. When the San Diego Padres' GM A.J. Preller...
LIKE WHAT YOU SEE?
GET THE DAILY NEWSLETTER: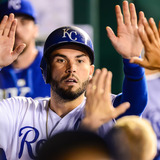 The market for Eric Hosmer appears to be heating up, according to a report from Bob Nightengale of USA Today. He cites sources "close to Hosmer" that say the first baseman has received nine-figure offers from both the Padres and the Royals.San Diego, per the report, has dangled a seven-year deal at a healthy $140MM price tag — about $20MM more than had previously been suggested....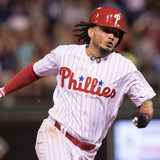 The Padres look to have found their shortstop for the 2018 season, as they've reached an agreement to acquire switch-hitting Freddy Galvis from the Phillies in exchange for minor league right-hander Enyel De Los Santos.Galvis, who turned 28 last month, is a free agent following the 2018 season but will provide the Padres with a strong defender to serve as stopgap while ballyhooed...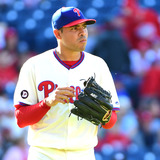 It breaks my heart to see a few Phillies players getting down on themselves after getting swept by a stacked New York Mets team.It's easy to criticize the Phillies so far as the pitching has struggled and times are getting rough but it is also a team that is still rebuilding.The Phillies looked really good in their series against the Washington Nationals a week ago taking two of...
CLEARWATER, Fla. (AP) Freddy Galvis provided power at the plate and played outstanding defense at shortstop yet critics won't let up and fans are eagerly waiting for prospect J.P. Crawford to take his spot. The dreadlocked 27-year-old from Venezuela takes it all in stride. He's the oldest-tenured player on the Philadelphia Phillies and doesn't plan to go anywhere else. ''It's...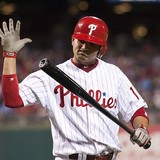 PHILADELPHIA (AP) Freddy Galvis and the Philadelphia Phillies have agreed to a $4.35 million, one-year contract and avoided salary arbitration. In his second full season as Philadelphia's starting shortstop, Galvis had a career-high 20 homers and 67 RBIs in 2016, when he made $2 million. He also was an NL Gold Glove finalist. But the switch-hitting Galvis batted only .241 with...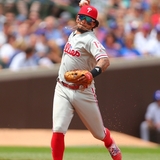 Philadelphia Phillies shortstop Freddy Galvis could only watch as a foul ball off the end of his bat struck a little girl in the face during Saturday's 4-2 win over the St. Louis Cardinals. After the game, Galvis, himself the father of a young girl, used the incident as an opportunity to call for reform to ballpark safety measures. "What year is this? 2016? It's 2016 and fans keep...
A quick-thinking Philadelphia Phillies fan with catlike reflexes narrowly saved his wife from getting drilled in the face with a ball hit into the stands during Monday's Philadelphia Phillies-Miami Marlins game at Citizens Bank Park. The drama unfolded in the bottom of the 4th inning when Phillies shortstop Freddy Galvis fouled a Adam Conley offering up into the stands. The ball...
MORE STORIES >>
Padres News

Delivered to your inbox

You'll also receive Yardbarker's daily Top 10, featuring the best sports stories from around the web. Customize your newsletter to get articles on your favorite sports and teams. And the best part? It's free!