Atlanta Braves star first baseman Freddie Freeman gives an in-depth tutorial on how to hit off a tee.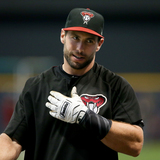 As always, there is an abundance of riches at first base. The franchise player count at the position ranks high, with five to six of this year's top 10 counting as the centerpiece performers on their respective clubs. In the last two years, Paul Goldschmidt, Joey Votto and Anthony Rizzo have all finished in the top three in NL MVP voting at least once, with Votto coming up just a...
Atlanta Braves star first baseman Freddie Freeman discusses the hype around Ronald Acuña heading into spring training.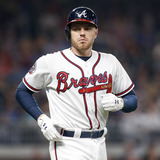 Freddie Freeman went all-out recently for his son's first birthday party, dressing up as Willy Wonka for the Charlie and the Chocolate Factory-themed festivities.The Atlanta Braves star's son, Frederick Charles Freeman II, goes by Charlie, so the theme of the party on Sept. 15 was a no-brainer for Freeman and wife Chelsea. But dressing up as Willy Wonka? That's quite the gesture...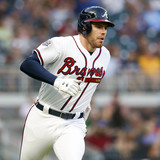 All is not well with Freddie Freeman's left wrist, and now he's using a rather vivid comparison to describe his ongoing struggles with it.The Atlanta Braves slugger said on Saturday that he is steadily losing strength in the wrist, which he fractured back in May. According to MLB.com's Mark Bowman, Freeman likened his wrist to "swinging a wet newspaper." Freeman, who made an early...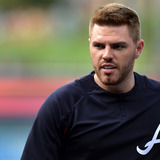 Freddie Freeman healed at warp speed for the Atlanta Braves.The Braves announced on Tuesday that they have activated Freeman from the disabled list and that he will start at third base for them against Houston. This development is pretty astonishing.Freeman was expected to miss 8-10 weeks after suffering a fractured wrist on May 17. Instead he will be returning in under seven weeks...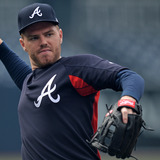 Freddie Freeman's road to recovery from a fracture in his left hand has progressed to playing in minor league games. On Saturday, he did so at an unfamiliar position.Since making his major league debut with the Braves in 2010, the only position Freeman has played defensively has been first base. However, during his absence, the Braves acquired Matt Adams from the Cardinals and he...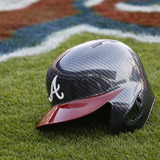 The Atlanta Braves tried their best to make up with some fans who many feel were mistreated by an aggressive security member.During the eighth inning of Wednesday's Braves-Pirates game, a fan reached over the railing and scooped up a ball down the right field line that was in play. The security guard handling that area acted promptly by jumping into the stands to eject the fan for...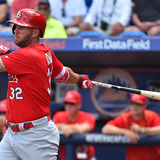 The Atlanta Braves have found a short-term replacement for the injured Freddie Freeman at first base. The team announced on Saturday that it has acquired first baseman Matt Adams from the St. Louis Cardinals in exchange for minor league infielder Juan Yepez. Adams, a former starter for the Cardinals, is having a solid 2017 campaign, boasting a .292 average in 48 at-bats, though,...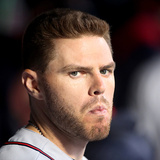 Welcome to this week's edition of Three Up, Three Down — your weekly catch-up of the three best highlights (and lowlights) from around the league. We're here for all of the cheers and the jeers, because it's baseball. You can't have a winner without someone losing along the way.This week, there are surprises in the AL East and NL Central, the Mets continue to make headlines, and...
MORE STORIES >>
Braves News

Delivered to your inbox

You'll also receive Yardbarker's daily Top 10, featuring the best sports stories from around the web. Customize your newsletter to get articles on your favorite sports and teams. And the best part? It's free!