Ian Desmond was 1-for-14 in the series and 0-for-3 in the game when he strode to the plate against his former club in the ninth. He's struggled to put up consistent offensive result since joining the Colorado Rockies but with a chance to play hero on a cold and rainy Sunday afternoon in the nation's […]
Ian Desmond came back to haunt his former team with a game-winning solo homer in the ninth inning that gave the Colorado Rockies a 6-5 victory over the Washington Nationals on Sunday. Nationals right-hander Stephen Strasburg retired 11 in a row before allowing the homer to Charlie Blackmon that tied the game 1-1 in the fourth. Blackmon, who finished with three RBIs, also homered...
Ian Desmond didn't get off to the greatest start with the Colorado Rockies but he is determined to return to form in year two.
LIKE WHAT YOU SEE?
GET THE DAILY NEWSLETTER: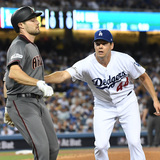 There are no ongoing extension talks between A.J. Pollock and the Diamondbacks, Pollock himself tells Nick Piecoro of the Arizona Republic. Pollock hopes to remain with the D-backs long term, though like most impending free agents entering their walk year, he says he's more focused on the upcoming season than his contract status. Arizona GM Mike Hazen offered little insight when...
The 2017 MLB season hasn't even begun yet, and already Lady Luck is trolling the Colorado Rockies once again.The Rockies announced that infielder Ian Desmond suffered a fractured left hand after getting hit by a pitch in the fourth inning of Saturday's Cactus League game against the Cincinnati Reds. The 31-year-old Desmond, who batted .285/.335/.446 with 22 home runs, 86 RBIs, and...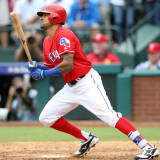 The Washington Nationals may find themselves dipping their toes into familiar territory this offseason. According to a report by Jon Heyman of FanRag Sports on Friday, though the Nationals remain focused on Andrew McCutchen as their top center field target, they're also considering a number of backup options, including old buddy Ian Desmond. Desmond, 31, was with the Nationals...
The last MLB free agent with draft pick compensation attached appears to have finally found a home. Ian Desmond, who has spent his entire career as a shortstop with the Washington Nationals, has reportedly signed a one-year deal with the Texas Rangers, where he will likely play left field. Source: Desmond deal with #Rangers is for one year. — Ken Rosenthal (@Ken_Rosenthal) February...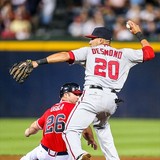 A year ago today, things were looking pretty good in Ian Desmond's world. He was 29 years old and the starting shortstop for the Washington Nationals, heavy favorites to win the National League East. A few months earlier, Desmonds completed his third straight season of at least 20 home runs and 20 stolen bases. Defensive metrics indicated he was roughly average to above average at...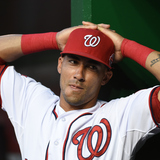 Padres general manager A.J. Preller learned his lesson last offseason when he shopped 'til he dropped on the free agent market. Ironically, he then witnessed the team actually drop (in the standings) as their mismatched roster of big-name talent largely failed to come together. Now, he appears to be targeting more cost-effective, slightly lower-tier contributors - namely free agent...
I recently said that the Washington Nationals should not consider making a major trade at this year's deadline. However, a recent rumor regarding General Manager Mike Rizzo's potential plans may have changed my mind. The Nationals may need a shortstop. Not a shortstop who would immediately replace Ian Desmond, but someone who could replace him if he decides to leave the organization...
MORE STORIES >>
Rockies News

Delivered to your inbox

You'll also receive Yardbarker's daily Top 10, featuring the best sports stories from around the web. Customize your newsletter to get articles on your favorite sports and teams. And the best part? It's free!