We've updated our Privacy Policy.
By continuing to use this site, you are agreeing to the new Privacy Policy.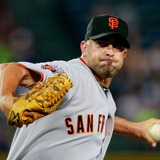 Are you as honest as Jeremy Affeldt? In his new book, the San Francisco Giants relief pitcher says he returned $500,000 to the team after noticing a clerical error in his contract. The San Francisco Chronicle's Henry Schulman shares what happened. According to Schulman, Affeldt writes that he was set to earn $4 million in 2010 from the team. They negotiated a two-year contract extension...
Jeremy Affeldt is left-handed relief pitcher for the San Francisco Giants. Some, including me, have referred to him as a LOOGY (Lefty One-Out GuY) over the years, but that's not entirely the case. This is Affeldt's fourth season with the Giants, his eleventh overall in the majors. The only season with the Giants in which he's been more effective against left-handed batters than righties...
Some players just can't seem to stay healthy, and Jeremy Affeldt admits he is one of those players. What makes his injury history so fascinating is the way in which he hurts himself. Last September, the Giants reliever had to shut it down for the season after he injured his hand trying to separate frozen hamburgers. Affeldt suffered another injury in his home this past weekend,...
LIKE WHAT YOU SEE?
GET THE DAILY NEWSLETTER:
Giants reliever Jeremy Affeldt has, for the second time in just eight months, landed on the disabled list because of a freak injury inside his own home. Last September his season was ended early when he severely sliced his non-throwing hand separating frozen hamburgers. This time he sprained the medial collateral ligament in his right knee catching his 4-year-old son, who had jumped...
WEEKEND RAGER
Closer Brian Wilson blew his second straight save chance for the Giants and he did not take it well. After giving up four hits and a walk against the seven batters he faced in Detroit Friday night, manager Bruce Bochy pulled him. Wilson reacted by busting up a Gatorade cooler like he were Carlos Zambrano or Carlos Perez. Check out the Brian Wilson meltdown video: If there are...
MORE STORIES >>
MLB News

Delivered to your inbox

You'll also receive Yardbarker's daily Top 10, featuring the best sports stories from around the web. Customize your newsletter to get articles on your favorite sports and teams. And the best part? It's free!