We've updated our Privacy Policy.
By continuing to use this site, you are agreeing to the new Privacy Policy.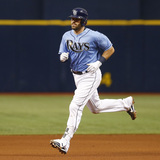 The Rangers have announced the signing of catcher Curt Casali to a minors deal with an invitation to participate in MLB Spring Training. He had recently been released by the Angels after previously signing with that organization earlier in the winter.Texas also announced that it will bring back outfielder Jose Cardona and righty Tayler Scott. Both also have minors deals with spring...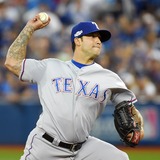 The Texas Rangers' bullpen has been a disaster this season, and they will be turning to a new closer for the time being.Sam Dyson was placed on the disabled list by the Rangers Monday, a day after he had his fourth poor outing of the season. Dyson surrendered multiple runs in four of his six appearances this season, leading Texas to examine their 9th-inning situation.Rangers manager...
It's exciting to have so many statistics available to us when we're trying to evaluate our favorite players. From the players' perspective, though, it's probably more exciting when those statistics allow them to improve themselves. From that point of view, metrics like launch angle and spin rate probably have a certain appeal that some others don't: they provide a measurement of...
LIKE WHAT YOU SEE?
GET THE DAILY NEWSLETTER:
Texas Rangers reliever Jeremy Jeffress was arrested for driving while intoxicated early Friday morning, and some of the details from the incident are a bit disturbing. Jeffress was first pulled over at around 2:30 a.m. for reportedly failing to signal before under changing lanes, and he admitted to police that he had consumed three or four Henny and Cokes earlier in the evening at...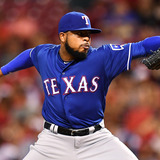 Texas Rangers pitcher Jeremy Jeffress was arrested early Friday morning on a DWI charge. And if that wasn't bad enough for the 28-year-old reliever, some embarrassing details of the arrest have been released by police, including how Jeffress apparently urinated on himself twice during his arrest. A Dallas County warrant details what transpired after police pulled Jeffress over...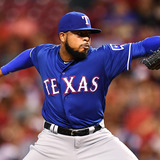 Texas Rangers pitcher Jeremy Jeffress was reportedly arrested in Dallas County early Friday morning. While information about the charges has not yet been made public, Rebecca Lopez of WFAA TV reports that Jeffress was arrested for driving while intoxicated. DPD sources say Texas Rangers Pitcher Jeremy Jeffress was arrested by central patrol officers for DWI. Booked into jail...
The 2015 Milwaukee Brewers didn't do many things well, but they did manage to put together a strong bullpen. Remember those days? When the team could count on Francisco Rodriguez, Will Smith, Michael Blazek, and Jeremy Jeffress to preserve late-game leads? That halcyon campaign — in which Brewers relievers ranked seventh in adjusted ERA and seventh in DRA — would, we hoped, not be...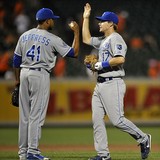 Remember in the offseason, when everyone thought the Brewers' bullpen might carry them to surprising success in 2016? Man, were we wrong. To this point, the Brew Crew has: the fourth-worst relief ERA- (116) the third-worst relief FIP- (133) the worst relief cFIP (106) Of all the things that have collapsed for the Brewers this season, the bullpen may hurt the most. But instead of...
Jeremy Jeffress was supposed to be a co-closer for Milwaukee, but Will Smith's preseason injury threw a wrench into manager Craig Counsell's best-laid plans. Instead of just being part of a bullpen by committee, Jeffress has been the club's first option in the ninth inning. And while he is six-for-six at converting save opportunities, his more basic underlying numbers suggest that...
In his first full big league season, Jeremy Jeffress impressed at the back of the Brewers' bullpen. A 28-year-old reliever who had never thrown more than 35 big league innings in a single season, Jeffress proved to be a reliable seventh- and eighth-inning option. And with the departure of closer Francisco Rodriguez, he will join Will Smith as co-closers to begin the 2016 season....
MORE STORIES >>
Brewers News

Delivered to your inbox

You'll also receive Yardbarker's daily Top 10, featuring the best sports stories from around the web. Customize your newsletter to get articles on your favorite sports and teams. And the best part? It's free!