The Yankees are teetering along a very dangerous line, one that long-time fans are all too familiar with. In 2007, 21-year old sensation Joba Chamberlain made his Yankees debut. Strictly a bullpen stalwart, Chamberlain threw 24.0 IP in 19 appearances, finishing the season with a cool 0.38 ERA. The brief stint provided Yankee fans with a glimpse into the career of a budding star,...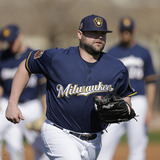 The Milwaukee Brewers announced they have released veteran right-handed pitchers Joba Chamberlain and Ryan Webb. The two received minor league deals during the offseason.Chamberlain has a decade of major league experience under his belt with a career 3.81 ERA. He had an impressive 2.25 ERA with 18 strikeouts in 20 innings last season with the Cleveland Indians. According to Chad...
I know I may sound like a broken record since I am always talking about the Detroit Tigers signing relief pitchers in the offseason, but that is their biggest need. The Tigers had one of the worst bullpens in the game last season, even with big splash names like Joba Chamberlain and Joe Nathan signed to carry the load. Now while Chamberlain is a free agent, Nathan is not and reports...
LIKE WHAT YOU SEE?
GET THE DAILY NEWSLETTER:
Detroit Tigers GM Dave Dombrowski has been tremendous in his time at the helm of this storied franchise. He's pulled countless trades to help shape a perennial playoff contender all the while dumping 'can't miss' prospects that have by and large…well, missed. Sometimes the world of sports has a cruel way of preventing teams that seemed to have it all from winning the ultimate prize...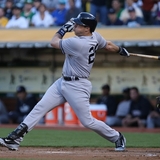 While the two things apparently were completely unrelated, an interesting confluence of incidents occurred during the 10th inning of Tuesday's tilt between the Detroit Tigers and New York Yankees when former Bronx Bomber Joba Chamberlain had some fun with Derek Jeter when the reliever and the Captain exchanged pleasantries prior to an at-bat. After Jeter […] The post Joba Chamberlain...
The rumor mill is already swirling around the Detroit Tigers and what they may do prior to the July 31st trade deadline. One thing is nearly certain – they will add at least one bullpen piece, maybe two. After all, do you see a 7-man pen that includes Pat McCoy, Blaine Hardy (who I actually really like), Chad Smith (intriguing), Phil Coke and Al Alburquerque powering the Tigers through...
via mlb.com Joba Chamberlain added a new title to his resume, Team Chiropractor, Wednesday when he gave utilityman Danny Worth a massage.  It appears that Chamberlain enjoyed it (A LOT) more than Worth did.  What is the adage, "if you love your job, you will never work a day in your life"? Chamberlain isn't working.  His 4.02 ERA and 1.40 WHIP are proof. Your browser does not support iframes.
Since joining the Detroit Tigers, Joba Chamberlain looks different.  And, no, I'm not talking about his "look at me...I'm free from the New York Yankees!" beard.  This. What we noticed when we saw this picture of Joba Chamberlain pitching today. #Tigers14 pic.twitter.com/ixHNwQdCp4 — Freep Sports (@freepsports) February 27, 2014 The reliever, who recently inked a one year...
In an effort to add some depth to the bullpen, it looks as though the Tigers have set their sights on possibly signing Yankees hard throwing reliever Joba Chamberlain according to Tim Brown of Yahoo! Sports. Tigers are a possible destination for Joba Chamberlain. — Tim Brown (@TBrownYahoo) December 11, 2013 The 28-year old Chamberlain is a guy that is coming off statistically his...
MORE STORIES >>
Yankees News

Delivered to your inbox

You'll also receive Yardbarker's daily Top 10, featuring the best sports stories from around the web. Customize your newsletter to get articles on your favorite sports and teams. And the best part? It's free!