The Giants decided not to rebuild in part because they're expecting the top of the rotation to contribute more. Cueto is a huge part of that. Johnny Cueto was going to opt out. We knew it. He knew it. After finishing sixth in the NL Cy Young voting in 2016, there was no way he was going to be so hurt and ineffective that he passed up his last chance at a huge payday. There was just...
Two key members of the Giants pitching staff -- Johnny Cueto and Mark Melancon -- got their work in Wednesday in a Minor League game, hours ahead of the big league team's night game in Peoria.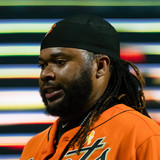 Major League Baseball's offseason has been slow overall, but the San Francisco Giants have been doing their best to be active following a 98-loss campaign.If you thought they'd go through some kind of rebuild after such a disappointing 2017, they're doing the complete opposite. Acquiring veteran third baseman Evan Longoria from the Tampa Bay Rays officially signals they're going...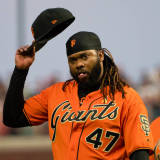 The San Francisco Giants avoided some drama this offseason involving pitcher Johnny Cueto.Cueto decided not to opt out of his contract, meaning he still has four years and $84 million remaining on his current deal.Cueto signed a six-year, $130 million deal with the Giants two years ago. The contract gave Cueto the ability to opt out of his contract after two years if he got off to...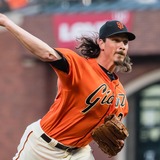 Even with a 38-63 mark and the second-worst record in baseball, the San Francisco Giants are not fully prepared to go into rebuild mode.Instead, the team is looking at potentially trading off a few veteran assets while reloading during the winter. That's why it shouldn't be a surprise that starting pitchers Jeff Samardzija and Johnny Cueto are reportedly available on the trade market...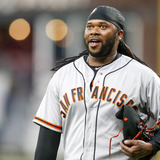 In the midst of a rare down season, the San Francisco Giants could very well decide to sell off some veteran assets between now and July's trade deadline.San Francisco currently finds itself in last place in the NL West with a 27-48 mark. In fact, Bruce Bochy's squad boasts the second-worst record in Major League Baseball heading into Friday's action.One player that could be on the...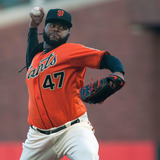 San Francisco Giants starter Johnny Cueto is poised to hit the free agent market at season's end.According to Jon Heyman of FanRag Sports, Cueto is expected to opt out of his contract after the season, forfeiting $84 million over four years. The expectation is that Cueto would easily eclipse that figure on the open market, and it's likely the last chance the 31-year-old would have...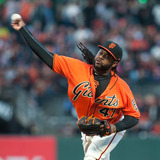 With the exception of a short stint with the Royals in 2015, Johnny Cueto has spent the overwhelming majority of his career in the National League. In the not-so-distant future, he may be spending more time in ballparks of the Junior Circuit.Cueto spent nearly eight full seasons with the Reds and is currently in his second with the Giants. With that said, he is obviously quite familiar...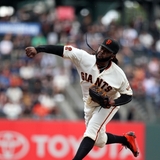 The appeal of lists and rankings, whatever its cause, is very real. That thing you like? Sure, it's good, but is it better than this other thing?! We've seen this carry over into baseball presumably since the sport began. Williams or DiMaggio? Aaron or Mays? Garciaparra or Jeter or Rodriguez? We've even clung to "Trout or Harper?" for as long as we possibly can. Whether this urge...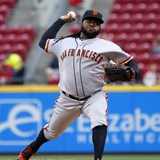 There's just four more days left in the MLB regular season; can you believe it? Here on this final Thursday of the season it's a pretty quiet one, as we have an interesting ace and a decent secondary matchup. Check 'em out! Aces in Isolation Johnny Cueto (SFG) versus Colorado's Jon Gray Cueto starts for the first time in nine days with the Giants' season hanging in the balance...
MORE STORIES >>
Giants News

Delivered to your inbox

You'll also receive Yardbarker's daily Top 10, featuring the best sports stories from around the web. Customize your newsletter to get articles on your favorite sports and teams. And the best part? It's free!