We've updated our Privacy Policy.
By continuing to use this site, you are agreeing to the new Privacy Policy.
Early in the season I supported the Mets having JordanyValdespin in the MLB lineup.  He has speed and power and the Mets future would not be Collin Cowgill.  Then his play stopped justifying my faith. By the end of his time in the majors he was hitting .188/.250/.316 and was only 4 for 7 stealing bases. It came as no surprise when the Mets sent him to the minors.  Well.. as no...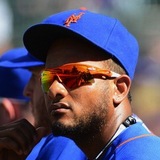 GONE LOCO
So it only took a matter of hours before what really happened in the clubhouse after Jordany Valdespin learned he was demoted, began to leak out. Jorge Castillo of the Star-Ledger has the scoop… When manager Terry Collins informed Jordany Valdespin that the Mets had decided to option him to Triple-A Las Vegas Saturday night, the exuberant utilityman snapped in anger in the visitors...
No doubt that you have heard the phrase, "people rise to the level of their incompetence." This is a common experience in the work place, which is filled with managers who were successful in their previous position and then promoted into a position for which they have no aptitude. Essentially, this is the Peter Principle. Jordany Valdespin has a knack for coming up with memorable...
LIKE WHAT YOU SEE?
GET THE DAILY NEWSLETTER:
Jordany Valdespin had a strong Spring Training performance, where he posted a .361 on-base percentage. This came after a Winter League season in which he had 21 BB compared to 22 Ks. It had many people claiming that he was a young player who was figuring things out. On top of that, Valdespin got off to a terrific start the first 10 games of the year. He posted a .400/.478/.500...
"IT'S OUTTA HERE, A Grand Slam from Valdespin to win the ballgame", call courtesy of Gary Cohen. The more and more I watch Jordany Valdespin play, the more I like him.  Yeah I know, he isn't in the plans and he is not liked.  What is not to like, I mean, he has speed, yes that has been noted, he can play the outfield, yes that has also been noted, and he has a flair for the dramatic...
Jordany Valdespin hit a walk-off grand slam to give the New York Mets a 7-3 win over the Los Angeles Dodgers on Wednesday night at Citi Field, and he took a shaving cream pie to the face to celebrate the occasion. Valdespin was up with the bases loaded in the 10th after the Dodgers intentionally walked Lucas Duda with one out to set up a double play. Valdespin questionably moved...
Mets MLB.com beat writer Anthony DiComo, on his Mets Cetera blog, has up a projected Opening Day roster. DiComo notes, "this is an exercise in futility: we will only consider players who are currently under team control, even though the Mets are likely to add at least one starting pitcher, reliever and perhaps outfielder before Opening Day." If you understand the restraints, it...
Mets outfielder Jordany Valdespin is tweeting photos of himself on his twitter account. This particular pic of him sporting a Miami Marlins cap is drawing harsh criticism from the Mets fan base this morning. Valdespin, who was suspended for a short time while playing Winter Ball, has become a magnet for controversy. Despite his talent, the Mets may have to weigh whether or not he...
Jordany Valdespin had a two-week absence from playing for his winter-ball club in the Dominican Republic because of a team-imposed suspension for insubordination, two sources told ESPN New York. The discipline issue was comparable to the maturity problems the Mets have experienced with Valdespin over the years, one source said. Adam Rubin adds that it's not beyond the realm of possibility...
MORE STORIES >>
MLB News

Delivered to your inbox

You'll also receive Yardbarker's daily Top 10, featuring the best sports stories from around the web. Customize your newsletter to get articles on your favorite sports and teams. And the best part? It's free!