We've updated our Privacy Policy.
By continuing to use this site, you are agreeing to the new Privacy Policy.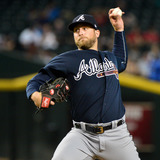 The Angels announced that they've signed left-hander Ian Krol to a minor league contract and invited him to Major League Spring Training. Krol, 27 in May, is a client of ISE Baseball.The 2017 season proved to be a rough followup to a strong 2016 campaign for Krol, as he saw his ERA soar from 3.18 to 5.53. Krol's K/9 rate fell from 9.9 in '16 to 8.1 in '17, while his BB/9 rate ballooned...
Jose Alvarez missed most of 2013 but his offseason work impressed the Angels front office. He continued his strong work this spring and now looks poised to make the Opening Day roster.   IP ERA FIP K/9 BB/9 HR/9 WAR 2014 Actual0.20.000.1313.500.000.000.0 Steamer1.03.733.797.002.350.910.0 ZiPS89.15.345.254.942.921.41-0.5 CAIRO92.24.754.875.743.221.34-0.3 MWAH*40.04.284...
The Machine gets the day off for maintenance. Here's how the #Angels line up today as they take on the Athletics in Tempe. #LAASpring pic.twitter.com/uSHuFrRPOo — Angels (@Angels) March 31, 2015 Jose Alvarez gets the start so Iannetta can work with him, a pretty strong indicator that Alvarez will make the roster. The post 3/31 Pujols-less Angels Spring Training lineup appeared...
LIKE WHAT YOU SEE?
GET THE DAILY NEWSLETTER:
Jose Alvarez optioned to Salt Lake. RHP Josh Wall recalled. #Angels — Angels PR (@LAAngelsPR) April 18, 2014
Rotation depth has been a problem for the Angels for what seems like forever, but things had been looking particularly dire headed into this year. Then, lo and behold, the Tigers saw fit to send Jose Alvarez on over to Anaheim. He's hardly a savior but he is something… right? IP W L ERA H/9 HR HR/9 BB/9 K/9 FIP WAR Actual 2013 38.2 1 5 5.82 9.90 7 1.63 3.72 7.22 5.19 -0.1 ...
Table of Contents Here's the table of contents for today's edition of the Daily Notes. 1. A Brief Review of Jose Alvarez's Sunday Start 2. Today's MLB.TV Free Game 3. Today's Complete Schedule A Brief Review of Jose Alvarez's Sunday Start Introduction Left-hander Jose Alvarez, signed by Detroit this past November to a minor-league contract, made his major-league debut on Sunday afternoon...
Jose Alvarez pitched six impressive innings in his major league debut, and Don Kelly hit a tiebreaking three-run homer in the sixth to help the Detroit Tigers finish a three-game sweep of the Cleveland Indians with a 4-1 victory Sunday. Alvarez (1-0) was starting because of Anibal Sanchez's shoulder tightness, and he held Cleveland hitless until Ryan Raburn's fifth-inning homer...
This past weekend, the Braves hosted an alumni weekend celebration event at Turner Field for former players and coaches. John Sullivan, a former bullpen coach who was with the team for two seasons in the 1980s, was on the guest list. He never got his invitation. An unidentified impostor received Sullivan's invitation in the mail, and rather than do what your everyday honest citizen...
MORE STORIES >>
Angels News

Delivered to your inbox

You'll also receive Yardbarker's daily Top 10, featuring the best sports stories from around the web. Customize your newsletter to get articles on your favorite sports and teams. And the best part? It's free!