We've updated our Privacy Policy.
By continuing to use this site, you are agreeing to the new Privacy Policy.
The ridiculous Astros' offseason rumors should be over, right? So, I woke up on this fine Friday to find myself hearing chatter about the Astros possibly signing Jose Bautista. …. WHAT THE… …. Well, there were apparently reports from Mexico per MLB Trade Rumors that made it appear...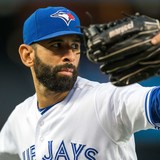 Some rumblings from around the AL West… Veteran righty Kevin Jepsen has allowed only one run over 9 1/3 Spring Training innings, making him a strong bet to win a spot on the Rangers' Opening Day roster, MLB.com's T.R. Sullivan writes.  Jepsen didn't pitch in the majors in 2017 after a terrible spring camp with the Diamondbacks that led to a temporary absence from the game, as Jepsen...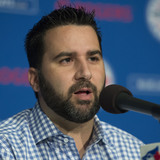 Current Braves and former Blue Jays GM Alex Anthopoulos joined MLB.com's Mark Feinsand for a wide-ranging podcast chat. It's a great listen in full for fans of either of those organizations or anyone interested in learning more about Anthopoulos's path in the game.Anthopoulos opened up on some key elements of his time in Toronto now that a few years have passed. He served as GM there...
LIKE WHAT YOU SEE?
GET THE DAILY NEWSLETTER: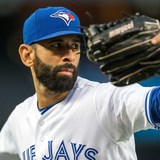 José Bautista is coming off of two very bad seasons. But he's not retiring, or even thinking about it. Of course, it would surface Thursday that Bautista was, in fact, considering retirement."José Bautista had a couple seven-figure offers (probably $1 million, or just over), but he didn't think they were commensurate with his value. So he may retire. If so, thus becomes the first...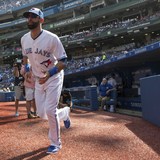 Jose Bautista refuted a report on Thursday that said he was considering retirement.In a column of notes published on Thursday, Fan Rag Sports' Jon Heyman said Bautista was dissatisfied with the contract offers he was receiving this offseason and is considering retiring. Bautista says that's not the case.Bautista told Yahoo Sports' Jeff Passan that he is not retiring. Instead, it...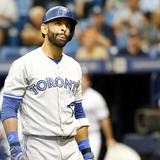 José Bautista is 37 years old, and is coming off back-to-back down seasons. Therefore, his stock isn't as high as it once was. And that leads us to his future—potential retirement."José Bautista had a couple seven-figure offers (probably $1 million, or just over), but he didn't think they were commensurate with his value. So he may retire. If so, thus becomes the first case of a...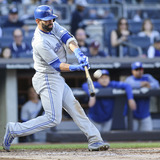 Spring training is in full swing and Jose Bautista remains without a team. The former Toronto Blue Jays star is preparing for the season as if he will be playing, and the Tampa Bay Rays are being mentioned as a potential match for him.The Tampa Bay Times' Marc Topkin reported on Saturday that Bautista has strong interest in playing for the Rays. Topkin says Bautista knows that he...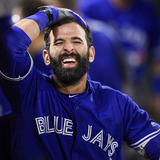 The Toronto Blue Jays are headed in the wrong direction and look to be sellers at the deadline. That could involve moving one of their big stars.According to Jerry Crasnick of ESPN, the Jays have received some calls on outfielder Jose Bautista, though his poor season is minimizing interest. Anyone with interest in Bautista will be hoping he can replicate his month of May, in which...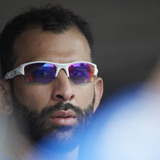 The Toronto Blue Jays find themselves seven games under .500 and in last place in the American League East. It's been a sorely disappointing season for a squad that won 89 games and earned a trip to the ALCS last season.Despite this, Toronto has not shown itself to be sellers heading up to the trade deadline later this month. Maybe the team is holding out hope that it can rebound...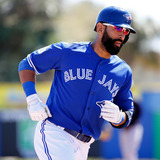 After coming dangerously close to leaving the Toronto Blue Jays earlier this offseason, Jose Bautista now says he would be content with staying put for the rest of his pro baseball days.In a recent interview with Bob Nightengale of USA TODAY Sports, Bautista said he would like to spend the rest of his career in Toronto."If you ask me, I'd like to stay here the rest of my career,...
MORE STORIES >>
Blue Jays News

Delivered to your inbox

You'll also receive Yardbarker's daily Top 10, featuring the best sports stories from around the web. Customize your newsletter to get articles on your favorite sports and teams. And the best part? It's free!