We're just sixteen days away from Opening Day. Let's take a look at who's hot and who's not for the San Diego Padres as we head into the home stretch of Spring Training. Jose Pirela is still having an outstanding Cactus League for the...
Come Opening Day, Jose Pirela will be on the Padres' roster -- it's merely a matter of where he'll play and how often.
I apologize if I'm beginning to sound like a broken record, but with all of the extraordinary performances coming out of San Diego Padres camp this spring, we have yet another guy to talk about. Like practically everyone else on the...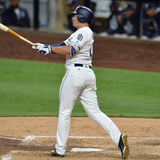 Trade interest in Hunter Renfroe apparently is picking up now that the San Diego Padres have signed Eric Hosmer.MLB Network's Jon Morosi reported on Sunday night that teams have shown interest in Renfroe: Renfroe, 26, was the No. 13 overall pick by the Padres in 2013 out of Mississippi State. He crushed the ball in limited action after being promoted to the majors in 2016, and he...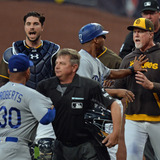 MLB has handed out punishments for Friday night's fight between the Los Angeles Dodgers and San Diego Padres.The league decided to suspend Dodgers manager Dave Roberts for a game, which he will serve on Saturday, and fine him. Padres manager Andy Green, as well as Dodgers pitcher Alex Wood, have both been fined. The incident began in the first inning Friday when Jose Pirela was on...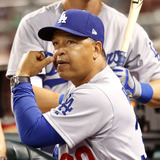 Benches cleared during Friday night's Dodgers-Padres game in San Diego after the two managers got into it following a meeting at home plate, leading to their ejection.The differences between the sides began when Dodgers pitcher Alex Wood suspected Jose Pirela was stealing signs at second base. The umpires said something, and then the two managers met after the first inning. But something...
Oh, well... so much for that far-flung hope.Congratulations, Fate. You got me. The cigar exploded, the whoopie cushion farted, and the gum tasted like onion. Yep, you fooled me again. Yesterday, Jose Pirela hit the wall.  And so did my warmest spring fantasy.Of course, I was stupid to imagine Jose Pirela as anything more than The Second Coming of Yangervis Solarte. We all knew he...
By Matt Birch Yankees outfielder Jose Pirela crashed into the center field wall during Sunday's game against the Mets. He was carted off the field and was later diagnosed with a concussion and taken to Tradition Medical Center. It all started when Juan Lagares took CC Sabathia deep in the first inning of the game, with Pirela attempting to make a play on the ball near the warning...
Let's assume that the New York Yankees are serious about having Rob Refsnyder and Jose Pirela battle it out in spring training to become the team's next starting second baseman. Who is better suited for the position if they both have reasonably similar spring performances?Refsnyder comes with the prospect tag, ranking #6 on MLB.com's top 20 Yankees' minor leaguers, while Pirela...
Jose Pirela, owner of the 2014 International League batting crown, will go down in the Yankiverse as the fellow whose single spawned Derek Jeter's final walk-off hit in the Bronx. Thus, he joins J.R. Murphy - the catcher standing on the mound when Mariano fatefully walked away - as a future trivia answer and keynote speaker of the 2027 airport Ramada baseball card convention near...
MORE STORIES >>
Padres News

Delivered to your inbox

You'll also receive Yardbarker's daily Top 10, featuring the best sports stories from around the web. Customize your newsletter to get articles on your favorite sports and teams. And the best part? It's free!