We've updated our Privacy Policy.
By continuing to use this site, you are agreeing to the new Privacy Policy.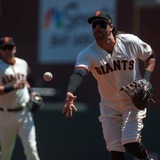 Michael Morse and Bryce Harper were once teammates, but now the skirmish involving the two of them — and others — may force "Beast Mode" into retirement.Morse suffered a concussion during the benches-clearing brawl between the Nationals and Giants on May 29, after colliding with teammate Jeff Samardzija.Here's what it looked like. Giants manager Bruce Bochy recently talked about...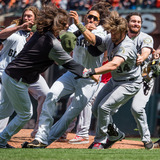 Bryce Harper had a funny quote about ex-teammate Mike Morse's role in Monday's fight during the Nats-Giants game.Harper charged the mound after being hit by a pitch from Hunter Strickland, and the two exchanged a few punches. Harper also seemed destined to be decked by Giants pitcher Jeff Samardzija, but Morse, now with San Francisco, happened to run into it first. That shielded...
Mike Morse will turn 32 on March 22, 2014 and after spending parts of nine seasons in the majors can look forward to a starting job as the left fielder for the San Francisco Giants.  The Giants signed Morse as a free agent over the winter to a one-year deal to join center fielder Angel Pagan and right fielder Hunter Pence in the outfield. As a member of the Seattle Mariners in...
LIKE WHAT YOU SEE?
GET THE DAILY NEWSLETTER:
The long awaited result of the ever-long search for the next San Francisco Giants next left fielder is finally in.  This morning the Giants have signed outfielder Michael Morse to a one-year contract worth approximately $5 million plus incentives. The 31-year old Morse spent the 2013 season with both the Seattle Mariners and the Baltimore Orioles, were in 88 games he batted .215...
LET ME RIDE
Since we are clearly in the last days of the Mike Morse Era in DC, we should probably savor each Tweet like it could be his last (as a Nat). And so, let us savor the photos Mike Morse Tweeted of his car parked in his driveway in Florida on Monday night after he spent the weekend in Washington for Ryan Zimmerman's wedding. Now head on over to Nick Cafardo of the Boston Globe's mail...
There is a problem for any American League team that intends to acquire Nationals left fielder Mike Morse and use him often as a designated hitter. Morse strongly opposes being a DH, according to major-league sources. The issue, sources say, will carry weight for some AL clubs. Morse is "not a very gifted defender" and would better fit certain teams as a DH, according to one rival...
JUST PLAY ALONG
And so here's the video of Michael Morse's magical first inning grand slam(s) Saturday night, both during his the same AB, one without his bat. Amazing. Here's a GIF of the invisible bat swing. Befriend Nats Enquirer on Facebook. Follow on Twitter.
Mike Morse (credits below) "The Beast" is back. Michael Morse finally hit his first homerun since returning from injury. This could be the beginning of a return for the surprising slugger of last year. Is it time to get him while his value is still unknown? The short answer is "yes." While he isn't a household name just yet, the power potential in a HR-starved MLB is too tantalizing...
Welcome to Twitter, Michael Morse? Even more important than the question "Will Mike Morse return to the Nationals lineup on Friday?" is the question "Is @MLBeastMode38 really Michale Morse?" Still trying to verify, but the pro-Heat Tweets seem to be a dead giveaway. (Image of Morse in a sombrero for Cinco de Mayo via Morse's Facebook page) Befriend the Nats Enquirer on...
When we last checked in on Michael Morse in this post-Bryce-Harper-Twitter world, Morse revealed to the world that Davey Johnson knows more about electronics than he does. In an interview with CSN Washington's Kelli Johnson (see below) on Wednesday, Morse talked about his long road to success, his reaction to the arrival of Jayson Werth, and most importantly, how his pre-AB Cobra...
MORE STORIES >>
MLB News

Delivered to your inbox

You'll also receive Yardbarker's daily Top 10, featuring the best sports stories from around the web. Customize your newsletter to get articles on your favorite sports and teams. And the best part? It's free!