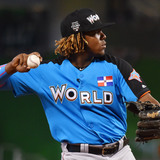 Vladimir Guerrero is officially headed to Cooperstown, and his son may actually have an opportunity to follow suit if you ask one fellow Dominican.Retired former Cy Young winner Pedro Martinez said on Thursday that he believes Guerrero's son Vladimir Jr, who is also Martinez's godson, will be just as special as his famous father. Here were Martinez's full remarks, according to Ben...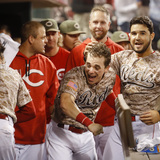 Welcome to this week's edition of Three Up, Three Down — your weekly catch-up of the three best highlights (and lowlights) from around the league. We're here for all of the cheers and the jeers, because it's baseball. You can't have a winner without someone losing along the way.This week, we have an unlikely history-maker, a revival north of the border, an veteran looking like his...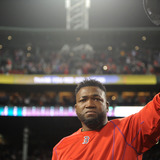 Boston Red Sox slugger David Ortiz may have called it quits on his baseball career — for now — but that doesn't mean he'll never return to give it one more go.With the Red Sox heating up, looking to make another championship run, Pete Abraham of the Boston Globe asked Ortiz about the possibility of returning on Monday, and he had this to say."I just retired. I don't want to be bothering...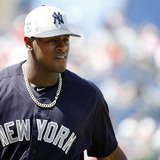 Luis Severino is quickly developing into the breakout star of the New York Yankees pitching staff. And it appears the guidance provided this past offseason by former Yankees nemesis Pedro Martinez proved to be the big turning point.And to hear it from Brian Cashman, it was the least former Boston Red Sox ace could do after tormenting the Yankees for so many years.The Yankees general...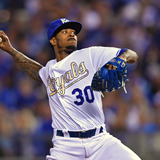 Pedro Martinez shared some disturbing details surrounding the death of former Kansas City Royals pitcher Yordano Ventura, who died after a car crash on Sunday in the Dominican Republic.Reports have all said that Ventura, 25, died in the crash, but Martinez says the pitcher actually survived it. Martinez says Ventura was still alive after the crash but was left for dead by people...
Hall of Fame pitcher turned MLB analyst Pedro Martinez had a regrettable moment on the air Monday night, and he has since apologized. After the Indians completed their sweep of the Red Sox in the ALDS, Pedro was joking about how well he used to pitch against Cleveland when he was Boston's ace. Martinez said he used to "hunt Indians" but now wants to pay tribute to them, and this...
By Larry Brown.   Pedro Martinez had one request when he was voted into the Hall of Fame:Make sure the image on my plaque includes my Jheri curl. Thankfully those in Cooperstown didn't let him down. Pedro was enshrined in the Baseball Hall of Fame Sunday along with Randy Johnson, John Smoltz and Craig Biggio, making for one of the best classes of all time. Pedro and The Big...
MORE STORIES >>
MLB News

Delivered to your inbox

You'll also receive Yardbarker's daily Top 10, featuring the best sports stories from around the web. Customize your newsletter to get articles on your favorite sports and teams. And the best part? It's free!