Phil Hughes said he feels healthy, and is on track for the regular season. Where that track leads is still a bit of a question.
Twins manager Paul Molitor told Phil Hughes not to worry about the roster, as his focus needs to remain on proving he can be effective after several injury-plagued seasons. Hughes took the message to heart and pitched well in a 2-1 win over New York.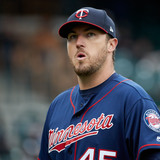 Spring training is a time for baseball players to get their games in order, maybe drop some pounds, and learn new things about the eating habits of your teammates. That last one is more about Minnesota Twins pitcher Phil Hughes.Hughes spotted teammate Trevor Hildenberger munching on a bell pepper. He then took to Twitter to share exactly what he thinks of people who do that. Hildenberger...
TWINS 4, RAYS 2 Phil Hughes, healthy after two injury-plagued seasons, threw five shutout innings, giving up two hits while fanning four. Jorge Polanco and Brian Dozier both homered. Erasmo Ramirez gave up two earned runs on one hit in his two-inning start for the Rays. Mallex Smith stole two bases and was thrown out trying to steal a third.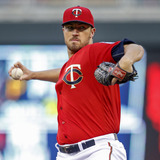 Minnesota Twins pitcher Phil Hughes needed surgery to correct thoracic outlet syndrome in 2016, and to stop the nerve issues that were happening in his throwing shoulder, a rib had to be removed.It turns out Hughes still has that rib, and he has big plans for it."I haven't decided what the next step is. I have a few ideas. Plating it with some sort of precious metal is one way to...
FORT MYERS, Fla. -- Phil Hughes kept a souvenir from his forgettable 2016 season. He stumbled to a 1-7 start, was demoted to the bullpen by the Minnesota Twins, cracked a bone in his leg when hit by a line drive and had season-ending surgery in July to correct thoracic outlet syndrome later. He still has the removed rib, which was causing nerve and vascular impingement in his throwing...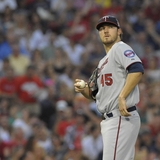 The Minnesota Twins will be without a veteran pitcher for the rest of the 2016 season. Right-hander Phil Hughes last pitched on June 9 and will not appear for Minnesota again this season. Phil Hughes needs season-ending shoulder surgery. — Phil Miller (@MillerStrib) June 28, 2016   While there is never a good time for an injury, this is pretty close to ideal. The Twins are...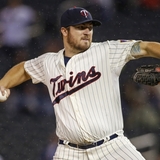 Phil Hughes wore No. 65 with the Yankees until 2013. When he signed with the Minnesota Twins in 2014, Hughes switched his number to 45. Apparently nobody at Rawlings — the company who supplies Hughes with his glove — got the memo. .@RawlingsStevie thanks for everything Stevie. I haven't been #65 in 3 years but I know you try hard! pic.twitter.com/INnqqC1Dko — Phil Hughes (@PJHughes45...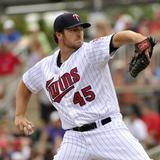 SARASOTA, Fla. -- Phil Hughes pitched perfect three innings as the Minnesota Twins beat the winless Baltimore Orioles 3-0 on Monday.In Hughes' two starts, he's allowed just one hit in five scoreless innings. He's yet to strike out a batter.Baltimore lost for the seventh straight time. The Orioles are 0-7-1 this spring.Ubaldo Jimenez, who gave up six runs and retired just one batter...
So much of the analysis we do in baseball follows a pretty simple formula. We notice a player is getting different results, we look for explanations for the change, and then we speculate about whether the latter caused the former and if it will continue. Baseball includes so much random variation and you have to […]
MORE STORIES >>
Twins News

Delivered to your inbox

You'll also receive Yardbarker's daily Top 10, featuring the best sports stories from around the web. Customize your newsletter to get articles on your favorite sports and teams. And the best part? It's free!